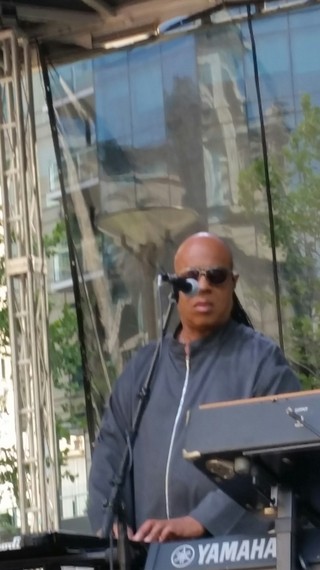 Rolling Stone magazine ranked in 2005 Stevie Wonder's "Songs in the Key of Life" number 57 in the top 500 albums of all times. So it is fitting that Wonder announced, with great fanfare, the final leg of his "Songs in the Key of Life Performance" tour in the United States this fall. In a first for the artist, he played pop up concerts in three cities-Washington DC, Philadelphia, and New York-on one day, August 17.
In the introduction to his free concert in Philadelphia's Dilworth Park, he expanded on the themes of his signature hit, "Love's in Need of Love Today". Wonder said, "Truly, more than ever before, love is in need of love. We are in need of love. We truly are of getting things right. ... We have to fix things, not only this country, but this planet. The only way we can do this is with love. Negativity has only brought about more negativity. We can't go out like that."
Stevie being Stevie, he decimated the second amendment with a masterful eloquence that would have made the founding fathers proud. "You know my feelings about guns," said Wonder. "Basically, we need to find a way where everyone is accountable for whatever gun they have. Because if you are going to shoot a gun, you need to claim the bullets. I have talked to the guys that work with me. They say, hey, it is not the guns that really kill people. It is people that are responsible. Here is how I view this: what is true is that people use guns can't use them without them being available. There are people who really shouldn't have guns."
He repeated the gun homicide statistics that should give even NRA members pause.
Wonder said, "They say every year 10,000 are killed by gun violence. That makes it 100,000 people in 10 years."
Wonder, showing why he has been a superstar for 40 years, diplomatically called out the police for the taking of black lives while beseeching his fans to respect their authority. "We have to have accountability for those who are supposed to protect and serve us. I have love for everybody. I don't have any respect for anyone who is irresponsible with their authority. Nor do I have any respect for those who have no respect for authority. We just have to work together," said the musical icon.
The 2014 Medal of Freedom winner grew emotional when discussing the honor, which is the nation's highest civilian honor. "I hope every single day that I will do things that make me worthy of receiving that award," he said.
Dubbed #AWonderMoment, the set list for Philadelphia's mini concert included "Love's in Need of Love Today," "Uptight (Everything's Alright)," "I Wish," "Hey Love," "Superstition, "Sir Duke" and "As." Judging by the dance moves of Philadelphia Mayor Michael Nutter, the concert was a success.
The superstar will be back on October 7 for the final performance in Philadelphia of the "Songs in the Key of Life Performance" tour. These are the dates for his final performances in other cities.
September 30 Montreal, QC Bell Centre
October 3 Washington, DC Verizon Center
October 7 Philadelphia, PA Wells Fargo Center
October 9 Toronto, ON Air Canada Centre
October 11 Hartford, CT XL Center
October 14 Newark, NJ Prudential Center
October 16 Chicago, IL United Center
October 19 Pittsburgh, PA Consol Energy Center
October 23 Kansas City, MO Sprint Center
October 25 St. Louis, MO Scottrade Center
October 31 San Antonio, TX AT&T Center
November 3 Oklahoma City, OK Chesapeake Energy Arena
November 5 Little Rock, AR Verizon Arena
November 7 Indianapolis, IN Bankers Life Fieldhouse
November 10 Knoxville, TN Thompson-Boling Arena
November 14 Charlotte, NC Time Warner Cable Arena
November 17 Charlottesville, VA John Paul Jones Arena
November 19 Buffalo, NY First Niagara Center
November 21 Detroit, MI Joe Louis Arena
Calling all HuffPost superfans!
Sign up for membership to become a founding member and help shape HuffPost's next chapter