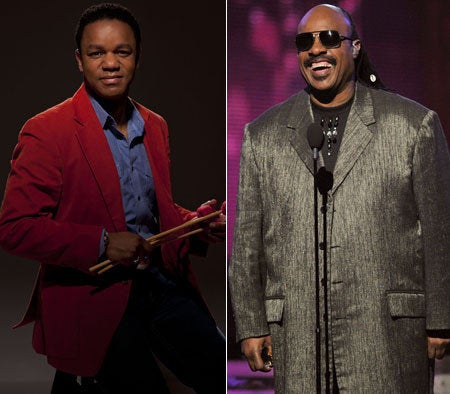 The challenge of recreating a beloved musician's greatest hits is a feat for any artist but this is especially the case when it comes to revisiting the work of a masterful musician and vocalist like Stevie Wonder.
This month the eight-member modern jazz group has embarked on a 21-city national tour featuring the legendary singer's celebrated catalog of music.
"We have eight originals and then eight arrangements of Stevie Wonder's music," vibraphonist Stefon Harris explained to The Huffington Post. "Some of the arrangements include 'Superstition,' 'Visions.' There's a bit of 'Sir Duke' in there. So we're covering the classics."
The way the San Francisco collective is exploring Wonder's work is through the wind instruments of jazz. "Someone like Stevie Wonder did it so well the first time; there's no need to recreate what he already did," Harris said. "So when we take the music of Stevie Wonder, we really filter it through our own artistic vision. So that it is essentially a re-envisioning of Stevie's music as opposed to covering it as a cover song."
Performing for their ninth season, Harris and his seven counterparts tour each year with a spotlight on the works of a different composer. Herbie Hancock, John Coltrane and McCoy Tyner are among the artists the group has previously selected. When it comes to choosing which artist to honor, Harris said it's simple. Each performer casts a vote via email using a list of composers that all members of the ensemble are interested in.
"There's usually not much of a debate because there's so many icons to be honored," Harris said. "The idea of honoring Stevie Wonder is very special for us because I think it's a little off-the-beaten path of where people would expect us to go."
"Jazz has always been a genre that's been alive and about modern time," Harris said. "And to honor a living composer like Stevie Wonder is totally in the tradition of jazz."

Harris, a Grammy-nominated solo artist in his own right who also teaches at New York University, added that American society needs to place a higher value on the arts -- and to encourage music education. "It's not this extracurricular thing where you play the clarinet and you have fun, and if you don't become a professional clarinetist, then you missed out. I'm of the mind-set [that] being challenged artistically makes you a more creative thinker and, in turn, a better CEO, a better doctor, a better lawyer. Having the opportunity of being challenged emotionally as a young person makes a huge difference in how you handle your environment."
"If you're growing up in a tough environment ... and then you're put into a situation where you're asked to improvise and pull something from yourself that requires sensitivity or compassion," this is worthwhile, said Harris, a graduate of the Manhattan School of Music.
"It's really healthy that we teach people to access all the emotion sides that exist in us," Harris said.
For details about the SFJAZZ Collective's tour click here.
PHOTO GALLERY
Stevie Wonder Photos
Calling all HuffPost superfans!
Sign up for membership to become a founding member and help shape HuffPost's next chapter