Music legend Stevie Wonder showered his son Mandla Morris, 13, with a whole lot of love by singing his kid's favorite song of his on ABC's "Dancing With the Stars: Juniors" Sunday night.
Because it's Thanksgiving week, the theme of the show was thankfulness, and Mandla, who is a contestant on the dance reality series, revealed that what he's thankful for is his father and that his favorite song from his dad's music collection is "Isn't She Lovely."
So he asked his pop to sing the pop hit while he performed the foxtrot with his professional partner, Brightyn Brems, during Sunday night's competition, and the combo was truly harmonious.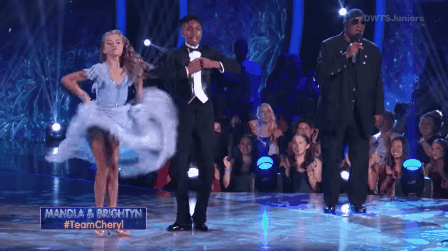 The special performance, choreographed by team mentor and "Dancing With the Stars" pro Cheryl Burke, also proved a big hit with the judges, who gave Mandla and Brightyn some pretty stellar scores: straight 9s, for a total of 27 out of 30 points.
Judge Adam Rippon told the dancing duo, "This was one of your best dances." All the praise made Brightyn tear up, in one of the night's most touching moments, and she told the judges how proud she was of Mandla.
And if Mandla happens to be very superstitious, it may be a good idea to have his dad on the show more often — ya know, because the writing's on the wall.
To see the whole performance, check out the video below.
Clarification: A previous version of this story indicated Stevie Wonder sang the song "live" on "Dancing With the Stars: Junior." While he sang the song in front of the live studio audience, the episode was not broadcast live.
Popular in the Community