It's July 5, 1960, and I'm standing at the top of the stairs leading onto the DC 6 aircraft at LaGuardia Airport in New York City with a smile on my face and butterflies in my stomach. With my shiny new silver wings glistening from my jacket, I watch the passengers as they ascend the steps. It is my first flight as a stewardess. As I welcome them aboard, some are as filled with wonder -- and, perhaps, are as nervous -- as I am. For some, it is also their first flight. Soon they are settled in their seats, having stowed but the occasional briefcase or cosmetic case as carry-on pieces -- in stark contrast to what you see people attempt to bring on board today. Names are taken in order to address each passenger personally. The flight crew offers pillows and magazines, the 1960s version of in-flight entertainment. Passengers are reminded that smoking is not permitted (however, in 1961 smokers merely had to wait until we were airborne to light up). Five weeks of training at the Stewardess College has prepared me for this moment. The engines roar, and we are ready for takeoff.
All my classmates were young women between the ages of 20 and 24, and our great adventure had begun. We came from various parts of the United States; among us were college graduates, nurses, teachers and secretaries. We all shared the desire to travel, see the world and meet people outside our home environment. For some, the flight to the Stewardess College was their first.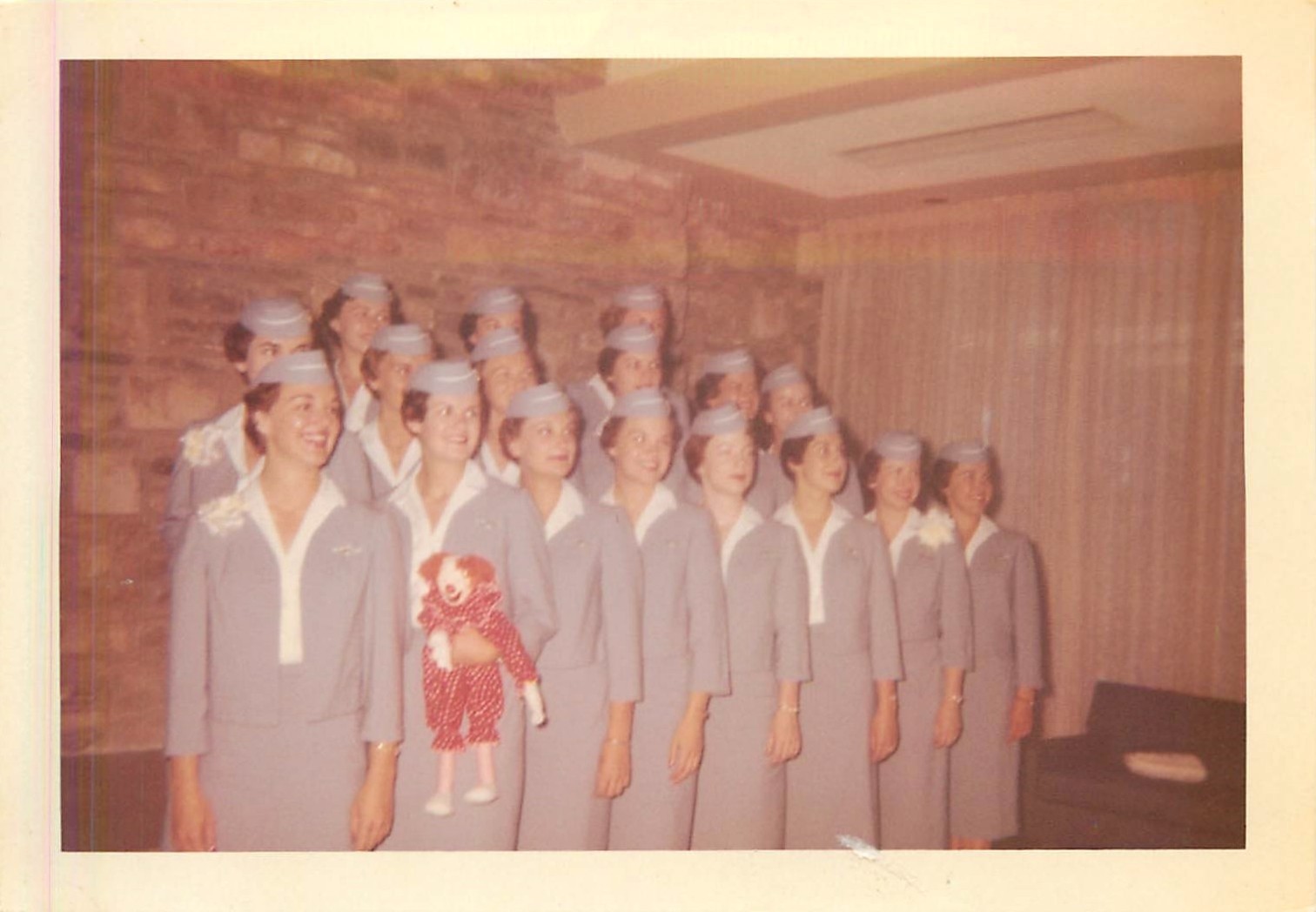 The author and her peers at their Stewardess College graduation. Image courtesy of Polly Goodman.
During those five strict weeks, we attended classes 10 hours a day, five days a week. Saturdays were for makeup and hair-styling lessons, and for the dreaded weight checks. Hair was cut above the collar with no artificial color, and styled to look perfect beneath our uniform overseas hats. It was no wonder that on the Saturday or Sunday afternoons, we were not sent on a flight to observe the senior stewardesses working; instead we were free to go out, and people would stop us and ask, "Are you stewardesses?" Our instructors had succeeded: We had the look and demeanor they were striving for -- the friendly, well-groomed, "Girl Next Door."
We studied geography, practiced first aid and learned how to recognize symptoms of someone having a health emergency. We drilled proper serving techniques, including how to pour that second cup of hot coffee during turbulence, so as not to scald our passenger or ourselves.
Our foremost function was to maintain the safety of our passengers, so the most extensive training was in emergency procedures. It was instilled in us that, above all, we were responsible for their safety under any and all circumstances. Fortunately, I never needed to put that training to practical use.
More than 50 years later, my stewardess friends and I look back upon our good fortune, having had the opportunity to fly during the dawning age of commercial jet travel (while also attending to 40-passenger propeller planes). This is the time when many of the principles of superior in-flight service were established. We think back to the gracious meal services, with a mini pack of cigarettes on every tray and food that passengers constantly complimented. Then again, air travel has come a long way in other respects. Beverages were strictly coffee, tea or milk; liquor was served only on the few flights offering First Class, and even then we strictly enforced a two-drink limit.
I fondly remember the wonderful layovers and seeing fantastic new places. I envy the exotic destinations today's flight crews get to visit. On one memorable occasion, my crew was grounded by a snowstorm for four days in New York. Our hotel was filled with airline crews eating takeout and partying until the wee hours in the ballroom the hotel set aside for us. We pitched snowball fights on a deserted Park Avenue as a diversion.
We former stewardesses talk about the many famous actors, authors, musicians, foreign dignitaries, United States congressmen, first ladies, sitting vice presidents and presidential candidates whom we were privileged to meet on our flights; most of them were very friendly and treated us with the utmost respect.
The captains loved pointing out interesting sights along the route, with passengers leaning from side to side to see below, cameras at the ready. And, yes, there were romances and several marriages with pilots as well as passengers. There was a poster that read, "The Dream of Every Young Man is to Marry an Airline Stewardess" -- and at times we believed it!
Flying taught us that a little empathy, a big smile and a sense of humor could improve any situation. People ask me, Why did you tolerate the regulations regarding appearance, marriage or age? (At 32, your flying days were over.) Thinking back, I wish I could have flown longer after marriage. But do I resent the fact that I couldn't, or that more career options weren't open to me? No -- this was the early 1960s, and as stewardesses we were at the whim of the image that flight service projected, one the flying public felt comfortable with. I had been given a fantastic opportunity, available to very few. It could be glamorous, exciting and fun, but also very demanding and stressful. We embraced this world that opened up to us, though none expected to make it a lifelong career. Many of my peers and I eventually planned on becoming wives and mothers -- we were still "the girls next door."
When you want to elevate your trip with service that celebrates the very best of air travel nowadays, fly Lufthansa Airlines' new Premium Economy Class. You'll enjoy up to 50 percent more personal space, more comfortable seats to relax in, more storage for all your stuff, and more extra touches on-board and off. It's perfect for those who want more than just more legroom.
Related