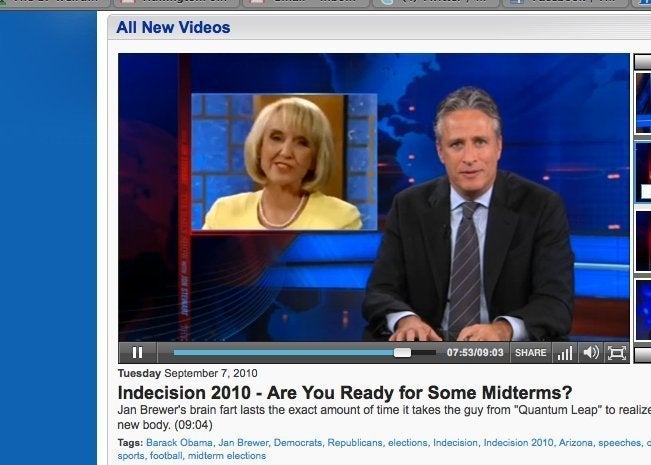 Last night on "The Daily Show," Jon Stewart returned from vacation to address the upcoming midterm elections as well as Jan Brewer's recent debate disaster in a segment called "Are You Ready For Some Mid-Terms?"
Stewart began with clips of various talking heads claiming the Democrats have had a good couple years but are now "cruising toward a November bruising," in the midterm elections. So what tricks does Obama have up his (rolled up) sleeves to help the Dems? A pledge to give America, "the best infrastructure in the world." Unfortunately, this sounded all too familiar to Stewart, who proved with a clip that Obama made the same exact pledge in March of 2009, saying a renewed infrastructure was "the cause of [his] presidency."
"OK, it may be the cause, but I guess what we're wondering is, what's the effect?" Stewart asked.
The Democrats' problem isn't their ideas or strategies, Stewart lamented. "It's that what they do doesn't f***ing matter." Case in point? Republican Governor Jan Brewer's horrendous opening statement at the Arizona gubernatorial debate. Stewart had a field day with Brewer's poor performance, saying "Miss. Teen North Carolina called" and even speculating that she had been embodied by the guy from "Quantum Leap" during her "brain fart."
Brewer's performance can be used as evidence of the difficulties Democratic candidates are facing simply because after all her gaffes, racially insensitive legislation, and false statements about decapitated heads found in the desert, she's still crushing her Democratic opponent. Stewart was dumbfounded.
"Alvin Green's got to be thinking, 'but that's my strategy!'"
Related
Popular in the Community