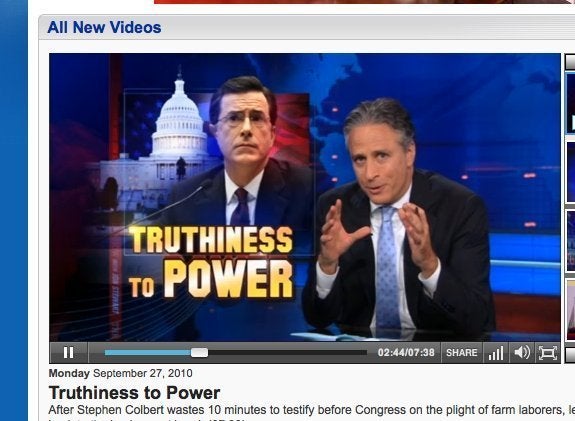 Aside from their dual rally on Washington at the end of the month, if you needed any more proof and Jon Stewart and Stephen Colbert are a team, you got it on last night's "Daily Show."
Stewart used the first portion of his show last night to defend Colbert's testimony to Congress last week, where the satirical pundit used 10 minutes of Congressional time to discuss the plight of the undocumented farm worker. Of course, a few members of Congress, as well as Fox News, have come out against Colbert and called it "waste of time" and an "embarrassment."
But did Colbert actually make a mockery of our legislation? As Stewart points out, his only crime is stealing a job that is typically done by "baseball players on steroids and not-really-at-all apologetic CEOs."
Colbert's biggest critic may have been Iowa Republican Steve King, who Stewart took down for comments about Colbert's misuse of Congress and for saying we should keep immigrants out with electrified fences because "we do that with livestock all the time." It is methods such as King's proposed fence that give Stewart more reason to defend Colbert's testimony, which he said only took 10 minutes to "give massive media attention to the issue of the working conditions for undocumented farm laborers."
Members of Fox News weren't any less critical than the people of Congress, with Gretchen Carlson complaining that Colbert wasn't funny, and Tucker Carlson complaining that he became a "pompous jerk" when he became serious and quoted scripture.
Thankfully, now that Colbert is gone, Congress can get "back to the business at hand," which Stewart showed with a series of clips is not much more pressing than the subject of Colbert's testimony.
Related
Popular in the Community