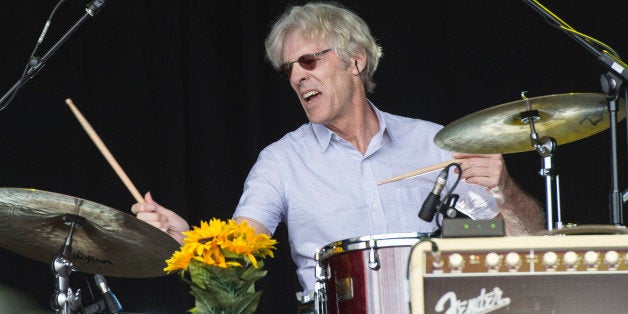 Opera and the iconic rock band, The Police may seem to be from different worlds but the group's co-founder and drummer, Stewart Copeland, bridges the gap as an accomplished musician in both genres. This weekend, one of his works, The Cask of Amontillado, will play Dixon Place in New York City, premiering new orchestrations for the opera, initially created in the early 1990's. But, fans of his work with Sting will need to manage their expectations. This isn't The Police's celebrated sound, playfully translated to stage in opera form. It's an extension of Copeland's incredible talent, and successful explorations into other formats that have helped him create a prolific body of work inside and outside of rock, including five legitimate operas.
"It was a libretto out of the blue from my old friend and mentor, David Bamberger, who commissioned my first opera at the Cleveland Opera," Copeland shared. "[He] pretty much schooled me in what it's all about, since I had never seen an opera at that point. After we did that huge adventure... he wrote this tiny little piece as an antidote to that behemoth," he continued. "I scored it up in a heartbeat, and it played at the Barbados Arts Festival [in 1994]. I forgot about it, for a couple decades, until the American Modern Ensemble decided to pick it up and have a go at it. When I looked at the score, I thought, 'My gosh. Let's see if we can jazz that up a little bit,' because they've got a lot more players for this than I had available then."
The Cask of Amontillado opera is based on a story by Edgar Allen Poe and is one of two operas Copeland has created using the work of Poe. The plot centers around a criminal, Montresor, who reflects on a crime that he committed fifty years earlier. Stamped Poe's signature of the macabre, the crime entails Montresor luring a fellow nobleman, whom he believes has wronged him, into a wine cellar -- holding him hostage and torturing him there.
"It's kind of a circle," Copeland said about the journey that led him to compose for orchestras. "The first musical impressions you get from your parents is what they're listening to, and then when you get to be a teenager you find your own sound and your own stance and your own hairdo, and you go for it," he said. "In my case, the music that my parents were listening to was Stravinsky, Debussy, and also my father raised me to be a big band white jazz drummer. He raised me to be Buddy Rich; he had me in lessons from the start, which cured me of jazz, but in fact, the Stravinsky and the Debussy stuck."
"That music of the big orchestra doing dramatic things, very powerful, very rhythmic [things], really stuck," he said.
Copland co-founded The Police with singer-bassist Sting and guitarist Henry Padovani (who was then replaced by Andy Summers) in 1977. They rose to become one of the best-selling and most acclaimed bands of the 1980s and Copeland's contributions weren't limited to the drums. He also wrote several songs on each of their albums, provided vocals (lead vocals on "On Any Other Day") and even recorded some of his own solo songs in the UK under the pseudonym, "Klark Kent." Some of the most well-known songs Copeland wrote for The Police include "Contact," "Bombs Away," "Darkness" and "Miss Gradenko". He and Sting also collaborated on writing many songs, including "Peanuts," "Landlord," "It's Alright for You" and "Re-Humanize Yourself."
Copeland also supplemented his work in rock, first writing scores for film like Francis Ford Coppola's "Rumble Fish" (for which he earned a Golden Globe nomination), "Wall Street," "Talk Radio," and "See No Evil, Hear No Evil," among twenty more.
After The Police disbanded in the mid-80s, however, Copeland was free to explore further, which he did through collaborations, filmmaking and a deeper focus on composing. Although he did have forays back into pop, including a reunion with The Police in 2007, it was at this time that he flourished as a composer and expanded the breadth of sounds he as able to manipulate, working with an orchestra.
"When I started... as a flinty-eyed, hired-gun film composer, and you just have to use orchestra, I started to get the hang of how you balance strings and woodwinds and so on," he said. "At first, just sweetening stuff with big football notes to make it sound like a score ... Francis [Ford] Coppola was the first director who hired me to score a film, and he turned around and said, 'I need strings, okay!' I started hiring strings. Gradually I got the hang of cool stuff that you could do with them. It's actually a versatile instrument, the orchestra," he added. "It has incredible dynamic range, it has enormous range of colors... That's where this journey began."
Exploring further, Copeland says that once he started working in opera specifically, it was the bold music of German classical composer, Richard Wagner that inspired him. "The power of it," Copeland said to describe the qualities that resonated with him. "It wasn't mincing around the way so much classical music does. I ended up in a world where the concert experience is a two-way street [with The Police], where there's a lot of kinetic ritual, where there's call and response. Where the shamanistic qualities of the performer are at the forefront," he added. "Where as in classical music, it's all about worshiping the dead composer, and the players disappear behind the music."
"That's fine, that's the way I like to hear my Brahms, but the music that steps outside of that is where an orchestra and I will come together for a fruitful future," he added. "What I've learned about show business and rock and roll and working up audiences, and lighting up a crowd, man. Sixty people [through an orchestral piece] ought to be able to do that."
"Here at the age of sixty-something, I'm still an angry young man. I like angry stuff... it's either anger or celebration. Opera is both of those things. It's celebration, it has life and power and joy, but it also has powerful stuff as well," Copeland said, adding that "angry" is a word he uses to describe a style and tone, or "a color," more than an emotional state.
Next for Copeland? "There's still a lot to learn with both opera and orchestra," he said. "I can't hide behind being 'isn't it cool that a drummer guy wrote an opera?' I'm supposed to know what I'm doing by now. Guess what? There's always more to learn. Here I am on this fifth opera still discovering stuff. I'm trying to crack it by the sixth one... There's always more to learn," he said.
Steve Schonberg is the editor-in-chief of www.centerontheaisle.com and is seen regularly on NBC's "Weekend Today in New York."
Popular in the Community