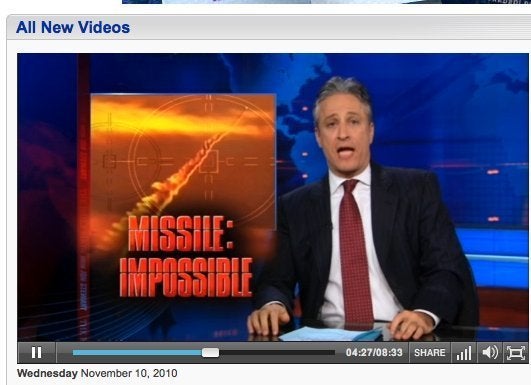 When Jon Stewart catches the media creating something out of nothing to fill the 24-hour news cycle, the result is always hilarious. Last night's "Daily Show" did just that and diagnosed the media's coverage of the recent mysterious vapor trail over Los Angeles as paranoid, presumptuous and completely ridiculous.
When the Pentagon or any other department of government failed to offer an explanation for the long plume of smoke or vapor caught on video by a helicopter pilot., the cable news networks expressed shock and outrage.
"I can't believe that cutting through our national security bureaucracy to find out about something that may not actually have happened takes longer than an hour-long news shift," Stewart said sarcastically. "Well, in the meantime..."
The speculation began. Stewart produced a slew of clips where the mysterious plume was called everything from an optical illusion to a Russian submarine missile to a meteorite. Stewart even produced his own speculation: "Giant sky c**k?"
Assuming that the media's hysteria is just California's way of saying goodbye to their action hero governor Arnold Schwarzenegger, Stewart added that whatever the thing was, it probably wasn't a missile. He figured that if the pilot recorded it for 10 minutes, and missiles travel so fast, wouldn't it have been in Hawaii by the time the recording ended?
For more, Stewart turned to Wyatt Cynac who added even more confusion to the story by suggesting there was a small boy trapped inside the missile a la Balloon Boy.
Related
Popular in the Community