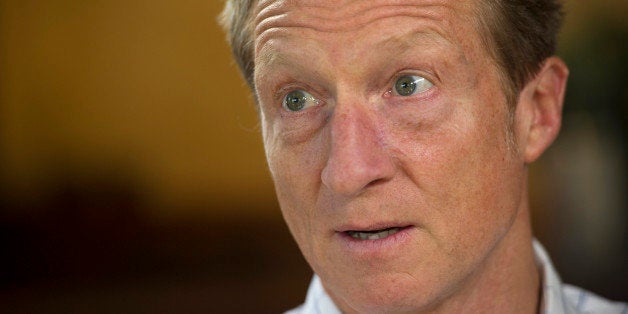 WASHINGTON -- First there was a pickup truck. Then there was an ark.
The vehicle of choice for drawing attention to the NextGen Climate Action Committee has been, well, vehicles. The climate change super PAC, funded by billionaire investor Tom Steyer, recently rolled a truck filled with fake oil barrels into New Hampshire to chide Republican Senate candidate Scott Brown. A few days later, the group began touring Florida with an ark to taunt climate change hedging by Gov. Rick Scott (R).
The ark campaign was meant to draw attention to Florida's vulnerability to the impacts of climate change, like rising sea levels, but also to highlight Scott's unwillingness to talk about the causes of climate change. At its launch, organizers accused Scott of letting only "special interest campaign contributors'' buy a "ticket on Scott's Ark."
The truck and the ark, said NextGen chief strategist Chris Lehane, are part of the group's "disruptive" approach to advocacy. "We want to be on the offensive as much as possible, force the other side to respond," said Lehane, a Clinton administration veteran known for, as The New York Times put it, "his own extreme brand of performance politics."

"Any day that the other side is reacting, playing defense, we're winning," said Lehane.
NextGen Climate Action first emerged as a significant electoral player in the 2013 Virginia governor's race, spending $8 million to keep Republican Ken Cuccinelli out of the state's top office. The group also spent more than $1 million last year to elect Massachusetts Democrat Ed Markey to the U.S. Senate. This year the super PAC is going bigger -- much bigger.
NextGen is backing up its sometimes zany stunts with a whole lot of cash, setting its efforts apart from the environmental campaigns of yesteryear. As of its last filing with the Federal Election Commission, the group had spent $30.5 million in the 2014 electoral cycle, according to the Center for Responsive Politics. Of that, $11.5 million has gone to independent expenditures, almost all of that for attacks on Republican candidates. (NextGen Climate Action has an affiliated 501(c)(4) nonprofit, but the group says all its 2014 electoral work has been done through the super PAC.)
The group's efforts heading into November's elections are focused on six races -- the Senate contests in Iowa, New Hampshire, Michigan and Colorado, and the governor's races in Maine and Florida. (The group made some initial plays in the Pennsylvania governor's race, but the Democratic challenger there has built a significant lead, making the state less of a priority.) All six races are close contests in which the candidates have offered very different views on whether man-made emissions are causing the planet to warm. The Senate races are also crucial to maintaining Democratic control of the Senate.
Steyer has pledged to spend $50 million of his own money, earned as a hedge-fund manager, to defeat candidates who are not adequately addressing the problem of climate change. While his group had initially sought to raise up to $50 million from other sources, so far it has brought in just $3.6 million in outside funds.
But the cash flow from Steyer to the group has not slowed down. NextGen spokesman Bobby Whithorne said Steyer signed over another $15 million in September, which will show up in the group's next FEC filing. Whithorne, who came to NextGen from the White House press shop, said the group "will continue to invest significant resources in these states" through the election.
The super PAC's electoral efforts fall into three categories: the public displays like the truck and the ark, television and digital advertising, and direct outreach to voters. The group has 20 offices across the country and 700 people working as staff and volunteers. It has set a goal of knocking on 1 million doors; so far, the group reports it's 75 percent of the way there.
"Everybody is buying TV ads. Everybody is in the papers," said Paul Neaville, an adviser to NextGen. The group's goal, he said, is to "hit every medium with the same message and go deeper."
"What we're trying to do is to use creative images and vehicles -- real vehicles, in some cases -- to punch through that clutter," said Lehane.
As many other campaigns do, NextGen is going after the "drop-off" voters -- those who vote in presidential races, but often don't show up in midterm years. The group takes two tacks on this front, seeking both to excite voters who care about climate change enough to make them go vote and to turn voters against Republican candidates by highlighting their views on climate change or the times they have sided with polluter interests. On the latter, Lehane said the goal is to "degrade enthusiasm" for Republican candidates among marginally conservative voters -- the folks who "might not be pleased with the president, but they also blame Republicans for why the system is rigged against them."
NextGen is still spending plenty of money on ads -- $5.5 million on digital and $14 million on television to date, according to the group. The big spending on digital, Whithorne said, allows the group to target key voting sectors with "extreme precision." "Not only are we reaching the electorate on mediums on which they are spending increasingly more time than TV; the valuable data we glean from those campaigns is fuel for the success of our turnout operation," said Whithorne.
The NextGen spokesmen say their early numbers show the strategy working. Their own polling in Florida finds Scott's approval ratings down in recent months.
Brian Brox, an associate political science professor at Tulane University, said NextGen's effort was unusual in that it was pouring high-dollar outside spending into left-leaning campaigns. "The Democratic side has been lacking in the extensive ramping up of these outside operations, when compared to the Republican side," said Brox. "It's taken a while."
Environmental PACs are emerging as major funders in 2014, however. Between Steyer's pledged $50 million and another $25 million that the League of Conservation Voters plans to spend this year, green PACs are on pace to spend as much or more than the largest independent groups spent in 2010. While many outside groups are increasing spending this year, the growth moves enviros into the heavy-hitters category, with groups like the U.S. Chamber of Commerce and American Crossroads.
Jeff Gohringer, press secretary for the League of Conservation Voters, said his group is "working closely with them [NextGen] and our teams are talking constantly."
One challenge for both groups is that they have spent a lot of time decrying the outsized influence of big spenders in elections -- particularly fossil fuel interests -- but are trying to combat that with their own big spending.
"In an ideal world, you wouldn't have outside money at all," said Lehane. "But you have Citizens United and other rulings that have allowed some of the richest companies in the world to disproportionately impact our political process, to the detriment of everyday people. What we're doing is a drop in the big oil bucket compared to what the fossil fuel interests are doing."
"The bottom line is that we need more environmental money in politics," said Gohringer. "We're never going to outspend the other side, but more resources means our message is being heard by more voters across the country."
And Lehane thinks voters will side with their cause. "They like David, hate Goliath," he said. "They like that we have a slingshot that fires fast, fires accurate."
Before You Go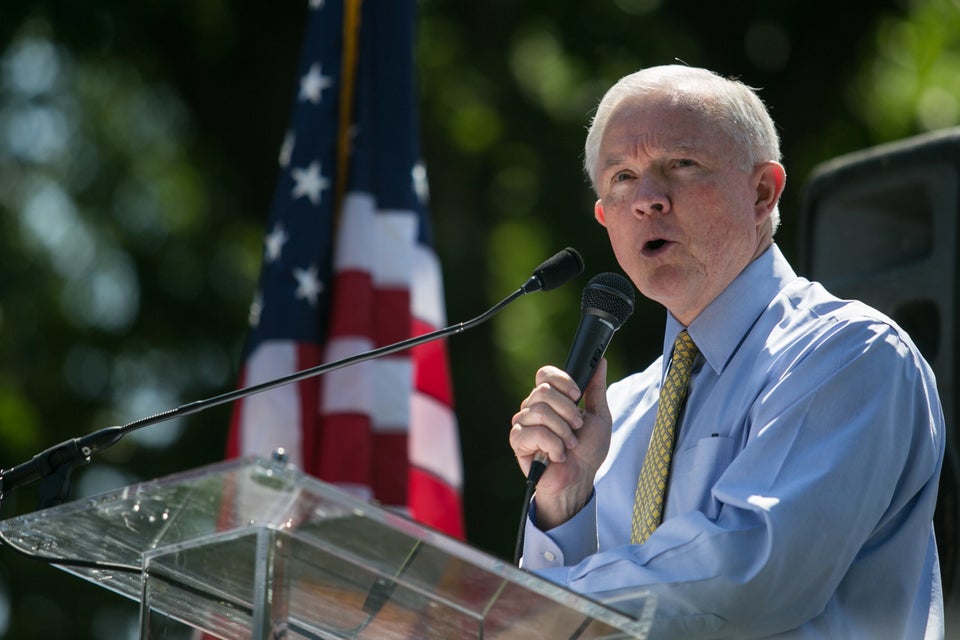 Senate Seats Up For Grabs In 2014