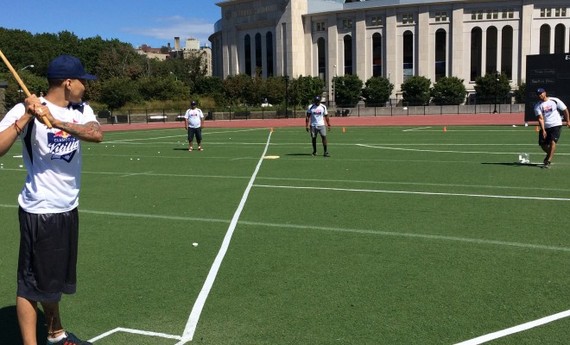 Those of us who grew up in the streets of New York City and a few other cities can remember playing stickball in the streets. That was our poor people's little league.
In the Dominican Republic, there is a similar game still played in the poor communities. The game is called "Vitilla". Instead of a ball, they pitch large bottle caps. Just about every major league Dominican player has played it at one time in their youth.
Now the game has made its way up to the states thanks to the vision of Alfredo Garcia. Mr. Garcia came from the Dominican Republic years ago and he brought a bag of plastic bottle caps from gallon sized water jugs. Like an immigrant carrying precious seeds from the homeland, Alfredo came to New York with the idea of planting the idea of Vitilla, aka Dominican stickball.
Alfredo's dream came through this week with the first full blown tournament being played at Heritage Field Park on the grounds of the former legendary Yankee stadium. The event sponsored by Red Bull is part of the company's street sports series.
Youth and adults from different ages participated in this unique but simple game that makes it attractive to all ages. I was invited as president of Latino Sports. Also invited to this first tournament was Yankees scout, Cesar Presbott to throw out the first pitch.
I congratulated Mr. Garcia for introducing the game to the youth of New York. I stated, "Everything and anything we do to help keep our youth physically active and off the streets is positive and the Bronx is a borough that needs more healthy activities for our youth."
Mr. Presbott, who has scouted and signed many young prospects in the majors like Yankees reliever Dellin Betances, encouraged every young person interested in baseball to play the game as it helps with hand and eye coordination.
Many present professional Dominican players today have all played the game when they were kids. Robinson Cano, Vladimir Guerrero and Sammy Sosa are just a few of the many sluggers that have at one point mentioned their love for Vitilla and credit the game for helping them with better eye coordination.
Mr. Garcia thanked Red Bull for their support and was appreciative of Mr. Gabriel Balcasar, sports journalist and community activist who has organized little league tournaments and who was instrumental in helping him find the right support and sponsors to help him with this, his dream come through.
Calling all HuffPost superfans!
Sign up for membership to become a founding member and help shape HuffPost's next chapter