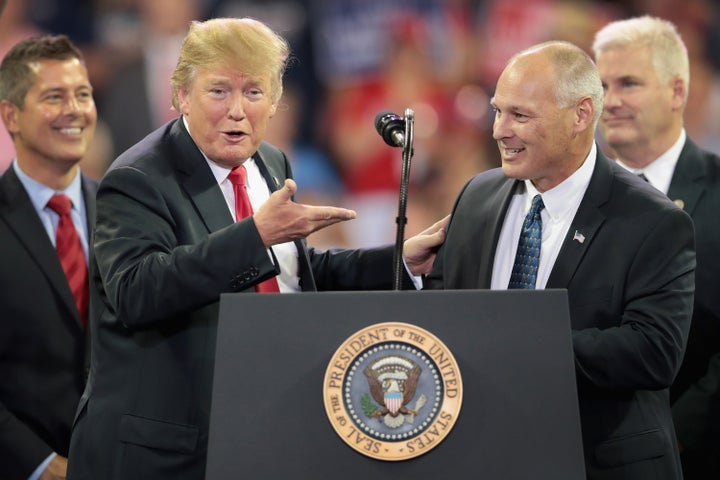 A new poll from a coalition of Democratic groups casts doubt on that strategy, showing the GOP will suffer as campaigns center around the president's personality and record, and Democrats portray Republicans as Trump's servants.
The survey of likely voters from Navigator Research, conducted by the Global Strategy Group, found Democrats had a 8-point lead on a generic ballot for Congress, 45 percent to 37 percent.
The Democratic lead grows, however, when the battle for Congress is framed as a referendum on the president. Asked if they would prefer a Democrat who mostly opposes Trump or a Republican who mostly supports him, 52 percent picked the Democrat, and 39 percent choose the Republican.
When presented with a Democrat who will be a "check and balance" on Trump against a Republican who will help Trump pass his agenda, Democrats led 50 percent to 38 percent.
The polling memo recommended the "check and balance" language, saying it is less likely to repel white voters without a college degree and voters who live in small towns and rural areas.
"'Check and balance' is the better framing for avoiding backlash among those who are generally more supportive of Trump," the pollsters wrote.
The pollsters recommended that Democrats portray congressional Republicans as petrified of Trump's political attacks. Language describing GOP members of the House and Senate as "yes men who are just doing what they're told" resonated with independent voters.
When talking about Republican politicians who regularly support Trump, Democrats should describe them as "showing no backbone, putting party over
country, and acting like Yes Men," the pollsters wrote. Other language – including calling Republicans a "rubber stamp" or "complicit" in Trump's actions, resonates with Democrats, but didn't move swing voters, the survey found.
And, if Republicans are counting on not seeing a backlash when Trump comes to town, they may be in for a rude awakening: 42 percent of independent voters said campaigning with Trump would make them "much less likely" to vote for a candidate in November, and 12 percent said it would make them "somewhat less likely."
The memo also recommends that Democrats attack Republicans for failing to provide sufficient oversight of Trump: Nearly 60 percent of independent voters said that issue would make them less likely to support a candidate in the fall.
Global Strategy Group conducted the national online survey of 1,028 registered voters from Aug. 2 to Aug. 5, plus a survey of an additional 100 independent voters.
The pollsters also are set to release new data Thursday on the subjects of family separation and the special counsel investigation.
Popular in the Community