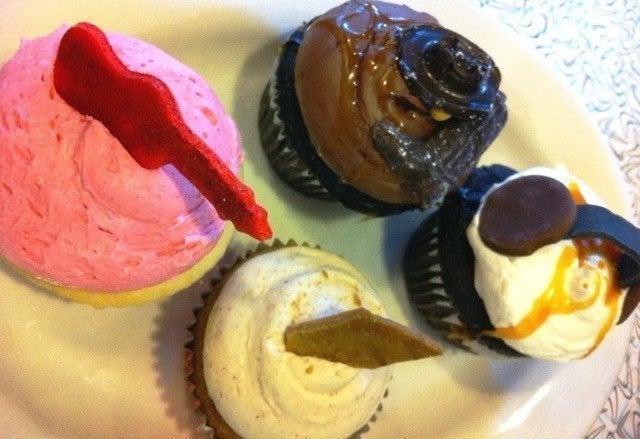 Sticky Fingers founder Doron Petersan and head baker Jenny Webb had previously appeared twice on "Cupcake Wars," a qualifying program of sorts for "All-Stars." The Sticky Finger duo were the first vegan bakers to claim victory on that program in March 2011, but didn't quite make the cut when they returned in July.
If that loss bothered them at all, it didn't show Sunday night when "All-Stars" aired. Petersan and Webb won the day with four cupcakes:
Rolling Stones Brown Sugar: Brown sugar cupcake with a rum frosting topped and brown sugar brittle
Man in Black Johnny Cashew: Black cocoa cupcake with black cocoa dark chocolate frosting topped with dark chocolate cashew candy
Salt-n-Peppa Inspired: Chocolate bourbon smoked pepper cupcake with salted caramel and vanilla bean frosting topped with fondant candy headphones
Chuck Berry Inspired: Orange cupcake stuffed with blueberry cinnamon filling and covered in raspberry frosting, then topped with a sparkly red fondant guitar
"Flavor has always been our first priority," said Petersan in a release, "and with the All-Stars win we are proud to have our vegan sweets rise above some of the best non-vegan cupcakes in the country."
Support HuffPost
The Stakes Have Never Been Higher
Related
Popular in the Community