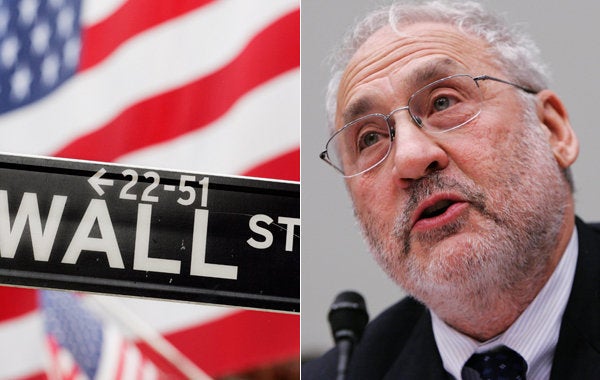 One of the world's leading economists said Wednesday that the very structure of the Federal Reserve system is so fraught with conflicts that it's "corrupt."
Nobel laureate Joseph Stiglitz, a former chief economist at the World Bank, said that if a country had applied for World Bank aid during his tenure, with a financial regulatory system similar to the Federal Reserve's -- in which regional Feds are partly governed by the very banks they're supposed to police -- it would have raised alarms.
"If we had seen a governance structure that corresponds to our Federal Reserve system, we would have been yelling and screaming and saying that country does not deserve any assistance, this is a corrupt governing structure," Stiglitz said during a conference on financial reform in New York. "It's time for us to reflect on our own structure today, and to say there are parts that can be improved."
Stiglitz made the remarks at a conference held by the Roosevelt Institute. He and other speakers, including Harvard Law Professor and federal bailout watchdog Elizabeth Warren and legendary investor George Soros, had bold ideas about reforming the nation's financial system.
After the conference, Stiglitz said that his remarks on the Fed were "maybe a little hyperbole," but then again made the case that if another country had presented a plan to reform its financial system, and included a regulatory regime that copied the makeup of the Federal Reserve system, "it would have been a big signal that something is wrong."
To Stiglitz, the core issue is that regional Fed banks, such as the New York Fed, have clear conflicts of interest -- a result of the banks being partly governed by a board of directors that includes officers of the very banks they're supposed to be overseeing.
The New York Fed, which was led by current Treasury Secretary Timothy Geithner during the time leading Wall Street firms like Citigroup, JPMorgan Chase, AIG, and Goldman Sachs were given hundreds of billions of dollars in taxpayer bailouts, presently has on its board of directors Jamie Dimon, the head of JPMorgan Chase. He's been there for three years. He replaced former Citigroup chairman Sanford "Sandy" Weill.
"So, these are the guys who appointed the guy who bailed them out," Stiglitz said. "Is that a conflict of interest?" he asked rhetorically.
"They would say, 'no conflict of interest, we were just doing our job,'" he answered. "But you have to look at the conflicts of interest."
A message left for a New York Fed spokeswoman after regular business hours was not returned.
"The reason you talk about governance is because in a democracy you want people to have confidence," Stiglitz said. "This is a structure that will undermine confidence in a democracy."
Related
Popular in the Community