I recently listened to the hit podcast "S-Town" on a trip with my wife. It's a story about a man named John B. McLemore. For those who haven't listened, McLemore is a genius that restores antique clocks, builds complex timing devices and can discuss pretty much any topic under the sun in detail. As I prepare for my fifth STIHL Tour des Trees, part of his story stuck with me specifically the episode featuring McLemore's manifesto. In it, he states, by way of some sophisticated calculation, that the average person will only be active for 33 percent of their time spent on earth doing what we love like vacationing, working, spending time with family — living life to the fullest. A pessimist might say how fleeting it all is, but I prefer the optimistic approach, "Look how much we can do with such little time!"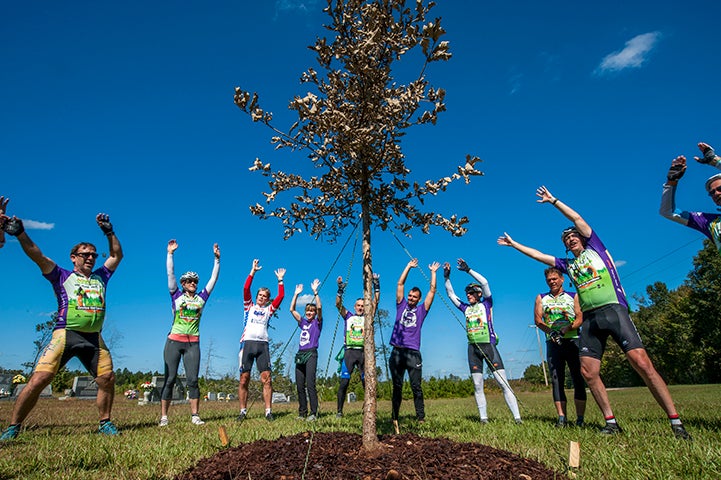 My friends and I contribute to our "33 percent" every year through the STIHL Tour de Trees. In a week's time, we ride more than 500 miles on bikes, plant trees everywhere we go, educate children about urban forestry, raise money to support tree research and education and most importantly discuss how we will continue our efforts when we get home. This year's Tour is the 25th-anniversary ride. The Tour started in 1992 when a group of colleagues and friends decided to ride from Seattle to Oakland, Calif. to raise money and awareness about Urban Forestry for TREE Fund. It is now TREE Fund's largest fundraising and community engagement event, and the largest of its kind in the United States.
But has it made an impact? Does it continue to do so? As a mechanical engineer at STIHL Inc., I like data and calculations, so I did some of my own to commemorate the Tour's achievements. Here's the breakdown:
The ride started with 13 cyclists in 1992 and has grown to support up to 100 riders per year.
A conservative estimate of the average annual rider base for 25 years is 50.
Over the years, the fundraising minimum has risen to $3,500 per rider.
For this calculation, let's set the average dollar amount raised per year, per rider conservatively at $2,500.
Now, I know for a fact, this is a very conservative estimate as a rider like Steve Geist has raised well over $100,000 in his 20 years of riding.
Finally, we'll put the average tour length at 500 miles. It is simple math that equates to this: the Tour has raised more than $3 million for Urban Forestry Research, and the riders have collectively pedaled more than 600,000 miles. The equivalent of circling the Earth 25 times in 25 years.
Now let's talk about what it takes, on an individual level, to make such a large impact in such a short amount of time. If you're a veteran rider, you know. You've seen it. If you've ever met people like the Tour riders, you've also seen it. It is an infectious blend of passion and persistence.
These people have an unbounded focus on accomplishments and goals. Obstacles become opportunities, pain is simply a reminder of our joys, and life is for doing the things we love. Passion for trees and the people that study them motivates these people to ride more than 500 miles on a bike in one week and raise a minimum of $3,500 for the honor of doing it.
For many, riding is the easy part. If you ask any Tour rider what the hardest part of the Tour is you will undoubtedly hear, "the fundraising." So, I asked my friends this year to tell me about their experiences with this part of the Tour. Fundraising is where persistence comes in. I learned many contribute most of the cash out of pocket while others have built a base of recurring donors over the years. International Society of Arboriculture (ISA) chapters also sponsor riders and have local fundraisers. The notable Ohio ISA chapter pig roast comes to mind. Whatever it takes, these riders will do it. That's just the kind of people they are.
The STIHL Tour des Trees isn't just about the numbers. Yes, I have simplified its impact by displaying it numerically, but there is a less quantifiable impact of all this passion and persistence. That is the impact we are having on the next generation of riders, a generation that will carry this effort forward for 25 more years. This year, my two-year-old daughter will experience her first STIHL Tour des Trees. She probably won't remember it, but she will feel it, and she'll know the kind of world in which her mom and dad want her to grow up. Who knows? Maybe one day she'll be the recipient of one of the many scholarships or research grants the tour supports. Maybe she'll even ride. One thing is for sure: she'll know her dad and 99 other riders spent part of their 33 percent pursuing their passion and helping as much as they can!
Calling all HuffPost superfans!
Sign up for membership to become a founding member and help shape HuffPost's next chapter
This post was published on the now-closed HuffPost Contributor platform. Contributors control their own work and posted freely to our site. If you need to flag this entry as abusive,
send us an email
.