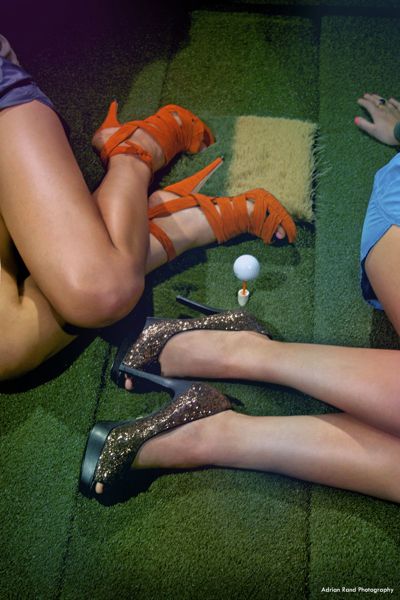 Stiletto Living: Part Two. In our unending quest to take stilettos to the ends of the earth, my editorial partner Bryce Gruber and I decided to follow-up our pilates experiment with a golfing outing. The experiment originally started with my general bewilderment at the masses of women in New York who manage to wear 5-inch stilettos 12 hours a day. How do they do it and what are the tips and tricks to conquering a day? Are they just masochists, or is there a way to ease the pain in subjecting one's feet to towering heels pounding pavement?
We set out to put stilettos in the most ridiculousness of situations, putting the shoes to the test to find out just how far we can go in integrating stilettos into our own lives. Starting with some pretty static activities, we're gradually pushing ourselves into more difficult scenarios. Ideas welcome.
Walking around a golf course is a challenge in itself in stilettos, sinking down into the turf, crushing the greenery. There's a reason you'll only see Michelle Wie In flats. Fortunately we discovered a real-time golf simulator: Golf Manhattan, a secret spot in Flatiron that allows you to practice your swing on the course of your choosing. We picked the latest PGA tour. It's almost like the real thing, except you're surrounded by computer graphics, there's no ocean nearby, and instead of hitting a ball toward a hole, you swing it high-speed into a fabric wall. It's a golf lovers dream, for those times when one just can't get out of the city.
After a quick lesson in swinging and putting, we set out onto the green. Golfing in general isn't a sport that requires a ton of walking, especially when you're on a simulated course. But the added height of the stilettos made it hard to get the clubs at the correct level for the perfect swing.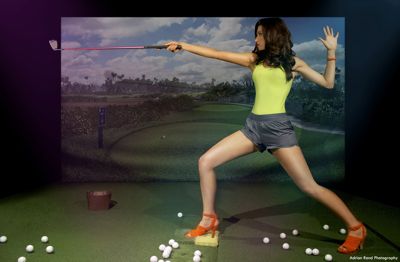 In Pilates, we learned that a high toe platform makes wearing stilettos for long periods of time quite easy. This time, we worked with the one and only shoe specialist Endless to choose two pair of heels with ample heel support to stand steady and focus on the ball. I tried out a high glittery pump by Pour La Victoire while Bryce modeled a strappy orange suede number from Jessica Bennett.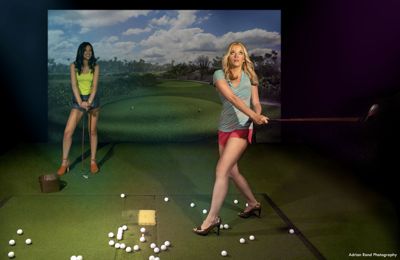 While ultimately neither of us had any real golf skills, the stilettos were comfortable enough to wear all day and we had a blast taking turns swinging a basket full of golf balls. Our instructor showed us the correct golfer's squat to prep for a strong swing and we slowly learned how to correctly golf in heels. It's a sport that requires a lot of muscle, and even more so when you're maneuvering in 5-inch heels. We were both surprisingly sore the next day, although we didn't feel like we were getting much of a workout at the time. Golf Manhattan has so far succeeded in capturing the male aficionados of the sport, but hasn't had much luck bringing in city ladies. Give it a try for yourself, no heels necessary.