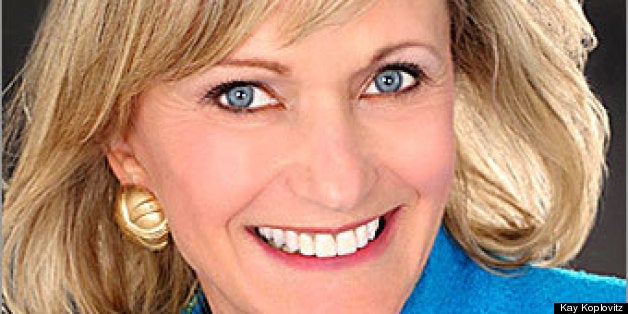 You can really capture the emerging power being wielded by women using their human capital networks in the world of business and power in Pamela Ryckman's just released book: Stiletto Network: Inside the Women's Power Circles That Are Changing the Face of Business. It is coming "on the heels" (pun intended) of two other powerful books that came out just this spring, Lean In by Sheryl Sandberg and The Athena Doctrine by John Gerzema and Michael D'Antonio. All of them are capturing the changing world of women, business and power from different perspectives. But if you want to know how this is being done, Stiletto Network is the one that can inform you.
Pamela started out on the road to her research to fill a personal need. She has written for The New York Times, The Financial Times, Fortune, CNNMoney, The Observer and many more. But when she took a break to raise her children, she found upon her return that she had lost her footing.
Then she attended a women's conference in California and an amazing pattern started to unfold. She met woman after woman who introduced her to others and Pamela started to realize the landscape was shifting. Not only were women not balking at helping each other achieve their goals, they were promoting their friends, business associates and colleagues. The women were active, confident, collaborative and intuitively knew who Pamela needed to know next. The electronic rolodexes came out and one connection after another was made. This is the power of women using their human capital network to effect change. This is the heart of the Stiletto Network, friendly, open, selfless and stylish women opened up with their stories.
What has resulted is a beautiful mosaic of how women are changing the rules of business to suit themselves and their life styles. At last, we are learning to earn power and use power for ourselves and others.
The power of the human capital network emerges in the story of Shauna Mei, who started her career at Goldman Sachs and left after only a couple years to join a Goldman client and start a research firm in luxury goods. That led to her becoming the COO for a client company and having her AHA moment, which is when she left that company to start her own online luxury lifestyle company, AHAlife. That is when she returned to her Goldman contact Janet Hanson, Founder of 85 Broads, the global professional women's network. She discussed her plans for AHAlife and her need for capital. One discussion led to another until Shauna wound up raising her angel capital primarily from the group of 85 Broads members. The human capital network effect was definitely in place.
Stories like Shauna's fill the book. Uber connectors, Kim Moses, Heidi Roizen, Maggie Wilderotter, Heidi Messer, Ann Winblad, Gerry Leybourne, Alexa Von Tobel and dozens and dozens more provide the blue print for how these Stiletto Networks are formed, operate and provide real value to their members.
Time after time, you learn that the characteristics women hold and cherish are becoming more the norm for business today. Attributes such as collaboration diversity, judgment, intuition, partnership, listening, inclusiveness, flexibility, selflessness and loyalty mean a lot.
Interestingly, these are the attributes that are documented in the extensive global research done by John Gerzema and Michael D'Antonio in The Athena Doctrine. They tested the gender associations of 125 attributes among 64,000 men and women and came up with some pretty conclusive results. The business world is decisively moving towards leadership in the attributes most commonly described as feminine.
One might expect that the attributes more characteristic of men would be going out of fashion, but neither The Athena Doctrine nor Stiletto Network take that position. Male attributes of decisiveness, authority, power, ambition, aggressiveness and the like have their place too. It's the combination of both gender attributes that will be required for leadership as we move forward.
What author Ryckman is attempting to do is to give women a road map of how they can form their own "Stiletto Networks" and help others as well as themselves succeed in business and indeed in life. That roadmap relies in part on being able to harness the power of our human capital networks.
I find the stories told in her book reflect what I see changing every day in the world of entrepreneurs, where I spend a good portion of my time working with women entrepreneurs who are participating in the Springboard Enterprises network to raise capital. What they learn on their way to raising capital is that it is that the human capital, the human network, is what leads you to success. That's the story of the Stiletto Network, told in the rich stories of the women brave enough to tell them.
This post is part of a series produced by The Huffington Post in conjunction with our women's conference, "The Third Metric: Redefining Success Beyond Money & Power" which will take place in New York on June 6, 2013. To read all of the posts in the series and learn more about the conference, click here. Join the conversation on Twitter #ThirdMetric.
Calling all HuffPost superfans!
Sign up for membership to become a founding member and help shape HuffPost's next chapter