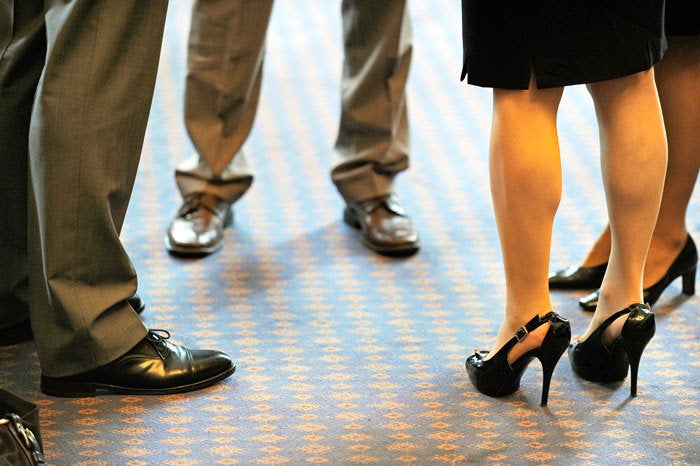 There's good reason why Yahoo! President and CEO Marissa Mayer and Hewlett-Packard President and CEO Meg Whitman find themselves in the media spotlight and overly scrutinized for their performance while held up as role models for women aspiring to emulate their career success at top companies. There are so very few others like them.
At the UC Davis Graduate School of Management, we closely monitor and publish a yearly benchmark for gender diversity in the C-suites and boardrooms of the largest public companies headquartered in California.
It's the only study of its kind to focus on gender in the boardrooms and executive suites of corporate California. This is no small sample. Our "California 400" -- including many global brand powerhouses such as Apple, Chevron, Intel, Visa, Google, Hewlett-Packard and Oracle -- taken together tally a total stock market value of nearly $3 trillion. Put in perspective, the combined market capitalization of these publicly traded Golden State firms is almost three times the annual GDP of neighboring Mexico.
In a state that prides itself on its pioneering spirit, progressive aura and economic mobility among the most diverse population in the nation, it's a disgrace that there has been no significant, measurable change in the representation of women in the top decision-making posts of these California 400.
Although it has been eight years since we first published our UC Davis Study of California Women Business Leaders, the numbers have not improved--it still resembles a boys' club with only one woman for every nine men in the top management and corporate boardroom positions in the state's 400 largest public companies.
The latest study released today (online here) shows that women comprise just 9.9 percent of boardroom directors and top executives. It's astonishingly that nearly a third -- 128 of the 400 largest companies -- have no women at all on their boards or among their five highest-paid executive positions.
Not a single company in the survey has an all-female board and management team. The closest does not even have the same number of women as men. San Francisco-based Williams-Sonoma, the home furnishings and cookware company, tops the list with women in 47 percent of its board and top executive positions. Those numbers help push the companies in San Francisco County to the largest average percentage of women board members (16.3 percent) in the state.
But just down the road, Santa Clara County -- the Silicon Valley high-tech hub -- continues to be the most insular, male-dominated corporate hierarchy in our study, despite the high-profile CEOs like Mayer and Whitman. Silicon Valley is home to 112 of the 400 companies -- representing $1.2 trillion or nearly half the $3 trillion shareholder value of the companies in our study.
Yet the global epicenter for innovation isn't applying that same entrepreneurial energy and ingenuity to healthy organizational behavior. Silicon Valley showed the worst record for percentage of women board directors (falling to 8.4 percent from 8.6 percent last year), and second only to Orange County for the worst representation of women executives, dropping dramatically to 6.6 percent from 7.4 percent last year.
This year, for the first time, we also looked at ethnicity among the 85 Fortune 1000 companies in California, and only one company in this subset of businesses had an ethnic woman as the CEO. Furthermore, only 13 had any ethnic women directors.
That's disturbing, unacceptable and we need to press for drastic change. Why? It's vital that we have that diversity of thought and experience in the leadership of these companies. More and more research is examining the possibility that having more women in top management and on boards actually improves company performance.
To compete in today's global marketplace, successful companies need leaders from a variety of backgrounds, skills and experience to make critical strategic and operations decisions, but the lack of women in these California public companies is anything but forward-thinking.

As an internationally ranked public business school that graduates some of the best and brightest MBA students in the world, a critical part of our mission is advocating and ensuring for equality of career opportunities no matter our students' gender or ethnicity.
To this end, we have a strong partnership with Watermark, a San Francisco Bay Area non-profit organization that both prepares women for board service and keeps companies informed about the many talented, highly qualified women ready for advancement to top executive and board positions.
Regretfully, California is no better than most of the rest of the nation.
Next Wednesday, Dec. 12, Watermark and the UC Davis Graduate School of Management will join the national conversation on gender diversity in U.S. corporate boardrooms by holding an event in San Francisco among many others nationwide the same day co-hosted by 2020 Women on Boards' chapters, as well as, male and female champions nationwide. We support this national campaign to increase the percentage of women on U.S. company boards to 20 percent or greater by the year 2020.
We challenge the business community in California -- and the country -- to improve on its past and forge a path toward greater diversity in top leadership across gender, ethnicity and experiences. Hopefully, sooner, rather than later, more companies will take action.
REAL LIFE. REAL NEWS. REAL VOICES.
Help us tell more of the stories that matter from voices that too often remain unheard.