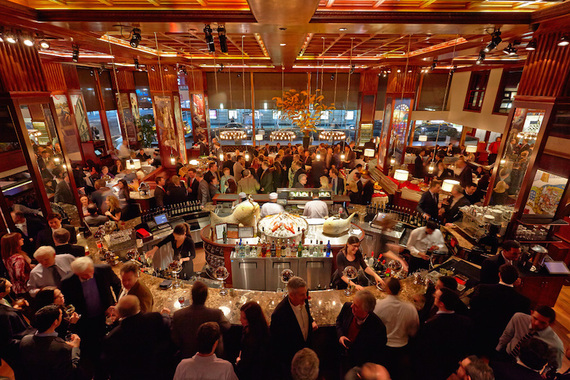 Monday night in NYC. Most Broadway shows are dark. People don't go out that much after the weekend. A lot of restaurants take their day off. But, this being NYC, many don't and most of them do great business on the first day of the week.
Take Redeye Grill, opened 20 years ago, which almost always has a crowd -- which is even more impressive when you see the size of the place. The main dining room is built around a very lively bar with a shellfish display, and its signature item of décor is a revolving copper sculpture of "dancing shrimp" above the entrance. An 88-foot mural by artist Red Grooms wraps around the room with scenes from both NYC and California, whose food styles are evident on the menu.
There is live entertainment in Red's Lounge, with huge columns depict painted with New York scenes by New York and California artists. The Living Room is marked with eight paintings by Mark Kostabi. There are also five private dining rooms.
The whole place is designed to dazzle you, for the first time or the tenth. Restaurateur Shelly Fireman of the Fireman Hospitality Group, which also operates Café Fiorello, two Brooklyn Diners, Bond 45, and Trattoria dell'Arte, has a knack for not just giving people what they want to eat but to do so in an environment that is always fun and always tied to the nearby entertainment venues like Carnegie Hall, the Theater District and Lincoln Center. Visitors staying in midtown hotels may already know of the restaurants from guidebooks but will undoubtedly hear about them from the concierges who get consistently good feedback from guests.
Corporate Exec Chef Brando de Oliveira has long experience in top international restaurants like illustrious Milan's Antica Osteria del Ponte and Charles Palmer's Aureole in NYC. On-premises exec chef is Jawn Chasteen, and he's canny about timing his cooking with the service staff because he knows he's got a hungry crowd out there.
The size of the menu is commensurate with the size of the restaurant, from New England clam chowder ($14) to sushi, from very good guacamole ($22) to true--though very expensive--veal schnitzel à la Holstein ($58), with a fried egg on top of its crisp, buttery crust. Also crispy is a salad of burrata cheese and heirloom tomatoes ($20).
Of course, the shellfish here is a main draws, as much for their abundance as for their array. Oysters come in daily varieties, Alaskan King crab legs ($35) are big and meaty, and tuna and avocado carpaccio ($23) is excellent. The jumbo lump crab cakes get a shot of chile aïoli ($22). You may go for the yellowtail jalapeño sashimi plate, but I urge you to try the Okinawa sushi--shrimp, blue crab, tuna, lobster or mushroom tempura rice and sautéed in a ginger-chile sauce served over warm super-premium tamaniski ($19-$29).
The Dover sole (market price) here is one of the best in the city--very well fatted, impeccably juicy, and served with a toasted almond beurre blanc.
After such wonderful seafood, you might treat yourself to one of the fine steaks here, which are dry-aged for 28 days and carved in house.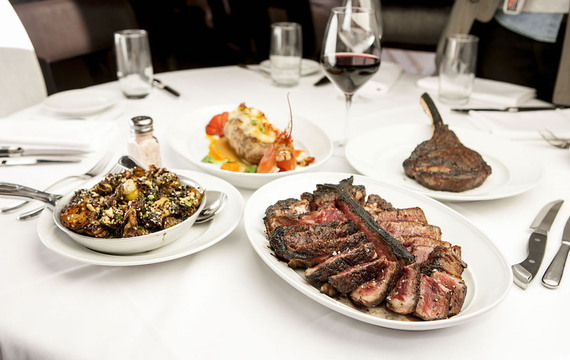 They are first-rate, especially the superb bone-in New York strip ($57) weighing in at 16 ounces. (Have you noticed that the once standard one-pound strip steak has been shrinking down to 14 ounces around town?) Steak toppings offer an aged Gorgonzola and a good-to-see-again green peppercorn sauce.
Side dishes are generous, from servings of Brussels sprouts to a one-pound baked potato that our table of three could not finish. It reminded me of how wonderful a simple baked potato can be, split open to steamy splendor, needing nothing but plenty of good butter, salt and pepper.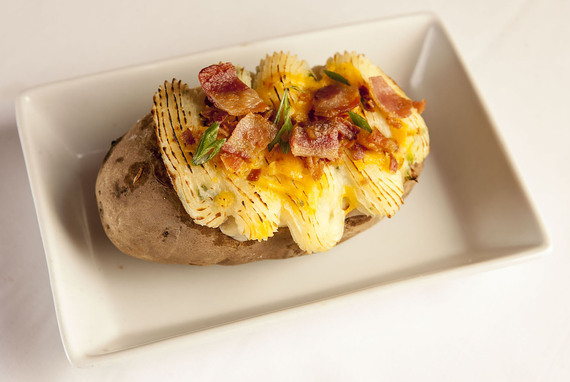 You can imagine the largess in the dessert department, though I don't think either a banana cream pie or Black Forest cake will win any kudos for originality.
Brunch is a very big, lavish deal at Redeye Grill, offering everything from apple-cinnamon pancakes ($21) and a traditional English breakfast ($24) to Chinese lobster breakfast ($29) and caviar with poached eggs and smoked salmon ($35).
RedEye Grill's wine list is getting an update and it needs it.
All of this is well orchestrated by the affable general manager Fabien Lepaître (ask him for wine selections), and maître d' Carlo Mariani (no relation).
Redeye Grill is set up for enjoyment and a giddy sense that you are definitely in the core of the Big Apple.
Redeye Grill is open for lunch Mon.-Fri., dinner nightly, and brunch Sat. & Sun.
REDEYE GRILL
890 7th Avenue (at 56th Street)
212-541-9000
http://redeyegrill.com/information