"You've got to keep dancing. Never look backwards."
This is the hard learned wisdom that motivates Linda Langton each day as she manages Langton's International Agency into a highly successful boutique literary consultancy and agency. It seems to be working. Linda ran an incredibly successful greeting card and calendar publishing business in Australia, New Zealand, The United States and United Kingdom, and was named Australian Businesswoman of the Year. After selling The Ink Group, she moved to New York and embarked on her second and exciting career as a literary consultant and agent, together with a book packaging service company, and as a successful business owner.
She is thriving and proving that you can work, and still have time to live a well-rounded, active, and interesting life without burning out. She attends film openings, theater and other musical events, meets friends and clients, and still manages her growing agency.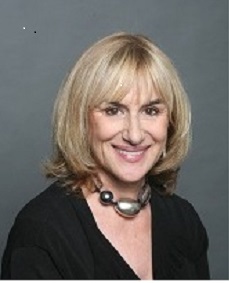 "I only read books for work these days," she laughs, "Or when I am traveling. I love political thrillers!"
We caught up with Linda, after several weeks of phone tag -- she is really busy -- because we wanted to see what's been going on with her since our first profile . In addition to the literary agency, Linda also oversees Book Marketing International, and Langton's International Memoir, a ghostwriting service.
She's still dancing -- and having a wonderful time as well. "I can't wait to get to work and meet all the wonderful writers that send their works to us. We've been able to connect with film and television, as well as major publishers for some of our clients. I'm always looking for talent and commercial properties to represent."
When we talked about Linda's journey to where she is today, she reminded us of the kind of positive and motivated person she is. She said that if she could talk to her younger self, she'd advise her, "Fulfill your dreams. Be able to say 'I did it all". Help as many people as you can along the way still making sure you do what you want to do with your own life and don't let anyone stop you, and always, always be true to yourself."
These life lessons have obviously been well learned, as Linda has built her reputation in Australia, The UK and now in the United States.
Recently, Linda's hard work landed her clients Carolina Sarassa and Diane Montane's book Dancing on Her Grave: Death of A Las Vegas Showgirl, which she helped sell to Lifetime Movies which became a prime time movie, and has received very positive reviews and feedback. This experience, plus the tie-in book sale for Bruce Cook's Trumbo, which also became a movie, has opened her up to working with the film industry and accepting film script writers, and books that can be turned into a series or feature film.
"I seem to have an eye for projects that will make a good film. Right now, I have a client with a 8-part sci-f/horror series under offer, other film writers have films in festivals. I am keeping a close eye out for material that will be excellent for film, reality television shows, scripted series, you name it."
When we asked her about how she saw the advent of e-books and how it affected her agency and publishing services, Linda's response was typically positive. "People are reading more now than ever before. We can thank ebooks for this, as gateways to reading. People are looking for fast reads, and this area of publishing gives writers a chance for writing quicker books and getting their points of view out there. Fiction is a particularly good genre for e-books and self- published books.
"What concerns me though is with so many self-published authors, there is a lot of, well, books that shouldn't be being published yet. That's how my division, Book Marketing International, can help with editing, design and production of an exceptional ebook, or even for print on demand books.
"It has taken a long time for traditional publishers to embrace the idea of the ebook, but times change and in order to survive we have to move with the times. You'll notice now that the traditional publishers are releasing ebook editions as well as their printed formats at the same time.
Although Linda provides an outlet for memoirs and an advisory service for self-publication, Langtons International Agency is coming off an exceptional year with the number of books and authors it represents as well. Thus far in 2016 alone, the agency has sold more than 14 books in all genres to publishers. "We're moving from strength to strength, and we anticipate a stellar 2017. Our established and new authors are exceptional, and I can't wait to see what the future will bring."
Langtons International Agency also stresses a firm social media presence for their authors -- whether self-published, unpublished or traditional -- no matter what their genre. "In today's environment, it's important that writers use Social Media to get themselves, particularly but not only, if in non-fiction, established as an expert, or with fiction introducing themselves to their prospective readers even before the book is ready to send out to the publishers by her Agency. Linda plans to promote social media solutions for her writers, and encourages them to establish themselves. "It's an excellent way to build an audience, clamoring for your book," she says with a smile.
In the next five years, Linda would like to see her businesses continue growing and expanding through her literary consulting and agency, developing books, memoir, books to film and reality television as well as the agenting side of the company. Memoirs and ghostwriting are gaining momentum and her current forays into film and television is also gaining traction.
The marketing side of her company is also increasing, helping writers to get exposure through social media marketing targeted specifically for the author. And of course, she is excited about the possibilities of representing works that can be turned into films and television series and checks all prospects for these qualities.

"You never know where the next hot property is going to come from. Whether reality based, or fiction, we are always on the look out for what is commercial in today's market which will make it easy for us to want to take on a book.
We are looking for a book which will sell well in today's market. It must be well written and edited.
The publishing industry, like most others follow a pattern and a fashion.
Do a good selling job on us. Our criteria for authors differs between fiction and non-fiction. For fiction we are seeking a good pitch or letter, 5 pages sent that are well written sent together with a synopsis and the bio of the author, and write these to make us inspired to want more. Then we'll request 50 pages to get a feel for the writing style and the competence of the author, the pace of the storyline, the characterization and dialogue. Once these have been read by our readers and myself, and if they have been well written, we ask for the complete book, We look for an excellent beginning, great middle, and well rounded ending. Fiction must have great characters, and great story line.
We specialize in thrillers, mysteries, women's fiction and all sorts of commercial fiction. But we will look at sci-fi and fantasy and if the author has an interesting and commercial book.
For non-fiction, we need to make sure that the author has expertise in his or her field or has an inspirational story or memoir, or if the subject matter is interesting and has something new and different to say. Non-fiction authors need to have a good platform, be an expert in their field, so that they can get the word out about their books once they have been published.
All books need editing, and we urge our authors or authors to be, to use commercial editors, professionals, before sending their books to us. Even best selling authors edit or have their books edited numerous times. It is very hard to get it right. We started Book Marketing International to help authors find the right editor for their particular book. We specialize in matching authors with professional editors.
We also insist that authors have a social media platform. They must have a website, Twitter, Facebook, and we can help them in this area also."
Linda's virtues include her self-motivation and her dedication to her authors. She is always seeking ways to provide them with a safety net, where they can concentrate on the writing process while she concentrates on the business angles -- from connecting them to professional editors, selling their books to publishers, connecting them to social media mavens and encouraging them to write their books. Her testimonials show how much her authors to love her. http://www.langtonsinternational.com/testimonials.html
As for Linda, she just keeps dancing forward. She not only does what there is to be done, but she always goes above and beyond for her clients.
Popular in the Community