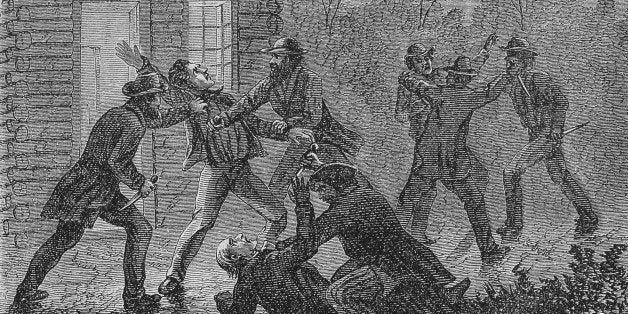 When writing the book "April 1865," author Jay Winik said the bitterest of fighting didn't take place in Dixie or along the eastern border. It was in Missouri and places out west, where guerilla fighting ravaged the civilian population. Long after Grant and Lee shook hands, the killings continued, with scalping, foot-burning, and rape being common tactics in the war against one's neighbor. The book "What's the Matter with Kansas?" documents the rise of extremism in our nation's heartland, instead of the modern South, in the 1990s.
On September 3, Jones found himself in the crosshairs in a story that would make national news. Across campus came the hate messages. "Make Lindsborg white again," read one large chalk sign. Another showed the chalk-drawn outline of a dead body, with a "Rest in Peace my friend" note next to it. Phone messages threatened to close the college, as well as explain that the messages and images were targeting Jones and his family.
Investigations showed that the actions weren't perpetrated by college students, but by a local group from Lindsborg, according to the Washington Post. The town did pass a resolution condemning those actions, and students seem pretty supportive of their new president. They should be, as he's a good college leader.
Members of my Sunday School at First United Methodist Church, where Will and Amy Jones were members and their kids attended church lessons, immediately began to pray for this new president, targeted by hate crimes. Support from LaGrange College followed.
It got me thinking about this West Georgia community, our home for 15 years. Throughout this region, our church group always had members that pitched in to help the Jones family as his biracial adopted son struggles with a life-threatening kidney disease. He was one of the most popular figures at the college and church. Instead of being condemned for being progressive, Jones was commended at LaGrange's Rotary Club, earning a Paul Harris Fellowship. In fact, at church, I just learned that some of the members closest to the Jones family are flying out to Kansas to be with them in their time of crisis and need. Georgia comes to the rescue again.
Surely every community can be improved. But while the national mantra targets the South as the bastion of intolerance, maybe we're forgetting to look elsewhere for the truly bitter actions of hate. And maybe what we need to realize is that other parts of America can look at places in the South and learn a little something about how a community can be a little more Christ-like.
John A. Tures is a professor of political science at LaGrange College in LaGrange, Ga. He can be reached at jtures@lagrange.edu.
REAL LIFE. REAL NEWS. REAL VOICES.
Help us tell more of the stories that matter from voices that too often remain unheard.