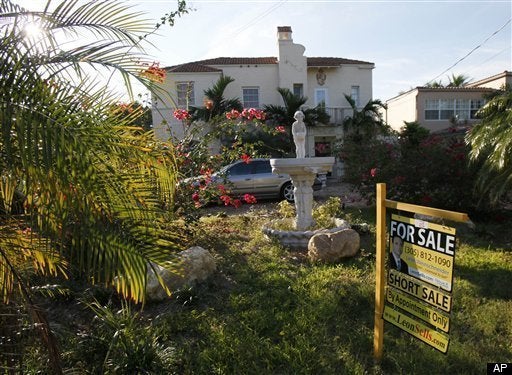 Three and a half years into the worst home price decline in living memory, there is still no evidence that a bottom has been reached. Housing economist Bert Ely told the conference of business economists meeting in Arlington, Virginia Monday (March 8) that the housing market still hasn't bottomed. Nationwide, home prices are down over 35% since the 2006 peak of the housing bubble. Ely calculates that the subsequent collapse has wiped out $7 trillion, or half of homeowners equity.
Mark Zandi of economy.com predicts that home prices are likely to fall another 8% from here, bottoming sometime around the end of this year. Since 2007 home prices have fallen for three consecutive years, the first such downturn nationally since the Great Depression.
There is some good news. At the same NABE (National Association of Business Economics) conference, Ajay Rajadhyaksha of Barclays Capital said the housing market is stabilizing. Sales of existing single family homes rose 8% in 2009 and there are expectations that the first-time home buyers credit, due to expire in April, will spur sales in the critical spring buying season. Lawrence Yun of the National Association of Realtors is cautiously optimistic even though he worries that weakness in the winter months "raises questions about the strength of the economic recovery." Yun says there is still a large inventory of over three million homes on the market.
What is most worrying is that foreclosures are still rising and an increasing number of homeowners are underwater on their mortgages, meaning that they owe more than what the home is currently worth. Rajadhyaksha said of the 57 million US home mortgages, 6 million are in the distressed category, meaning that they are either in actual foreclosure or payments are seriously delinquent. Foreclosed properties drive down prices.
Foreclosures totaled 2.8 million in 2009 and are expected to rise to 3 million this year. They are rising despite the Obama administration's much touted program to forestall them.
As more homeowners find themselves underwater, the incentive to default by walking away increases. The Detroit Free Press reports that in Michigan, where one million manufacturing jobs have vanished in the past decade and unemployment exceeds 14%, a stunning 38% of homeowners are underwater. Strategic defaults, it says, have tripled in the past three years. Home prices in Michigan, where there was no housing bubble, are projected to decline a further 22% over the next five years.
As if this wasn't enough bad news, Rajadhyaksha told the business economists that the mortgage market remains broken with Fannie Mae and Freddie Mac essentially bankrupt. Mortgage finance, he says, is so constrained that "it is harder to get a loan or to refinance than at any time in the past 10 years." Mortgage lenders, he says, are absorbing huge losses and thus tightening lending standards to avoid future losses.
Given all this, should we be surprised that consumer confidence remains low and that homeowners, in particular, are skeptical about the durability of the economic recovery? As a number of experts, including Alan Greenspan, have observed, there can be no sustained economic recovery until there is a recovery in housing.
Related
Popular in the Community