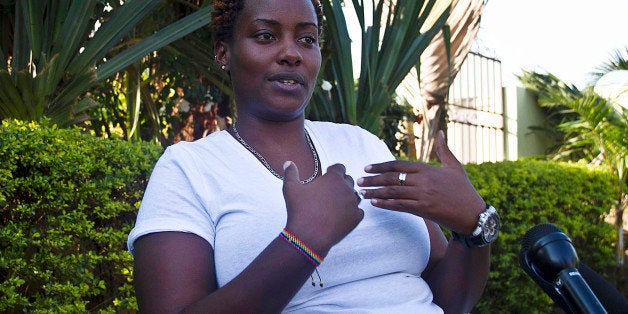 The ninth Parliament of Uganda on Friday passed the Anti-Homosexuality Bill 2009, which punishes Ugandans charged with "aggravated homosexuality" with life imprisonment. Though the bill has yet to be signed into law by Ugandan President Yoweri Museveni, its implications have grave consequences for the LGBTQI community.
"Today will go down in history as the worst day for LGBTQI identifying persons and human rights in general. The passing of the bill has caused significant panic even before its assented," said Mr. Mawadri, Legal/Human Rights Officer at Sexual Minorities Uganda (SMUG).
Angel Collie, a Trans Gender Non Conforming Program Officer for Metropolitan Community Churches (MCC) within the Global Justice Institute spent the summer working with the LGBTQI community in Kampala, Uganda, and has spoken with community leaders since the bill's recent passage.
"The Ugandan Parliament promised [the bill] would be a Christmas present to its people, but it still seems sudden and unexpected. With barely any time to emotionally process the bill, activists are holding a strategic planning meeting tomorrow in Kampala to come up with [next steps] and the safest response to this tragic situation," said Collie.
SMUG and other advocacy rights groups are questioning whether Parliament had quorum to legally pass the legislation.
Overwhelmingly supported by Ugandans, Collie stressed that LGBTQI people must prepare for every possible response to the bill, including increased police presence around Kampala: "Already a [LGBTQI safety] workshop was raided before the bill was even passed. What does it mean that the police know where these people meet and are operating? There is a new level of risk for anyone involved, just for being who they are."
Not only does the legislation imprison individuals accused of homosexuality, individuals can also be charged who 'knew' or 'advocated' on behalf of homosexual conduct and did not report it to authorities, which creates a new risk of fear of punishment by association.
The legislation is predicted to have a strong impact on decreased access to health care and mental health services for LGBTQI people. A recent study conducted by Freedom and Roam Uganda (FARUG) shows that currently 100 percent of the LGBTQI people interviewed would like, "increased access to services such as counseling to cope with the daily stresses of life because LGTI persons (especially Tran's persons) face psychological torture in their daily lives from family, friends and the general public."
Further, 70 percent of interviewees could only access health care services if they did not disclose their sexual orientation, making increased risk to STIs more prevalent. Currently, Trans persons do not have access to HIV, mental health, STI or cancer screenings.
With the new risk of imprisonment, less LGBTQI people may seek the services they desperately need. "Time and time again, Trans and gender non-conforming members of the community are at a greater risk to be stalked or verbally and physically assaulted. While this does not downplay the trauma that other members of the community face, as a trans person myself I find these acts particularly heartbreaking. Everyone deserves equal access to care," said Collie.
The Human Rights Campaign, Amnesty International and other international human rights organizations have called on Ugandan President Museveni to veto the discriminatory bill.
"LGBTQI people aren't going to cease to exist. People have expressed sexuality and gender differently in Uganda forever. This is not imported from the West, it's something that has always been a part of Ugandan culture. If anything has been imported by the West it's homophobia and transphobia from extreme conservative religious organizations," Collie stressed.
As we watch from around the world, let us hope for the safety of all those working towards equality and fairness in Uganda.
Calling all HuffPost superfans!
Sign up for membership to become a founding member and help shape HuffPost's next chapter