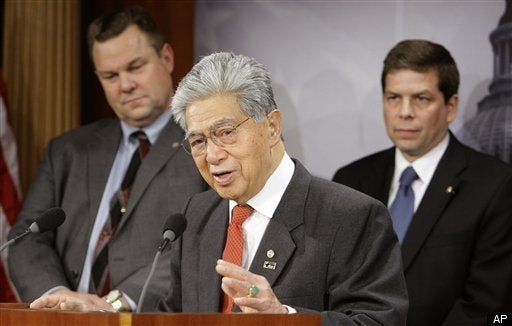 Three more Democratic senators said on Tuesday that they would either support the public option in a Senate floor vote or were heavily leaning that way.
Sen. Daniel Akaka (D-Hawaii) told HuffPost that if the public insurance option comes up for a vote under reconciliation, he will vote for it it. "I would support it, yes," he said.
That puts the number of publicly committed supporters at 38 and the number of likely supporters well into the forties. With a push from the White House, the public option is now within striking distance.
Two of those likely supporters are Sens. Byron Dorgan (D-N.D.) and Jon Tester (D-Mont.).
"Wow," Tester said when first asked about the prospect of a floor vote for the public option. He thought for a moment and said: "It depends on how it was designed. I've always said to folks, if a public option is designed right, I'd support it."
Dorgan sounded a similar tune. "I have responded, I guess, 20 times that I support the public option. So, you're asking hypotheticals about how it would come up. If somebody did a public option and said we're going to do Medicare rates, I probably wouldn't support that," he told HuffPost.
But if it used negotiated rates, as the House version does? "Generally, I probably would support that. I mean, I support the public option," he said.
Sens. Mary Landrieu (D-La.), Blanche Lincoln (D-Ark.) and Mark Pryor (D-Ark.) can be counted as no votes, meaning the 59-person Democratic caucus can afford to lose six more votes and still have the 50 needed to pass.
Sen. Tom Carper (D-Del.) told HuffPost Tuesday he would "probably not" support the public option in a floor vote and that continuing to push for it is "deluding" people who still have hope.
"We don't have the votes to pass the public option in the Senate. We tried very hard to find a way to accomplish something together that would pass muster in the Senate [and] couldn't do that. For those who somehow suggest it's going to happen to now, they're deluding people," he said.
"Probably not. I think we delude the supporters of the public option to think that it still has legs," he said.
Calling all HuffPost superfans!
Sign up for membership to become a founding member and help shape HuffPost's next chapter