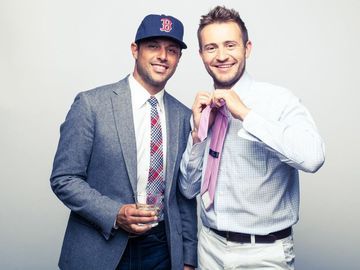 Sabin Lomac and Jim Tselikis turned their fond childhood memories into a business called Cousins Maine Lobster. It started with a simple conversation, reminiscing about idyllic afternoons spent in their backyards boiling lobster and enjoying the local delicacy surrounded by family. This ritual had become deeply ingrained in the cousins' DNA.
Their conversation took place in Los Angeles around the same time as the food truck revolution. The cousins had an Aha! moment. They could change their lives, become business partners and share their love of Maine lobster with Los Angeles. There were so many types of food represented in L.A. but they were going to fill a void with their Lobster, flown in fresh from their hometown. They opened their first food truck in April 2012.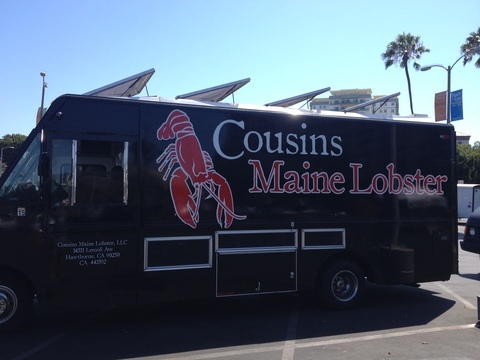 After just two months in business, they showed up on Shark Tank; the reality show where entrepreneurs pitch their business ideas to 'sharks' in hopes of getting an investment and a mentor.
Barbara Corcoran fought hard against Robert Herjavec and won the partnership. They made a deal for Barbara to invest $55,00 for 15% equity.
What Happened Next? Q&A Follow Up with Cousins Jim and Sabin:
What lessons have you learned from the Shark Tank experience?
The most important lesson we learned from Shark Tank is to always be prepared and to be the master of your craft. We watch Shark Tank and see so many people go on the show unprepared and unable to answer questions about their own business.
Prior to going on Shark Tank, we watched every episode and made note cards with each question the individual shark asked. On the other side of the card we wrote our answers and made each other stand up and practice in front of one another. We wanted to be sure we were prepared for what was to come.
Why begin the business with a food truck?
We initially thought about opening a restaurant when we were beginning our business, but several factors led us to move into the food truck space. The largest factors were the lease commitments, the start-up costs, and the fact that we would be stuck in one location for the duration of our lease.
We thought about the money we were willing to risk and potentially lose and realized that the cost of a truck was essentially that magic number.
Additionally, we loved the mobile aspect of food trucks. If a location is flourishing, we will come back. However it is dead, we won't. Food trucks are trendy, people love the variety they offer, and we truly felt this would be the best way for us to reach the masses in Los Angeles.
Describe life before the launch:
For starters, we came up with this idea over several martinis. We woke up in the morning and said, "Wait, was that a good idea?!" This led to fourteen months of conversations, work and research, while we were separated by 3,000 miles and working full time jobs.
Jim ended up sleeping on an air mattress in my living room for three weeks (until I deflated it with a knife). We quit our jobs, and devoted 100% of our time to learning how to run our business. Instead of counting thousands of dollars each night and reconciling it in a notepad, we hired an accountant. We basically had enrolled in a real life crash course on how to run a business. What this taught us most is that we do not know everything. We became sponges with experts in each field, self-taught where we could and read and researched every aspect of our business.
Business started strong, were you anxious about expansion?
We knew we needed to expand the business to our second truck pretty much immediately. The first night we opened we had a sixty person line. We waited a few weeks to see if the lines would die down, but they just kept increasing. Every event wanted us, catering requests were flooding in and soon we were booked months in advance. That, coupled with the fact that we partnered with Barbara Corcoran only two months into business, lead us to the decision that we had to build another food truck to keep up with the demand.
We also knew that there would be countless amounts of people throughout the country that saw us on TV and couldn't try our food, so we scrambled to launch an e-Commerce store with overnight delivery. The result was us going on Good Morning America and selling $250,000 worth of product in one day and expanding our business from food trucks to e-Commerce.
Do you have a business philosophy?
We run our business by the motto "Go fast, but don't hurry," which keeps us grounded and able to understand when the time is right to make the next move. Hurrying ends up with sloppy results and inefficient systems. We moved fast and effectively with our first truck and then realized the need for the second, third and fourth. When this model was perfected, we decided to carefully begin franchising across the country. We now have 10 new trucks opening in Phoenix, Houston, Dallas, Raleigh, Atlanta, Orlando, Sacramento, San Diego, Napa Valley and Las Vegas.
What did you learn about scaling the business in a manageable way?
We are still learning how to scale our business, by no means do we have this figured out yet. Scaling your business is hard even when you are successful and profiting, as you always think growth is the right answer. Scaling up is great, but doing it correctly and with the right team is essential. We have learned the hard way and have made many errors by rushing to scale too quickly. Though these errors haven't been detrimental to our business, they did cost us time and money, both which could have been spent in other places.
What would you change, if anything?
If we could change anything it would be our habit to rush into "the next great idea." After airing on Shark Tank we were flooded with new opportunities, and every opportunity isn't a good opportunity.
Time is the most important thing that can be lost/wasted, therefore you must always maximize it and put your time/efforts into the best ventures possible. If you are doing something that works, don't look elsewhere for business, look to improve what is already working. The money you can make back, the time is gone.
What's your advice for other people with a great food idea?
If you are on a budget and have an amazing food product, mobile vending allows a low cost entry into the market. Selling to retailers and big box stores can be very tricky. Don't let the allure of being in a big box store cloud your judgment, as often the big stores cut your margins in an extreme way and returns can hurt even more!
What's it like working with Barbara Corcoran?
Barb is amazing. She has an incredible business mind. She focuses on everything from marketing, packaging, service, presentation, social media and forums for exposure. However, the most meaningful part of our relationship has been her motherly touch. She makes sure we are taking care of our bodies, happy and making the right decisions. She calls and texts us regularly about our parents, families, well being. She cracks jokes and calls just to chat, and it is this genuine aspect of the relationship that fits with us so well. She treats us like family, one of her own.
What are your short term goals?
Our main objectives in the coming year are to continue to provide So. Cal with our Maine lobster via our food trucks while also also concentrating on our new family members, the new trucks around the country. It's critical for us to make sure these trucks launch with the best chances for success. Finally, we are starting our first restaurant in West Hollywood, set to open in April 2015. Offering our followers a physical location is important to us now. We are very excited to create a true Maine experience in our lobster shack, that will be quintessential Maine with a twist of modern.
The cousins are doing so well that they started a foundation to give back as they continue to grow their brand. Sabin was a Little Brother in the Big Brother Big Sisters organization when he was a kid. It had a lasting impact on his life and now he can give back in a big way. Lobster has come full circle for the cousins. It's not just an idyllic memory, it's who they are now... once again.
Calling all HuffPost superfans!
Sign up for membership to become a founding member and help shape HuffPost's next chapter