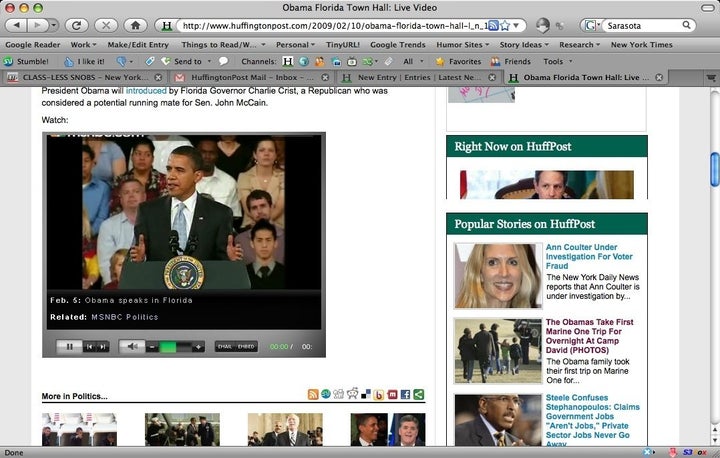 This time last year, college seniors across the country were madly interviewing for jobs on Wall Street, evaluating offers that included unbelievable salaries and beautiful offices, and dreaming of the glitzy, fast-paced life that awaited them come graduation.

What a difference a year makes. This year's senior class faces a grim job market with rising unemployment in almost all sectors. Investment banks are now a thing of the past -- literally.

So what's a soon-to-graduate college senior to do? The U.S. Army is hiring. When the economy is hurting, the Army traditionally attracts more recruits, and this recession is no exception: the Army has exceeded its recruiting goals for the first time in five years.

But military service isn't the only option for young people looking for a way to give back to their country and learn new skills -- as well as a practical solution for dealing with these recessionary times. There is also national service.
President Obama has pledged to make national service a major cause of his presidency: His stimulus package includes an $89 million increase in funding for AmeriCorps grantees, to focus on front-burner issues like green energy, health care, and education. Both houses of Congress are working right now on legislation -- the GIVE Act and the Serve America Act -- which will strengthen all the programs of the Corporation for National and Community Service and create new opportunities for more Americans to serve their communities and their country. Obama's call to service grows more urgent every month, as more people need a helping hand and local communities anxiously search for efficient, effective solutions to their most serious social challenges. It's not only soup kitchens or homeless shelters that are feeling the impact of the economic crisis. It's the hundreds of social and educational programs that have suffered cutbacks in government and private funding.

This is where young people can play a galvanizing role. Each year thousands of young Americans sign up to serve in AmeriCorps programs and to work in other nonprofit and public sector jobs. Yet many more are needed.
Take for example, Sports4Kids, a national program bringing safe and healthy play to low-income schools across America. Sports4Kids currently employs more than 170 coaches to teach a new generation of children how to play fun, time-tested games like kickball and four square. And with plans to expand the program to 650 schools in 27 cities by 2012, Sports4Kids will continue to hire over the next few years.

Sports4Kids is just one among many service organizations that will continue to have job openings. Places like Teach for America, Citizen Schools and City Year are in much the same situation, needing a fresh crop of bright-eyed, enthusiastic college graduates each year to help teach, coach and mentor our nation's youth.

None of these are glamorous, high finance, jobs. But in this sluggish economy and time of need for so many Americans, the best opportunities may be defined not by the size of the paycheck but by something much less quantifiable, and arguably much more meaningful: Giving to the community, while gaining skills and experiences for a lifetime.
Many employers I've talked to say when they see service experience on a resume, it makes an impact because it reflects well on the candidate's character. Service communicates that you took a risk, tested your mettle, and made a difference in the lives of the people you served.

In the signature speech then-presidential candidate Obama made on service in Mt. Vernon, Iowa, he urged people to "put your foot firmly into the current of history."

"America is a great nation because Americans have been willing to stand up when it was hard, to serve on stages both great and small; to rise above moments of great challenge and terrible trial," he said.

President Obama could not have known on that cold November day in 2007 that the nation would be confronting a financial crisis unequaled since the Great Depression. For America's young people, however, this great economic challenge could trigger the opportunity of a lifetime.
Deb Jospin is the co-author of The Charismatic Organization and co-founder of a nonprofit management consulting firm. She was previously Director of AmeriCorps from 1997-2001 and served as a national service policy advisor on President Obama's transition team.