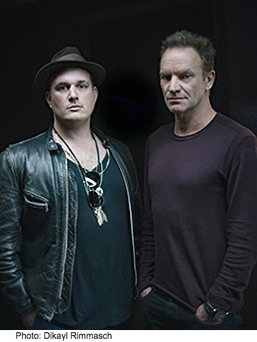 Sting and J. Ralph composed the song, "The Empty Chair" for the documentary Jim: The James Foley Story. As you see the clip of Sting performing that song at Bataclan, the historic Paris theater, for its opening one year after ISIS terrorists gunned down 89 people there, you cannot help but register that in "The Empty Chair--Live from the Bataclan," his empathy is so overwhelming, Sting puts himself in the place of the man who was so brutally murdered by ISIS terrorists in 2014, singing, "Keep my place in the empty chair/ Somehow I'll be There"/ "Vive la Bataclan!"
James Foley, was a photojournalist committed to bringing news from war zones. He was taken captive as he was documenting civilian casualties of war, specifically the Syrian refugees. You may remember him best from a widely seen photo of Jim kneeling beside "Jihadi John," the man who would behead him. The film was made by his childhood friend, Brian Oakes, and features Foley's family, friends, fellow journalists in the field, and fellow captives, speaking about the life, integrity of this man, and his final days.
Just before the Grammy's, I had a chance to speak to Sting, on tour with his new album, 57th and 9th, and J. Ralph about their work on "The Empty Chair," now nominated for a Best Original Song Oscar.
What struck you about the documentary, Jim: The Jim Foley Story for the writing of "The Empty Chair?"
Sting: In music, there is always room for fantasy, but serious subjects are represented too. In our time, journalism and truth are under attack, so we are honored to be in a position to shine a light on James Foley who believed so much in truth and the journalism he was doing. He was captured in Libya before, and the integrity of journalism meant so much to him, he went back and met his demise.
How did the project come together?
J. Ralph: a friend told me they were working on the documentary. I had just gotten back to Paris from Africa. I wrote the original song for Virunga, an Oscar nominated documentary. Think of park rangers trying to save animals from poachers. I want to tell stories of risk. I saw the photo of James the world saw. I felt the risk we all face, and I tried to focus on positivity. I felt connected with the film. I wanted to donate a song for the end credits, to have something hopeful. I wanted to reach out to Sting, one of the few people with the sensitivity to tell this story. I showed him the film. When I turned around, he was overcome with tears: "We have to figure out how to tell this story." He said, "I don't think I can." I told him, "See what 24 hours can do." He played it for Trudie [Trudie Styler, Sting's wife] who said, "Find a way."
Sting: I was celebrating Thanksgiving with family and it dawned on me: leave an empty chair. If this happened to me . . . . I got my lyric! When you find the metaphor, you have your song, but until you find that metaphor, it's tricky. This was the guy who told the stories of refugees. I wanted to honor his hope and courage, real American heroism, not the John Wayne kind. This is important because he died to tell the truth.
Connection to the Bataclan attack seems clear. What changes did you make for the Bataclan performance, and then for your new album?

Sting: It was appropriate to sing it at the Bataclan in front of an audience of survivors, relatives of victims, and citizens of Paris. For my new album, 57th and 9th, I recorded a different version of it. I changed the harmony. The album is rock, a testament of the work I was doing at the time. For the Bataclan it's acoustic guitar and voice, quiet and thoughtful, and piano in the movie.
Tell me about performing the song at the documentary's premiere at Sundance.
J. Ralph: We were trying to capture a vulnerability and honesty in that song. We wanted it to be about Jim, to Jim's unbridled, fearless approach to life, to capture something truthful and honor his family. When we played at the film's Sundance premiere, we got hugs from the family. Jim's death galvanized his mother's activism, her effort in changing U.S. hostage policy; we support her any way we can. Jim's father--we could not have known this-- he told us that a bar where Jim went growing up keeps an empty chair.

What message can we take away, that applies to our current politics?
Sting: We are living in a strange time, seeing incredible mobilization; people want truth. We can all take a page from James Foley's main philosophy about truth, his real inspiring American heroism, his selflessness. He considered everyone else's safety before his own, even in his last seconds: there is only strength and honor in his expression and he paid the ultimate price.
Calling all HuffPost superfans!
Sign up for membership to become a founding member and help shape HuffPost's next chapter