Grammy-award winning artist Sting stopped by AOL's Build Series on 10/21/16 to discuss and promote his upcoming 12th studio album titled 57th & 9th. Sting has earned numerous accolades over his distinguished music career. He's won 25 American Music Awards, 16 Grammy Awards, a Kennedy Center honor, an MTV VMA, a Primetime Emmy Award, as well as being appointed to the British CBE, and getting inducted into the Hollywood Walk Of Fame. His albums have stood the test of time, having being heard on the radio for many decades.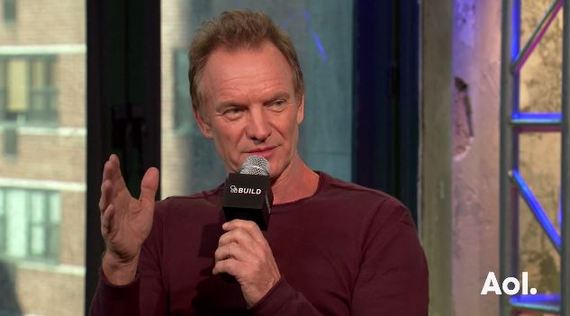 With 57th & 9th, he returns to his rock roots that many have come to enjoy. It's been about 13 years since his last rock album. He was inspired to get back to rock because he wanted to surprise his fans. He told the audience that:
"The most important aspect of music to me is surprise. When I listen to music, I want to be surprised. When I compose music, I want to lay a surprise in the arrangement and when I decide what music I'm going to present to the public, again, I want to surprise them."
This is indeed true because he's done so many kinds of albums over the past decade and a half. If you look back in his discography, he did a Broadway album (The Last Ship), a 16th century songs album with a lute (Songs from the Labyrinth), and an orchestral album (Symphonicities) just to name a few. So going back to rock is rather a surprise since its been over a decade since the last rock record. Hardcore fans and even casual fans of his will definitely appreciate his decision this time around to make a rock album.
He also explained in the talk, the significance of the album title:
"I love to walk to work. It's one of my good privileges to walk from my home up on the West Side to a studio which is in Hell's Kitchen. On the way from the West Side to Hell's Kitchen, you have to cross 57th Street. As you all know it's a very busy thoroughfare with two-way traffic, so you're forced to stop. So I would use that stop, just a minute, waiting for that little green man to say "go", to kind of assess what is going on in my life."
Sting used that intersection of Manhattan in his daily travels to and from the studio and his home to reflect upon his life to which he called a "meditation point". That point is the "landmark" for his latest album project, hence the reason why he named his 12th LP, 57th & 9th.
The new album was done in a rather spontaneous manner. He went to the studio with his fellow musicians whom he played with for nearly three decades to which he had no idea as to what this session was going to produce. Sting recalled that moment saying:
"Let's just play musical ping pong and see what happens! We just threw a few ideas around and it went in a circle and gradually something materializes that looks like it might become a song."
One such song, titled "I Can't Stop Thinking About You" is the lead single for his new album. While you may think this is a cookie-cutter love song, you're mistaken! Sting clarified to listeners, calling this supposed "love song" as a song about "obsession".
"It's about the obsession of a writer who every morning faces a blank page and he wonders what on earth he's going to fill it with. The analogy I use is of somebody hunting in the snow. You're never quite sure whether anything is there or not. So you're looking for a road, a pathway, a character, a muse, a romantic muse, philosophical muse, a spiritual muse, a story, anything...but you're not guaranteed to find it. So it's about that obsession."
Watch the official "I Can't Stop Thinking About You" music video below and see for yourself what Sting really wanted you to understand. Comment below telling me how you interpret the lyrics.
When it comes to the songwriting process for this album, Sting was candid in agreeing that the album was written under self-pressure for example, in the cold weather. He elaborated by saying:
"Yes, it is true! This album was made under artificial pressure. First of all I said I was going to make it within 3 months. Normally I have it open ended, it could take as long as it could takes. It actually took 10 weeks. I also decided that when I was writing lyrics I would put some pressure on myself. I sat on my terrace in the freezing cold overlooking Central Park with a coat and a cup of coffee and I wouldn't allow myself in the house until I finished the lyric. It worked, I spent a whole weekend, and I wrote 4 songs in one weekend freezing my butt off outside."
Sting's hard work and dedication for his latest album is a true testament to his artistry and I encourage you all to check out his full Build Series interview where he went further into discussing specific songs off of 57th & 9th. He reminisced about this year's sudden losses of his fellow friends in the music industry like Bowie, Prince, The Eagles' Glenn Frey, and Motörhead's Lemmy ("50,000"), and addressed climate change and the government's lack of attention towards it ("One Fine Day").
Be sure to pick up 57th & 9th when it hits stores next month on 11/11/16! Visit Sting's official website to learn more! Be sure to follow Sting on his social media channels: Facebook, Twitter, and Instagram for all the latest updates, and tour dates.
Calling all HuffPost superfans!
Sign up for membership to become a founding member and help shape HuffPost's next chapter