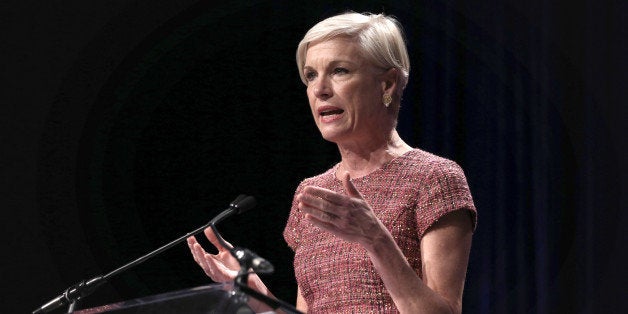 An undercover video released Tuesday by the anti-abortion group Center for Medical Progress claims to show a physician at Planned Parenthood discussing the sale of fetal body parts after an abortion. The family planning provider says the video was selectively edited to mislead viewers about fetal tissue donations that are legal, not for profit, and for the purposes of medical research.
"Every provider has had patients want to donate their tissue, and they absolutely want to accommodate them," Nucatola says in the video. "They just want to do it in a way that is not perceived as, 'This clinic is selling tissue, this clinic is making money off of this.'"
Nucatola explains that clinics will be reimbursed $30 to $100 per specimen, which anti-abortion activists said Tuesday was evidence that Planned Parenthood is selling the tissue. "The exploitation of human life, the cover-up, and the black market profiteering by America's largest abortion chain is not only egregious and heartbreaking, but exposes how the abortion giant is corrupt to the core — from the CEO, Cecile Richards, down to the local clinic," said Lila Rose, the president of the activist group Live Action, which has been producing heavily edited "sting" videos about Planned Parenthood for years.
The sale of fetal parts is illegal. But Planned Parenthood says it is donating the fetal tissue for research at the request of some of its patients, which is legal. The family planning provider said it sometimes receives reimbursement from tissue donation entities for the additional expenses of donating, such as transportation costs, but never profits off of the donations.
"In health care, patients sometimes want to donate tissue to scientific research that can help lead to medical breakthroughs, such as treatments and cures for serious diseases. Women at Planned Parenthood who have abortions are no different," said Eric Ferrero, vice president of communications at Planned Parenthood. "At several of our health centers, we help patients who want to donate tissue for scientific research, and we do this just like every other high-quality health care provider does -- with full, appropriate consent from patients and under the highest ethical and legal standards. There is no financial benefit for tissue donation for either the patient or for Planned Parenthood."
CORRECTION: A previous version of this story misattributed a statement from Planned Parenthood Vice President of Communications Eric Ferrero to CEO Cecile Richards.
Popular in the Community