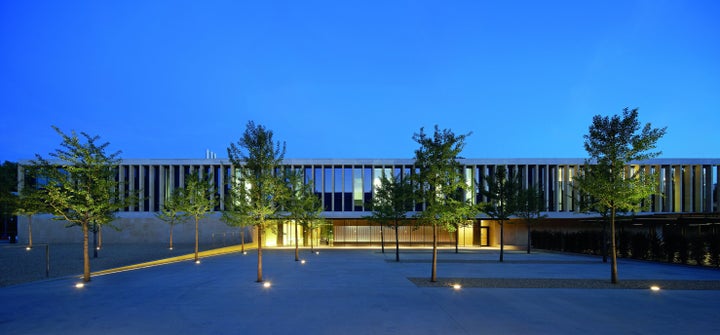 The London Olympic stadium and two designs by starchitect Rem Koolhaas were among the shortlisted buildings pegged to win Britain's most elite architecture contest. But in the end, a laboratory in Cambridge won this year's Stirling Prize, a dark horse whose victory was announced yesterday.
(Scroll down for images of the contenders).
Not only has Stanton Williams never before won the Prize -- which the past two years has gone to work by architecture hotshot Zaha Hadid -- this year also marks the 50-person firm's first on the Stirling shortlist. The lab itself is set in the campus' botanical gardens, and features a historically important 19th century garden that orients the rest of the building, as well as a rainwater collection system for irrigation.
The final call was made by Van Heyningen and four other judges, including Sir Mark Jones, former director of the Victoria and Albert Museum, all of whom visited the six shortlisted buildings scattered around the United Kingdom before deciding on a winner. When the shortlist was announced by the Royal Institute of British Architects, the prize's overseers, in July, president Angela Brady described the contenders as "human-scale buildings" that "don't shout 'look at me,'" noting that "even the tallest building, New Court in the City of London, has created good views for passing pedestrians."
Reviewing the shortlist this summer, the Observer's Rowan Moore offered a more conflicted take, calling the "simple," "restrained," "sober," "plain," and "very much not iconic" crop a reflection of the "zeitgeist of our straitened times, with their mistrust of extravagance and waste."
Click through the shortlisted buildings below and let us know what you think. Could any of these "sober" buildings end up iconic? And how about that winning lab? Are you sold?
PHOTO GALLERY
The Stirling Prize Shortlist
CORRECTION: An earlier version of this article misspelled Rem Koolhaas' surname.

Calling all HuffPost superfans!
Sign up for membership to become a founding member and help shape HuffPost's next chapter