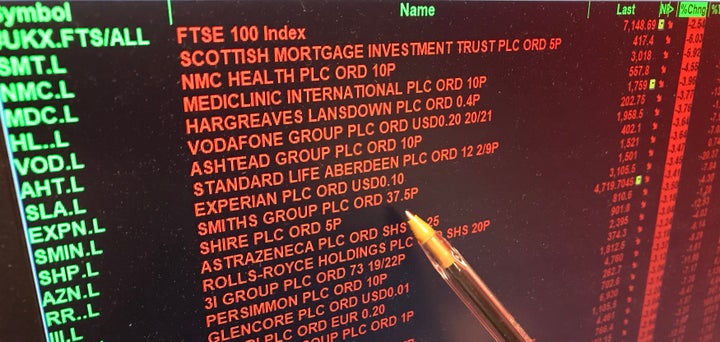 There may be no worse feeling in the world for a retiree ― or someone hoping to retire soon ― than when the stock market takes a nosedive as it did this week. The Dow Jones Industrial Average dropped 1,175 points Monday in the worst one-day point drop on record and for some retirees, it triggered a sense of helplessness as they watched what they feared was a lifetime of hard work and dutiful savings circling the drain.
People who don't plan to retire for years and years are always advised to do nothing and stay the course with their investments. But if you're retiring as the market drops, how will you pay your bills and keep that roof over your head? Should emerging retirees handle a drop any differently?
No, not really. In a big fat "never mind," the market was already recovering by Tuesday, closing 569 points up. Once again, the standard advice to do nothing when the market fluctuates seems to have prevailed. And of course, not everyone panicked to the same degree. But it is nonetheless a good time to analyze your holdings.
Barbara Levin of San Diego was a financial adviser for 35 years and is now retired herself. She says that everyone should just learn to chill ― and to find a good financial adviser, of course.
Levin has been on the receiving end of countless calls from panicked clients over the decades ― including those who truly took a beating during the Great Recession of 2008. She said that what happened this week served as a good reminder about the basics of investing in the stock market.
"You invest for the long-term and keep cash handy for the short-term," she said. If you have a college tuition bill or big household expenses coming due, keep enough cash liquid to pay for your short-term expenses. But the rest of investing is just about buckling up and riding the waves. As you get older, your investments should be less risky, Levin said.
Even those in their 60s likely have many investment years ahead of them. And with that length of time, you will have plenty of opportunity to recover from these types of market drops, she said. The key, though, is staying invested.
And keep some perspective. If you were invested even just a few months ago, there's an excellent chance you're still ahead despite two days of falling prices.
Those drops, by the way, could be seen as an opportunity: Lower prices means you can buy more shares.
Mike Stritch, chief investment officer for BMO Wealth Management U.S., also urged calm in what perhaps wasn't even a storm after all.
"We encourage everyone to take a breath and put the past few days in perspective," he said.
Stritch said that despite the seeming magnitude of what occurred this week, a 1,000-point Dow Jones Industrial Average drop "isn't what it used to be."
He noted that the Black Monday crash of 1987 saw a fall of just over 500 points, which was a 22 percent decline ― nearly five times what transpired on Monday.
"We've come a long way, and especially in the past several weeks," he said. "The market saw extremely strong gains in January, and the recent selloff has merely brought us back to breakeven for the year."
Both Stritch and Levin said that the current selloff was not indicative of greater fundamental or economic weakness, and by itself should not warrant any adjustments to a well-positioned portfolio.
But, Stritch said, now is also an excellent time to conduct a thorough review of your holdings to ensure they align with long-term goals and objectives, especially if you are a retiree or just about to retire.
"As the bull market has raged on these past several years, it is likely that equity allocations have drifted higher across many portfolios," he said. "As a result, individuals may be more exposed to stock market risk than initially assumed, and should consider reallocating toward conservative investments if necessary."
The upshot, Stritch said, is that with interest rates increasing, bond yields now pay more than they did a few months ago.
Eventually, there will be a correction of today's bull market, said Levin. No one can predict when. She compared this week's turbulence to how the markets responded two years ago as the news of Brexit broke.
Assuming that the current market stays up, anyone who has been invested in it for the past 14 months is still way ahead, she pointed out.
It's important to diversify your investments and consider factors like your age and if you are still earning income. When you are five or so years away from retirement, the rule of thumb is to move more of your allocations into bonds. Some advisers say the percentage of bonds and cash you hold should roughly match your age. If you're 30, then 30 percent of your money should be in income investments and the rest in stocks.
And again, this is about the long term. The stock market, as measured by the S&P 500 Index, has had an average annual return of 10.31 percent from 1970 to 2016. In dollar terms, if you had invested $10,000 in the S&P 500 in 1970, by the end of 2016, your investment would have grown to $1,005,588. The worst one-year return for the stock market was in 2008, when it dropped 37 percent.
To paraphrase a popular saying: volatility happens.