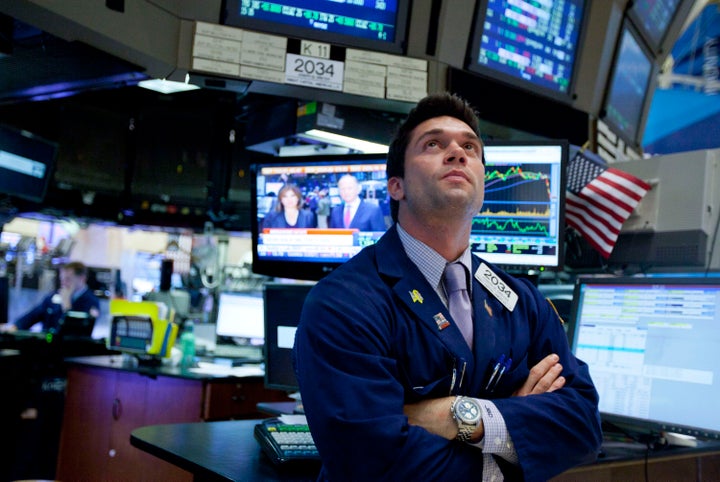 With consumer spending already declining in recent months, economists say the plunge in the stock markets over the past month could deal another significant blow to Americans' spending habits -- a threat that could imperil any meaningful economic recovery.
"Most people aren't interested in finance on a day-to-day basis, but all of a sudden they become quite fixated on financial issues when they see either large losses or large gains in their portfolios," said Andrew Lo, a finance professor at MIT's Sloan School of Management. "That kind of perception of a loss in wealth is going to make people more frugal, more reluctant to spend -- and that's exactly the wrong direction for the economy to go."
Economists often say the so-called wealth effect -- where the perception of success or failure in the equity and real estate markets causes consumers to spend more or cut back -- can affect the broader economy. The housing crisis has already eaten into household wealth over the past four years, wiping out more than $11 trillion in wealth in 2008 alone, helping to deliver the first outright decline in consumer spending in a generation and bringing on the Great Recession.
Consumer spending roughly contributes to 70 percent of gross domestic product; therefore economists pay close attention to consumer confidence as a barometer of economic recovery.
According to a research note from J.P. Morgan Chase earlier this year, every 100-point drop in the S&P 500 index translated to a $1 trillion loss in household wealth, and a 1.5 percent drop in consumption. Over the past month, the S&P 500 has dipped 223 points, which would translate to the disappearance of $2.2 trillion in wealth, according to J.P. Morgan's metrics.
The most recent Commerce Department report on consumer spending showed grim statistics: spending declined 0.2 percent in June, the first drop in almost two years, as incomes rose just 0.1 percent.
Exactly how this loss of wealth will play out for consumer spending depends on how the recent stock market woes play out over time. After the Federal Reserve pledged to hold short-term interest rates near zero for two years, the Dow Jones Industrial Average ended Tuesday up 4 percent, a day after stocks fell at the worst rate since the financial crisis.
"A lot of it depends on whether these movements in the market persist," said Scott Hoyt, senior director of consumer economics at Moody's Analytics. "Consumers know this may be temporary, and so they're not going to do all their cutting tomorrow because by next week they may have all this wealth back. If a month from now we're back where we were before, that's a whole different story than if the 15 percent or so that we've lost stays lost for six months or a year."
But with a sovereign debt crisis in Europe that appears far from being contained, and little certainty over Washington's ability to chart a course for economic recovery, many experts say there is no reason to hope that the volatility of recent weeks will stabilize.
"We've been getting double and triple whammies after the financial crisis in 2008, and I don't expect the stock market to recover from this current setback for a while, because the outlook does not really look that good," said Sung Won Sohn, a former chief economist at Wells Fargo who is now an economics professor at California State University-Channel Islands. "The stock market is reflecting more basic, fundamental problems. Up until now, the market has done very well based on healthy corporate profits, much of which came from overseas. Now if we see economies overseas -- from Europe to Latin America to China -- begin to suffer, that is going to have a negative affect on the stock market as well."
While most economists agree that a "wealth effect" exists, there is disagreement on how individual consumer spending can drive the entire economy. David Backus, an economics professor at NYU's Stern School of Business, says consumer spending as a percentage of gross domestic product has remained steady, and actually increased as the GDP dipped after the recession.
He points to the lack of investment in bigger-ticket items by businesses as the primary impediment to economic growth.
"Except for houses, people are still spending a fair amount of money," Backus said. "Firms are not investing in new plants and equipment, and they're not hiring people at the rate we're used to. Those things are extremely volatile, and those are the things that haven't recovered."
Support HuffPost
The Stakes Have Never Been Higher
Related
Popular in the Community