Donald Trump Jr. received swift backlash on Monday after he tweeted a stock image of a bowl of Skittles and compared Syrian refugees to the candy:
It turned out that David Kittos, the photographer who took the Skittles picture above, is a refugee himself and hadn't given the Trump campaign permission to use his image.
But at least the younger Trump is not alone: Plenty of other people and groups have used stock images that completely backfired. Here are some other notable examples.
Parents and Friends of Ex-Gays and Gays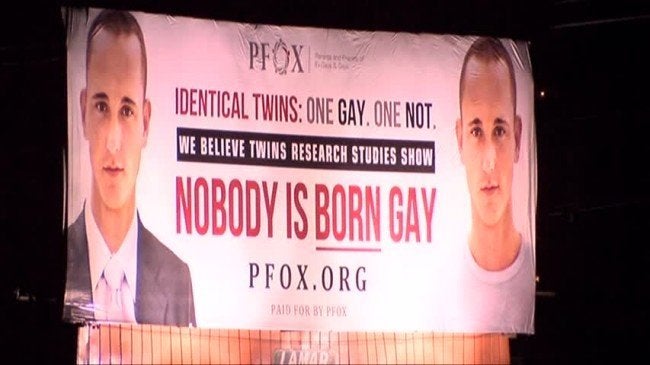 Parents and Friends of Ex-Gays and Gays put up a billboard in Virginia in 2014 purporting to show two identical twins, one of whom the group said was gay. The ad argued that gay people can choose to stop being gay.
The problem was that the billboard didn't feature actual twins at all, but one person whose image had been duplicated. The model in the ad, Kyle Roux, also happened to be gay.
"It just seems like there's no place in today's world for an organization that is promoting this as being some kind of deviant or distasteful lifestyle, because I've lived my life openly gay and happy for my entire life," Roux told WWBT in 2014.
Sen. Richard Burr 
In August, Sen. Richard Burr (R-N.C.) released an ad featuring a black pastor describing how the senator was a champion for African-American children in the state. The ad, however, featured images of children from Africa.
Mothers and Fathers Matter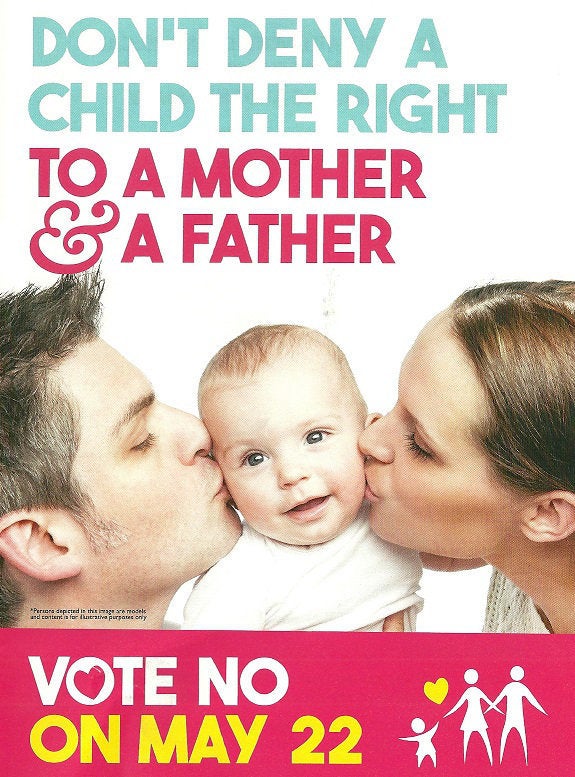 Mothers and Fathers Matter, a group that opposed the legalization of same-sex marriage in Ireland last year, used a photo of a man and woman kissing a baby to urge Irish citizens to vote against a marriage equality amendment last year (which eventually did pass).
But the happy couple in the photo favored the legalization of same-sex marriage ― and they weren't so happy with the way their image was being used. 
"Naively, we imagined that on the off chance that any was ever selected, it might be for a small magazine or website," they said in a statement released through Amnesty International. "We were surprised and upset to see that the photo was being used as part of a campaign with which we do not agree. We completely support same-sex marriage, and we believe that same-sex couples' should of course be able to adopt, as we believe that they are equally able to provide children with much needed love and care."
A Jeb Bush Super PAC
A Super PAC for former Florida Gov. Jeb Bush (R) put out an anti-Trump ad last year that was meant to paint an optimistic picture of America.
However, it featured a sun rising over a field in England and a silhouette of a construction worker with text that said "America is already great." The photo was taken in Southeast Asia.
Donald Trump
Then there's Trump himself. The GOP presidential nominee has sold himself as a champion of working Americans during his campaign, promising that jobs will miraculously come flooding back if he's elected president.
In July, his campaign put out an ad featuring an image of Trump and a man dressed as a miner. "A working America is a winning America," the ad reads. But, as BuzzFeed noted, the model in the photo isn't American, but Dutch. 
Trump also had an image fail last year when he tweeted a picture of his face and a picture of soldiers from World War II overlaid by an American flag. "We need real leadership. We need results. Let's put the U.S. back into business!" the photo caption read.
However, the soldiers featured in the image weren't American soldiers. They were German.
Calling all HuffPost superfans!
Sign up for membership to become a founding member and help shape HuffPost's next chapter
BEFORE YOU GO
PHOTO GALLERY
Donald Trump Is Name-Caller In Chief