Roof top hiking, human rights, sublime Chinese food and one of the great water cities in the world - just another typical Stockholm Summer is about to go off.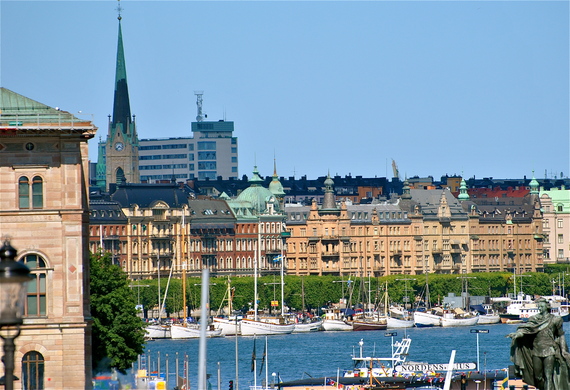 A cool Nordic breeze wafts off the sprawling archipelago and envelopes the sundrenched city while manicured green spaces blanket the bustling metropolis. In a local dockside neighborhood bar, Mälarpaviljongen, beautiful locals clad in posh and hip summer attire dine alfresco, and sing traditional Swedish drinking songs, each one knowing every lyric. Not a soul to be seen indoors this time of year. Summer has arrived in Stockholm, the greatest time of the year in the Capitol City of Scandinavia.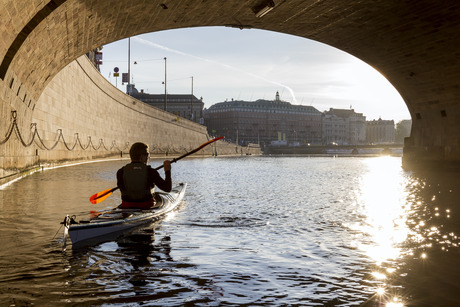 For a city that feels the heat of the sun for only a few months out of the year, Stockholmers take full advantage of every drop of summer sunlight that comes their way. The sun barely sets during summer, and refreshing night swims in some of the cleanest waterways in the world are not uncommon throughout the city. Stockholm is bursting with amazing summer events, boasts one of the best food scenes in Europe, and has uniquely stunning ways to view this gem of a city.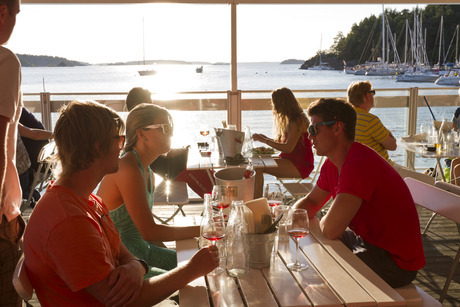 Swedes love to get their summer on, and next to Christmas, summer is the time many escape the city of Stockholm, making this time of year a great chance for travelers to explore this urban island oasis. As the calendar days draw closer to the Swedish national holiday, midsummer June 20, the fun gear kicks into high, with so much summer to take in and savor before the hounds of winter start beating on the door.
Great Outdoors
Stretching almost 37 miles east from Stockholm, the Archipelago is one of the most unique and naturally designed attractions in all of Stockholm, with almost 24,000 islands and inlets. Taking one of the many boat excursions from Stockholm harbor, within minutes a whole new world begins to reveal itself, with charming small villages filled with shops, cafes and pubs. The tiniest islands dot the far-reaching Archipelago, many with a single small vibrant red Swedish summer home as the only occupant. Vaxholm is an escape within an escape, as time seemingly turns back to the clock of the past century with architecture, design and the slow-paced vibe that surrounds this quaint village. With almost 24 hours of daylight, the Archipelago is a perfect summer place to explore, relax and discover a world outside of your own.
The first time I was in Stockholm I was flipping the channel of the TV, discovering many of the stations were actually in English. I then discovered musical gold, as I came upon one of the coolest and cheesiest summer shows that captivate the Swedish television audience for a couple months, Allsång på Skansen. I am a sucker for great cheesy productions of the musical kind, throw in traditional folk and drinking songs in another language and I am all in for a good time. Allsång på Skansen has been a musical summer staple for over 40 years now, combining a live community sing-a-long with top of the chart pop stars, with 360 degree views of Stockholm in the great outdoors. Executive Producer of Allsång på Skansen Per Rådelius sums up the ultimate Swedish summer tradition, "Swedish summers with the magic Nordic light evenings is special to us. The summer is quite short and we love to spend time outdoors and do things together with friends and family." No better way than to catch the live taping and get your sing-a-long on in a majestic summer setting.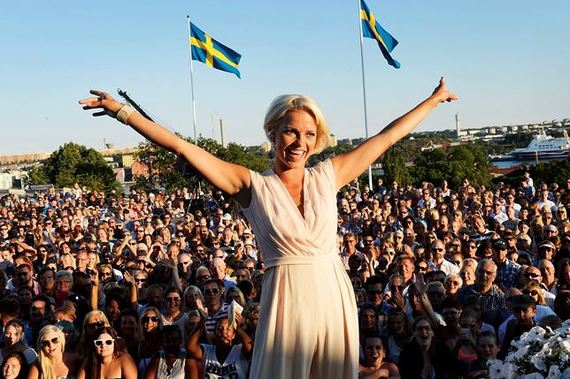 Hanging off the side of a mountain does not so much appeal to me. However, scaling the tethered roofs of Stockholm on a guided Roof Top Hiking Tour of this architecturally stunning city is more my speed and still one of the coolest ways of experiencing any city. Summer is the perfect time to capture some of the most awesome views of Stockholm; why not do it high up on the rooftops of the city - a very unique summer experience.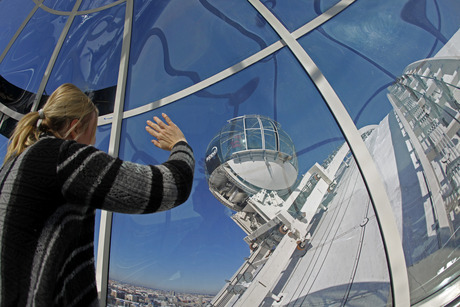 If roof top hiking is too much for your adrenaline glands, how about checking out the city on top of the world's largest spherical building inside a spherical gondola. The Ericsson Globe Arena offers 20-minute tours with Skyview Tours around the famed Stockholm landmark - all the while sipping champagne as the city drifts past your beguiling grin. Ericsson Globe Arena is also home to such great upcoming concerts as U2, Paul McCartney and Madonna.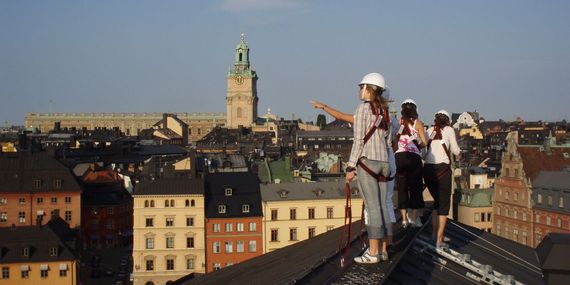 Human rights, equality and great sports take center stage this summer, as the Euro Games 2015 invade the streets of Stockholm August 5-9. The Euro Games center focus is on creating an open atmosphere for LGBTQ athletes and competitors to showcase their talents in major sports such as swimming, biking or volleyball. The Euro Games is also a great mix of exhibitions in art and design, a film festival to the political side with a conference on human rights in ever changing society. Euro Games Stockholm President and local Stockholmer Jakob Jansson is proud of his forward-thinking home hosting city, "Stockholm (and Sweden) has always been in the front of development within LGBTQ rights. We have a society that stands up for all human rights. We have never really (in the modern age anyway) had designated areas for LGBTQ (or any other) people. We tend to discuss, adapt and improve our society promptly when new questions and developments are addressed."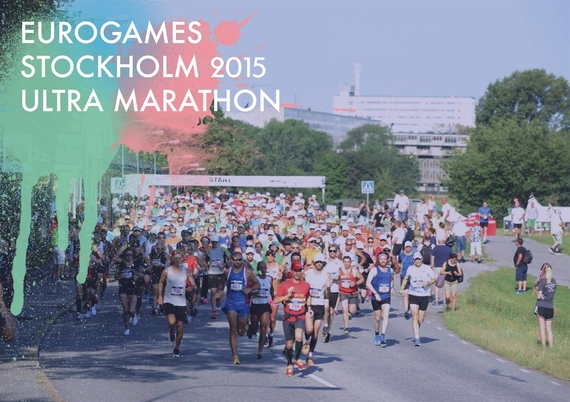 Swedish Chefs
Escape the city, while still hanging out in the city. Dining at Oaxen Krog is like having dinner at your friend's house that you not only love a lot but they also happen to have a house with an amazing view. Chef Magnus Ek creates a fun and inviting atmosphere, while still possessing mad culinary skills in the kitchen, bringing home cooking into his modern kitchen. Oaxen Krog is a natural and organic fine dining experience along the water in the royal Djurgården, using local herbs and the best Nordic local ingredients, a perfect pairing of the stunning views of the Stockholm waterways and a two Michelin starred fine dining eatery.
It's all about the balls! Located in the very cool and burgeoning Södermalm neighborhood Meatballs For The People is now the go to place for any hipster, local Stockholmer or traveler from any part of the globe for the new millennial version of the meatball. Communal tables, inviting staff and of course glorious meatballs of all kinds make this a must stop in Stockholm.
Located in the heart of the charming Gamla Stan (Old Town) area in a building shared by the classic nautical themed Victory Hotel - Pubologi, Djuret, The Burgundy, Tweed and Leijontornet are all stylish, hip and unique places to experience an amazing meal, as well as some of the comfiest places to have their house made beer or a cleverly conceived handcrafted cocktail. Take one step into this labyrinth of elegance and libations and discover what has the foodies of Stockholm all buzzing about. Yes, all these unique and cool places are all in one building, along with their annual BBQ patio for the summer, when the sun barely sets.
Chinese food in Stockholm may raise a few eyebrows to those who have not experienced the influx of Asian immigrants and influence they have had upon the evolving Swedish cuisine. The proof may be in the dumpling. One big indicator of how deep the Asian influence is felt in the Stockholm food scene has to be the success of EAT, one of the best restaurants in the city, which happens to be authentic Chinese food from China. EAT is serving up top-notch Chinese cuisine in a communal way experiencing a sublime meal all at once, and rivals such Chinese food classic cities as San Francisco. Oh, those dumplings!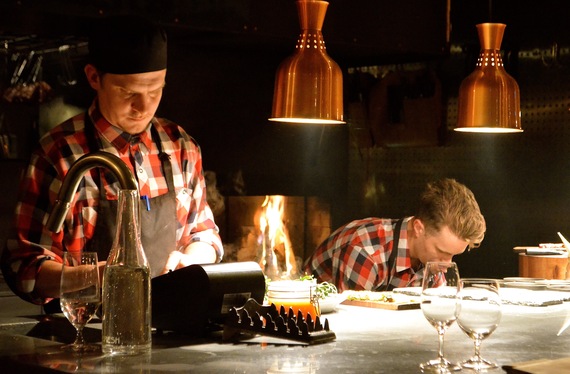 Ekstedt, the restaurant helmed by top TV Chef Niklas Ekstedt, takes on the most primitive ways of cooking, using only wood burning ovens and no electricity to create some of the most imaginative dishes in all of Stockholm while getting to the roots of traditional Scandinavian cooking techniques. This ever changing and seasonal menu is inventive and original while keeping it old school with all that fire. Niklas Ekstedt is one of the young, talented chefs that have helped to put Sweden on the culinary world map and proving each night why his hot restaurant is Michelin worthy.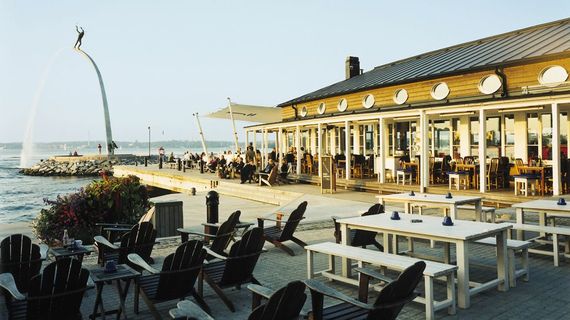 Stay Awhile
Stockholm is filled with a small smorgasbord of cool and eclectic hotels, in all various price ranges.
Spend the night in the presence of Swedish royalty, right on the water in Stockholm. The Prince van Orangiën boat hotel is located across the dock at the Oaxen Krog and Slip restaurant, owned and run by husband and wife team, Chef Magnus Ek and his wife Agneta. A stay on the Prince van Orangiën is a fresh and exciting way to experience Stockholm - on the water no less.
J, Stockholms Newport Hotel is a hidden gem, just 10 minutes outside of the city, located on Nacka Strand, at the edge of the archipelago. Hotel J transports guests into a warm and inviting oasis along the water in Stockholm.
The Nobis Hotel is a classic, yet comfortable stay in the heart of downtown Stockholm, located by some of the hippest restaurants, clubs and attractions in the city.
In a converted former girls school, the Miss Clara Hotel combines artistic Scandinavian design, with a functional and comfortable setting and an amazing staff, located in the up and coming Uptown District in Stockholm.
The folks at HTL Stockholm Hotel's mission is to make any traveler feel as if they are staying with family; an affordable, yet hip boutique hotel experience, in the very posh Kungsgatan area of the city.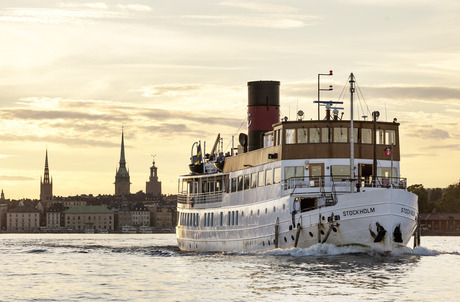 Stockholm Is Closer
Traveling to Stockholm has been easier than ever since Norwegian Airlines launched their low cost and direct flights to the country from major US hubs like Los Angeles, San Francisco, Orlando and New York. Norwegian's Transatlantic Dreamliner, a modern traveler's dream, boasts seemingly unlimited in-flight movie choices, USB ports, comfortable seats and a vast array of food choices. As with any "low cost" airline there are certainly a few compromises you make, like having to purchase headphones and snacks. However, Norwegian has cleverly positioned them in a competitive market aimed to make any wish of visiting this stunning beautiful country within reach, with prices averaging $500 or less for a round trip ticket.
It would be uncharacteristic to expect to experience Stockholm's booming food scene without it accompanied by exorbitant food costs, as is the case in most Scandinavian countries. However, in 2012 the Swedish government shocked everyone by voting to lower their long-standing VAT tax on restaurant services from 25% to a staggering 12%.
What has this meant for travelers and locals? Nothing less than a sudden surge in affordability when visiting this capital city, and for local Swedes, the VAT reduction has resulted in more people eating out, significant job creation and a sudden rise in the amount of Michelin-starred restaurants. In fact, since 2012 Stockholm has seen 6 newly minted Michelin-starred restaurants hit the scene, and with the exploding culinary demand of Stockholmers, that number is only set to skyrocket in coming years. Travelers, eagerly anticipating nothing less than a divine culinary experience, are now adding a visit to Stockholm on their must-see itinerary. That is a great achievement for any major city.