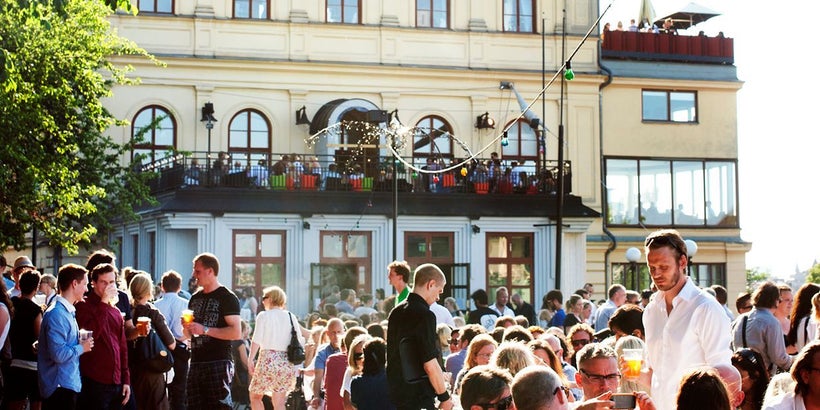 Stockholm is a truly magical city. This spring, we traveled to Sweden's capital to experience the fairy tale magic for ourselves. From getting lost through the cobblestone streets of charming Gamla Stan (Old Town) or boutique-hopping in the city's super-hip SoFo neighborhood, Stockholm has enchanting surprises at every turn.
Here are some incredible places you'll be delighted to stumble upon shall you find yourself in Stockholm.
Grandpa Store
The clothes and furniture at Grandpa embodies everything we love about the SoFo district: Casual, super-cool and contemporary, despite its name. Grandpa focuses on highlighting Scandinavian fashion and furniture designers with a reputation for making things that are eco-friendly and sustainable, with materials sourced locally, organically or through fair trade.
Coctail Shop
Another quintessential SoFo shop, Coctail is like a Pedro Almodovar movie that's come to life. No wonder it's very popular with film location scouts. While most of Stockholm is still enamored with minimalism, this tiny shop aims for "maximalism" – everything here is just the most, from the luchador masks, the Dia de Los Muertos figurines, the Frida Kahlo mugs, and other colorful, authentic trinkets shipped from Mexican street vendors.
E.Torndahl Boutique
Located in Gamla Stan since 1864, E.Torndahl is a tiny, family-owned boutique featuring the work of local Scandinavian designers and artists. Here, you'll find fascinating gifts in the form of jewelry, wallets, metallic hair-trimmers shaped like exotic birds, coasters with a bearded man illustration, a portable phone charger shaped like a river rock, and more.
Fotografiska Photo Center
Photography lovers should spend an afternoon - especially if it's raining – perusing Fotografiska, a for-profit center for modern photography. This place is not afraid to exhibit controversial and provocative photos, so make sure to wear your open-minded goggles. During our visit, we saw work by African artists Samuel Fosso and Rotimi Fani-Kayode, as well as a special exhibition on French fashion photographer Bettina Rheims.
Subway Art
There's no inch of Stockholm that's not drenched in history and culture, even down in the subway. The city's public transit system is said to be the world's longest art exhibit, with 90 percent of the subway stations decorated with sculptures, mosaics, paintings and public installations by over 150 artists. Some of the most eye-grabbing subway art can be found at the following stations: Kungsträdgården, T-Centralen, Rådhuset, Solna Centrum and Tensta.
The Royal Palace
If you find yourself in Gamla Stan around noon, check out the changing of the guard at the Royal Palace. It takes place at 12:15 p.m. daily during the summer and on weekends year-round. The Royal Palace itself is a sight to see. You can take a tour of the inside and check out five museums, including the royal treasury, home to the crown jewels, an armory with knights' gear and the royal stable with coronation carriages and intricate coaches.
Science Fiction Bokhandeln
Are you a fan of Game of Thrones or Harry Potter or Star Trek or E.T. or Marvel superheroes or Buffy the Vampire Slayer or all of the above? You're bound to find a book, graphic novel, or other gift for all your geek-related obsessions at this sci-fi mecca in Gamla Stan. Let's just say this shop has everything you could ever possibly need to decipher every reference in Stranger Things.
Mosebacketerrassen at Sodrateatern
If it's sunny out, this lively terrace at the top of Sodrateatern, an iconic theater in the heart of Stockholm, has to be on your to-do list. And if the weather is not cooperating, Sodrateatern offers plenty of indoor festivities as well, including jazz-fueled dinners that turn into full-blown dance parties.
Mälarpaviljongen Restaurant and Bar
If you're traveling to Stockholm during the summer, from early April to late September, make sure to catch the sunset at the hyper-scenic Mälarpaviljongen. This high-spirited, straight-friendly restaurant and outdoor bar is located on the waterfront barges along the Riddarfjärden bay. You can even arrive by boat after a day out on the bay to cap off your cruising adventures.
Chokladkoppen Coffee Shop
A gay-owned coffee shop painted mustard-yellow in the heart of Gamla Stan, Chokladkoppen serves delicious hot chocolate in a bowl.  If you really want to indulge – and why wouldn't you? – they also have chocolate cake that's to die for. During the summer, enjoy the people-watching in the Nobel Museum plaza from one of the cafe's outdoor tables.
Pharmarium Cocktail Bar
Located in Gamla Stan near where Stockholm's first-ever pharmacy opened in 1575, Pharmarium serves a different type of modern remedy: exquisite craft cocktails. The Roses of Gold, the Pharmarium's version of a French 75, was just what the doctor order, made to perfection with vodka, lemon, champagne, and just a sprinkle of gold powder. As if a champagne cocktail needed that extra flair.
Pärlans Konfektyr Caramel Shop
You will find plenty of treats in Stockholm's hip SoFo district, but nothing like the sweet-buttery deliciousness that can be found inside Pärlans Konfektyra. This quaint confectionery looks like it's from another era. It makes classic, organic caramels and caramel sauce in Scandinavian flavors like lingonberry and salt licorice.
Medeltidskrogen Sjätte Tunnan Restaurant
You'd expect this Medieval-themed restaurant would be a tourist trap, but we were the only Americans there. Medeltidskrogen Sjätte Tunnan is a little hidden hotspot to find in Gamla Stan. Once you find the door you have to walk all the way to the back before going downstairs to a cavernous restaurant serving a menu inspired by 1300 A.D. cuisine. A feast perfect for a Viking king.
Calling all HuffPost superfans!
Sign up for membership to become a founding member and help shape HuffPost's next chapter
This post was published on the now-closed HuffPost Contributor platform. Contributors control their own work and posted freely to our site. If you need to flag this entry as abusive,
send us an email
.