Under gray overcast skies eight months after the BP blowout in the Gulf of Mexico, waves of crude oil roll into estuaries, bayous, and onto the deserted beaches as winter sets in along the Gulf Coast. In Orange Beach, Alabama, large slabs of crude continue to come in on a regular basis. In Louisiana and Mississippi, oil mixed with dispersant comes ashore with thousand upon thousands of dead fish. The stench can be overwhelming. The small contingent of cleanup workers still employed by BP attack the most visible surface oil while ignoring the huge pancake layers of crude buried underneath. Many consider the cleanup operations to be nothing more than a continuing public performance while leaving the vast majority of crude behind. Dump trucks haul away the worst contaminated sand for cleaning to undisclosed locations. Mysteriously, it it returns a different color from the natural white crystal sand the beaches are famous for. The much heralded huge "Sandsharks" designed to clean the beaches sift the largest tarballs, leaving behind unknown quantities of toxic sand laden with oil, which as a result of the use of Corexit dispersant, can adhere to individual grains of sand.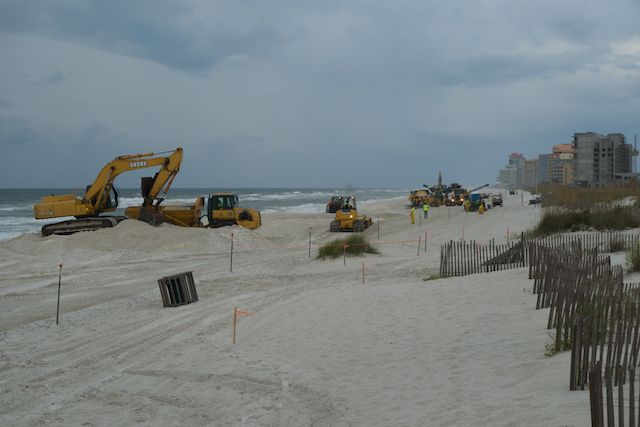 Orange Beach, Alabama
Locals avoid the water, the seafood, and struggle to pay their bills. Doctors continue to deny service to patients who are sickened by exposure to toxic Volatile Organic Compounds (VOCs) for fear of retribution from BP and local business interests -- a very legitimate concern. Hospital emergency rooms refuse to perform the necessary tests to determine the validity or extent of chemical poisoning. The desperation intensifies as the holiday season rolls in with the prospect of much needed tourists. While the National Oil Commission finalizes its report to the president and the Gulf Coast Ecosystem Restoration Task Force begins its work (both subject to intense political pressure), from Louisiana to Florida desperation, despair, illness, and suicide continue to spread like a silent storm across coastal communities. More and more people evacuate due to economic hardship and sickness.
Numerous local activist organizations have sprung up in the impacted region since the disastrous blowout at the Mississippi Canyon 252 site last April. People who had regular jobs and never considered becoming "activists" prior to the disaster, the backbone of America, have felt compelled to speak out against the forces arrayed against them which have served to protect the interests of a foreign petroleum corporation at the expense of all that they held dear. Their livelihoods, recreation, environment, indeed as James Carville said to me, "an entire way of life is being destroyed." Mr. Carville also feels strongly that Gulf seafood is safe to eat, a subject which has been the focus of intense controversy. A new survey by the Natural Resources Defense Council (NRDC) on seafood consumption rates calls into question the Food and Drug Administrations (FDA) calculated safe levels for cancer-causing chemicals from oil. Gina Solomon, a senior scientist with NRDC published an article in HuffPost which again provides evidence that contradicts FDA assertions that the seafood is safe.
Mike Gravitz of Environment America recently arranged for a number of victims from the Gulf Coast to spend a day in Washington, D.C., to provide firsthand accounts of the situation to members of Congress, the Council on Environmental Quality (CEQ), and the National Oil Commission. Dave Rauschkolb, Robin Young, JJ Creppel, John Bean, and myself spoke honestly regarding the severe and unaddressed health impacts that have taken and destroyed lives, the horrifying results of the unbridled use of the Nalco Corexit dispersant across the Gulf region including inland bays and bayous, the unconscionable methods employed by Feinberg and GCCF in processing claims, and the complete lack of trust that now exists among residents of the Coast in their Local, State, and especially the Federal Government. Many of the officials we met with were clearly surprised at hearing firsthand accounts that contradicted statements by both BP and numerous federal agencies regarding the safety of seafood, the continued use of toxic dispersants, serious and widespread health impacts, and the inane claims process. When informed of the continued use of Corexit dispersant long past the supposed date of termination in mid-July, a senior member of CEQ looked at me and said "that's a crime," assuring me that it would be brought to the president's attention. Indeed, but it is only one of many crimes committed against a civilian population which has been hammered by repeated disasters in the past decade.
To add insult to mortal injury, in the past week numerous BP workers and residents who had claims in the Gulf Coast Claims Facility (GCCF) were repeatedly assured that their claim was being reviewed. This at a critical time as last week was the cut-off date under the rules established by Administrator Feinberg for emergency compensation. As the deadline approached the GCCF told many people desperate for assistance their check was in the mail on a daily basis even after the Wednesday cut-off date had passed. Two of the men in the group who traveled to D.C. with us, JJ Creppel and John Bean were strung along in this way until after the deadline had passed and then instead of a check they received letters stating their claims had been unequivocally rejected. Now they are left with two choices; to sign a final settlement with no further recourse if they want to see some money now or sign with an attorney and pursue litigation. In the latter case the window for seeing any funds come in realistically is somewhere between 2 and 20 years.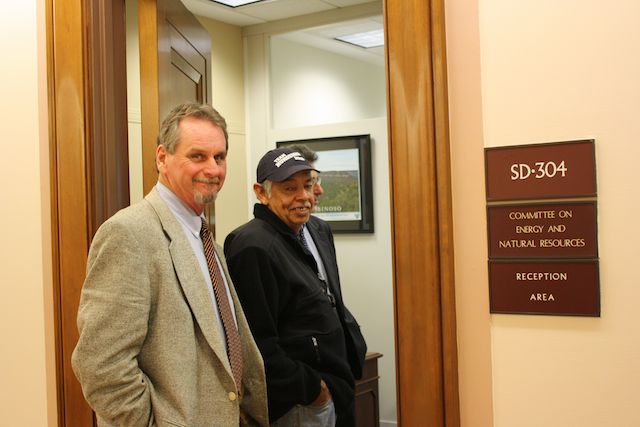 John Bean & J.J. Creppel
For people who are already either experiencing or on the brink of financial disaster this does them no good whatsoever. No one has done a better job of putting the screws to people who are down and out than GCCF under the direction of Administrator Kenneth Feinberg. Those who are lucky enough to have received a check from GCCF consider themselves fortunate to have been in his good graces (somehow), the vast majority who have had their claims rejected readily voice their loathing of the man. Here is the procedure that I witnessed; Feinberg will personally promise you fairness coupled with a speedy resolution, looking victims in the eye and telling them exactly what they want to hear. He will refer claimants to the 24 members of his staff he has brought along for the day just to expedite the process at great expense, then disappear. There will in fact be no follow through after the appearance, and once they are gone staff will prove exceedingly difficult to reach and impossible to locate. Rest assured however, that each time before he makes a return appearance to meet with angry coastal claimants again, a flurry of payments will be sent out and arrive the day before he does. This pattern has been repeated time and time again. The process by which claims are evaluated is cloaked in mystery, the team put in place by his firm to process the claims ghosts in the machine; unreachable, unaccountable, and what little information they do provide is all too frequently false at worst, unreliable at best. Your chances of coming out ahead are better in the casinos along the Coast than filing a legitimate fully documented claim with GCCF.
Even under such dire circumstances, there are bright lights and rays of hope to be found, not all of which are part of the seasonal decorations. Many grassroots NGO's along the Coast continue to work aggressively pursuing aid for the region, led by the Gulf Restoration Network. A handful of journalists and filmmakers remain committed to witnessing the largest environmental disaster in our nation's history. Independent researchers are collecting data and documenting the aftermath of the blowout attempting to assess the short and long term damage to ecosystems, marine life, and the populations living in the region. Courageous physicians and attorney's are working diligently to provide health care and legal assistance to victims who otherwise would have none. There is a concerted effort to ensure that going forward in the Gulf and in any such future event, Citizens Advisory Committees are an integral part of the decision making process and transparency is assured. It is unrealistic given the degree of corporate influence over the US Government and relevant agencies, to expect our lawmakers and regulators to ban the use of toxic dispersants to clean up oil spills. It is entirely reasonable however, for the Obama administration to enact policies whereby in the future the US follow its NATO allies' example and require strict formal procedures for approving the use of toxic dispersants like Nalco Corexit and then only as a last resort in cleaning up oil spills.

Calling all HuffPost superfans!
Sign up for membership to become a founding member and help shape HuffPost's next chapter