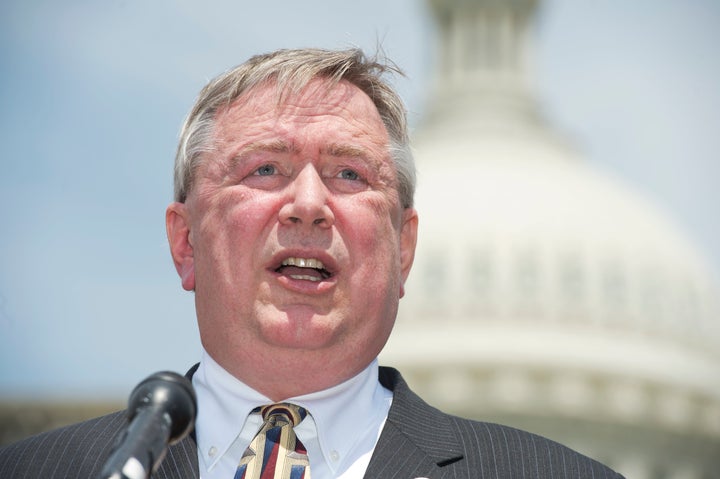 Late last month, federal prosecutors indicted ex-Rep. Steve Stockman and two of his aides, charging that the Texas Republican and his confidants ripped off charities, laundered money, lied to regulators and misled wealthy donors before, during and after his failed 2014 primary campaign against John Cornyn, the second-ranking Republican in the Senate.
The fact that the former congressman is facing multiple felony counts made national news. But one of the most interesting details in the 46-page Stockman indictment escaped notice: The suggestion that Richard Uihlein, one of the country's biggest conservative political donors, personally wrote a check for $450,571.65 to mail a fake newspaper called The Conservative News to voters across Texas. The paper, which prosecutors say was part of a Stockman-run, secretly funded operation intended to take down Cornyn, included the dubious claims that Cornyn wanted to ban veterans from having guns, had voted to fund abortion, and was secretly working with Democrats to grant amnesty to illegal immigrants.
Mailing a fake newspaper is not a crime, nor is secretly funding a candidate to do so. Thanks to a series of court decisions now known collectively as Citizens United, billionaires are allowed to fund anonymous attacks as long as they abide by an arcane set of tax and campaign finance rules. And Uihlein, who has given more than $43 million to conservative candidates and super PACs since 2011, is a particularly big fish. He is the chief executive of a family-owned shipping and packing materials company that's confusingly named "Uline," which Forbes estimated was worth at least $700 million in 2014. And through his private foundation, Uihlein has given millions more to nonprofits that push a conservative policy agenda and train a new generation of political operatives to sell it.
It's not clear what, if anything, Uihlein knew about Stockman's fake-news scheme. He is described as a victim in the Stockman case: Prosecutors say Stockman and his staffers fraudulently diverted hundreds of thousands of dollars Uihlein had donated. Uihlein's funding of the fake-news operation would likely never have become public had Stockman not gotten tangled up with an FBI investigation — meaning this episode exposes a side of the U.S. campaign finance system we don't often get to see.
Uihlein isn't named in the court filings; he is identified as "Person B" in one indictment and "Person C" in another. Melissa Annis, an assistant U.S. attorney for the Southern District of Texas who is one of the prosecutors on the case, said it is her office's policy not to identify anyone who hasn't been charged in a case. But details in the case files make it clear that "Person B" and "Person C" are both Uihlein.
According to the documents, "Person B" gave $350,000 from his family foundation to Life without Limits, a social welfare nonprofit Stockman aides controlled, in January 2013. The money was meant to fund Freedom House, a townhouse in Washington, D.C., that "would serve as a meeting place, dormitory and training facility for young people," according to court documents. The first criminal complaint unsealed in the case describes a meeting between Stockman, an aide and "a wealthy businessman who operated a charitable foundation" located near Chicago.
Uline is based in the Chicago suburb of Waukegan, Illinois, and tax records from Richard Uihlein's nonprofit, the Ed Uihlein Family Foundation, reported a 2013 donation to Life Without Limits of $350,000. (The foundation bears the name of his father, who died in 2005, but Richard Uihlein has been the foundation's president and sole donor through its entire history, and is the only man on its three-person board.)
Larry Barry, director of legal affairs at Uline, refused to answer questions about the case, but said in an emailed statement that "we are deeply troubled by the allegations ... that certain contributions made in good faith may have been used for unintended personal and political purposes." Barry referred to Uihlein as "a victim of this alleged misconduct" and said that "we have and will continue to fully cooperate with the Department of Justice in this investigation."
The U.S. government alleges that Stockman "did not use any significant portion" of Uihlein's $350,000 donation to fund Freedom House. Instead, prosecutors say, $50,000 went to Stockman's political campaigns, $41,000 to surveilling a "potential challenger in a future primary election," $20,000 to support his brother's "book business," $11,000 for an associate's inpatient alcoholism treatment, and $2,200 for summer camp for a nephew and friend.
Prosecutors are pursuing charges against Stockman related to the fake newspapers because the Center for the American Future, a nonprofit that a Stockman aide named Jason Posey controlled, made "independent" expenditures that prosecutors allege were illegally coordinated with Stockman. Although there's no limit to "independent" spending, "coordinated" spending was capped at $2,600 per election at that time. Posey has also been accused of falsely claiming the spending was not coordinated in a sworn affidavit related to a Federal Election Commission complaint.
Through this nonprofit, Stockman and his aides printed hundreds of thousands of fake papers. Stockman had the direct mail company bill Uihlein for the postage, who cut a check on Feb. 18. According to the indictment, Stockman stopped the fake news operation "in or about late February or early March."
Stockman got creamed in the crowded March 4 primary, winning less than 20 percent of the vote to Cornyn's 59 percent.
This is not the first time Stockman, an accountant by trade, has been in trouble with the FEC. Both his two-year House terms resulted in sprawling investigations of fake news and accounting problems. The FEC fined Stockman $40,000 in 1998 over contributions related to producing a fake newspaper during the 1994 election, The Southeast Texas Times, and the 1996 election, The Southeast Texas Statesman. Both were produced with Jeff Van Fleet, an officer at the the Center for the American Future, which produced the 2014 fake newspaper. A separate FEC investigation into a fake newspaper produced during the 2012 election, The Southeast Texas Courier, was dropped.
A warrant for Posey's arrest was issued the day he was indicted, March 28. The U.S. Attorney's Office said on Tuesday that he hasn't been arrested, and thus his status remains "fugitive." Stockman was arrested in mid-March as he tried to board a plane bound for the United Arab Emirates. He is scheduled for an arraignment on Wednesday, where his attorney says he will plead not guilty.
One of the biggest unanswered questions in the Stockman case is how he apparently fooled Uihlein twice.
Prosecutors say Posey told Uihlein's accountant in a May 13, 2014, email ― sent two months after Stockman lost the election ― that some of the money that was supposed to be used for Freedom House had gone to delivering medical supplies to "third world" countries. The email, which also included an attached tax exemption letter for Life Without Limits, allegedly constituted wire fraud ― though prosecutors don't spell out exactly why.
What the documents don't clear up is why Uihlein would fund Stockman's direct mail campaign a year after his donation for Freedom House ― especially since it seemed like so little progress had been made on that first project. "You raise a good question, but it's not one I can talk about today," said Dane C. Ball, a Houston lawyer defending Stockman.
An answer may be in the offing if the case goes to trial. If that happens, it's likely Uihlein would be called to testify, said D.C. campaign finance lawyer Brett Kappel.

"Get your popcorn," he quipped.
Popular in the Community