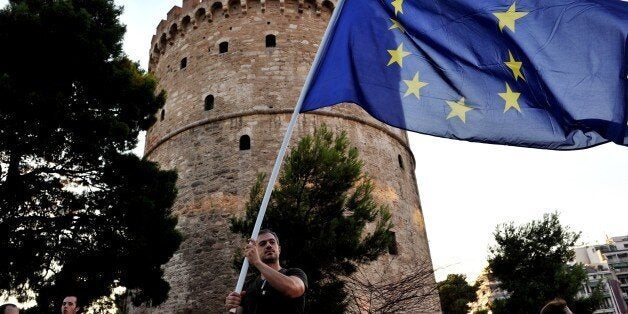 LONDON, July 10 (Reuters) - European stocks surged on Friday after Greece made substantial concessions in its latest bid to win new funds from creditors and avert bankruptcy.
Global equity markets also took heart from a continued recovery in China's stock market, which rose strongly for a second day, buoyed by a barrage of government support measures.
The pan-European FTSEurofirst 300 index ended 2.1 percent higher at 1,543.01 points, with the euro zone's blue-chip Euro STOXX 50 advancing 3.2 percent.
The VSTOXX, a volatility index for European shares, fell 2.9 points to 27.88, its lowest level so far this month.
European shares have fallen in the last month after Greeks rejected in a referendum austerity measures imposed as part of a bailout, although liquidity measures from the European Central Bank have cushioned the negative fallout to an extent.
Greece has asked for 53.5 billion euros ($59 billion) to help cover its debts until 2018 and has pledged new tax hikes in return. France's economy minister said he was reasonably confident a deal can be done.
Traders said the latest plan had made investors cautiously optimistic a deal could be struck by Sunday's deadline, although many remained wary, having seen similar proposals fall through.
"The market is taking heart from the fact that it looks like the wheels are moving to get something done. But the devil is in the detail," said Peregrine & Black senior sales trader, Paul Chesterton.
"The German authorities will need to ratify any deal, and the Greek parliament also need to sign up to it, so many hurdles remain."
Germany's United Internet was the top riser on the FTSEurofirst, climbing 6.4 percent after the Internet service provider said it may float its business offering web-hosting and other online services to corporate customers.
European insurers also rose after Barclays raised its target price for several top insurance companies.
Norway's largest bank DNB advanced 4.6 percent after its second-quarter earnings beat forecasts, while shares in Dutch high-frequency trading firm Flow Traders also rose on their market debut.
The FTSEurofirst's rise on Friday moved it further away from a five-month low hit on Wednesday.
The FTSEurofirst is up 13 percent since the start of 2015 but remains some 7 percent below a 14-year high hit in April, due to the uncertainty over Greece and volatility in China.
Today's European research round-up (Additional reporting by Sudip Kar-Gupta; Editing by Keith Weir)
Calling all HuffPost superfans!
Sign up for membership to become a founding member and help shape HuffPost's next chapter