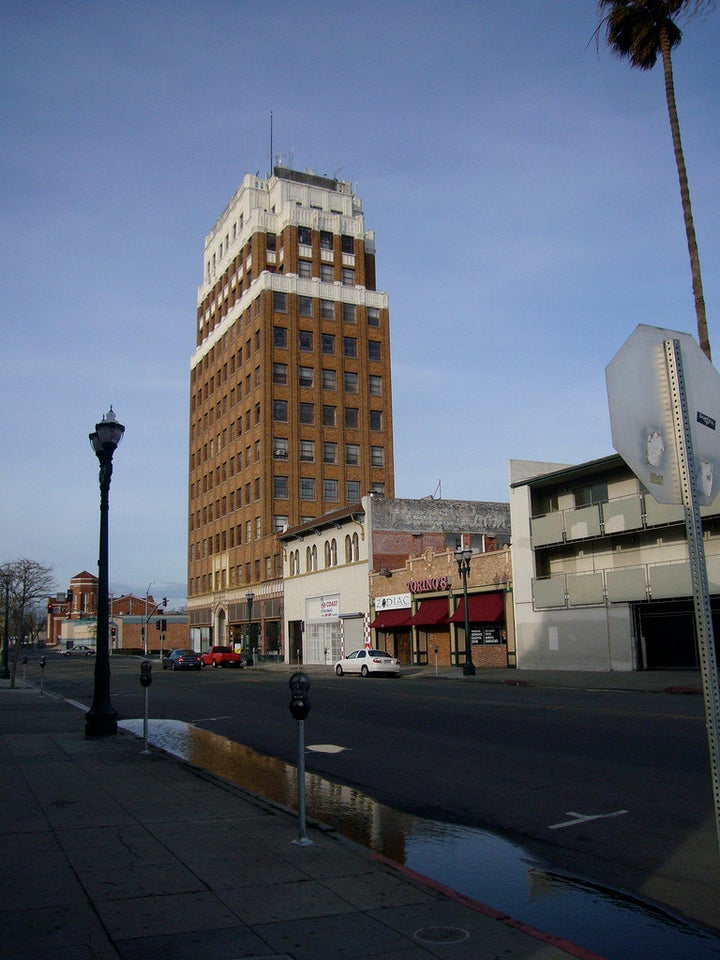 The Central Valley city of Stockton of may become the next California municipality to follow in the steps of Vallejo and Orange County and file for bankruptcy.
Stockton's City Council is likely to vote next Tuesday on whether to default on some of its bond obligations and make the first moves toward becoming the largest city in American history to declare Chapter 9 bankruptcy.
City Manager Bob Deis has told council members that he intends to put an item on their agenda for a Feb. 28 meeting that would ask them to approve mediation with creditors as the first step required under a new state law before the city can seek bankruptcy, according to the person, who wasn't authorized to speak about the matter because it is still confidential.

Deis also will ask the council to agree to default on municipal bonds beginning March 1, to suspend cash payments to employees who've accumulated unused vacation and sick leave, and to begin an investigation into the causes of the city's fiscal issues, the person said.
The item isn't listed on the council's agenda for Tuesday's meeting; however, The Stockton Record reported the impending bankruptcy decision became an open secret this week when The Downtown Stockton Alliance's board of directors openly discussed the city's bankruptcy timetable in a public meeting.
Sitting on the banks of the San Joaquin river, Stockton was among the hardest hit cities in the country by the housing bust--only Las Vegas has a higher rate of foreclosures. Home prices in the city tripled between 1998 and 2005, swiftly cratering back to Earth in the years since the housing bubble popped. The result was an over 25 percent reduction in property tax revenues flowing into city coffers.
Stockton's budgetary deficit is estimated to be somewhere in the neighborhood of $35 million.
Local labor leaders have decried the move, arguing that declaring bankruptcy will only make Stockton's situation worse. "If any municipality declares bankruptcy, whether it's Stockton or anyone else, what really doing is sealing their own economic death warrant, because it makes it that much harder to dig out of an economic hole," California Professional Firefighters Union spokesperson Carroll Wills told Stockton's ABC-10 News.
Stockton has already made deep cuts to its budget in a effort to shore up its finances--$18 million in cuts to fire and $13 million to police last year alone; however, those measures appear to not have been sufficient to balance the city's budget.
Stockton's bankruptcy would be the test case for a new union-backed California law enacted last year making it more difficult for cities to declare bankruptcy. The law requires municipalities within the state to declare a fiscal emergency or participate in a 60-day mediation process with creditors before seeking bankruptcy protection.
Stockton has already declared two fiscal emergencies in the past few years, most recently last May. Fiscal emergencies give municipalities the ability to largely disregard labor contracts with public employee unions and unilaterally readjust levels of salaries and benefits—something particularly important in a city like Stockton where police and fire costs comprise over 75 percent of the overall general fund budget.
One pitfall Stockton is hoping to avoid is having to shell out millions of dollars in legal fees for itself and its creditors. Vallejo spent $11 million on legal fees during its protracted, high-profile bankruptcy; Stockton is three-times the size of Vallejo and presumably its bankruptcy would be significantly more complicated and costly to litigate.
Popular in the Community