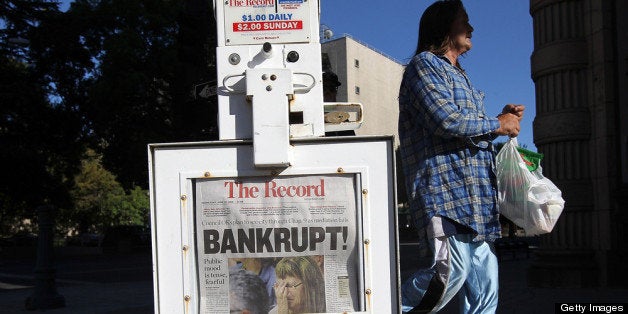 STOCKTON -- If there's a right way to go about municipal bankruptcy, Stockton may prove to be the poster child. If there's a wrong way, look to San Bernardino.
The California cities are on similar, but hardly parallel, paths.
Stockton started early with fiscal emergency declarations, community meetings, a unified City Council and an attempt, largely through the legislative (AB506) process, to avoid bankruptcy before plunging into it.
On April 1, a federal judge accepted the city's Chapter 9 application -- giving Stockton, population 296,000, the label of being the nation's largest city to ever enter bankruptcy. But, indirectly, the court also stated that the city had done what it could to avoid the designation.
San Bernardino struggled for months with defining its fiscal status, the city council was split over what course to take, it skipped AB506, a recall of the city's elected leadership is under way and dissolution as a municipality has been discussed.
The Southern California community, population 210,000, appears to have a long wait before its bankruptcy eligibility is determined.
Stockton and San Bernardino have been described as test cases for other cities in California and the nation. At least 10 other communities have been identified as facing serious financial stress, much of it linked to the economic recession and the companion foreclosure crisis.
"San Bernardino is in utter chaos," said Stockton City Manager Bob Deis, hired July 1, 2010, to help navigate Stockton through its fiscal crisis. "They're digging for dollars to make payroll. It's not pretty. We're fairly organized because the majority of our council is on one page."
Councilwoman Kathy Miller agrees but recognizes there was a consequence for that unanimity: the fall election when two incumbent council members and Mayor Ann Johnston were voted out of office.
"It was very close to a clean sweep," said Miller, who was re-elected. "There was a price to be paid for courage."
A council majority continues to support the direction Deis has taken -- with bankruptcy and with the administrative team he has assembled.
"Stockton is on its way back up," Deis said. "I'm pleased that we got through this fiscal storm ... we're on the road to recovery, and we have a plan. The majority of the council is rock-solid together."
Most residents remain more concerned day to day with crime rates and personal property values than municipal bankruptcy.
City Hall, aware of those feelings, is moving forward on a comprehensive crime-fighting proposal known as the Marshall Plan.
Also under consideration is Stockton Safe Streets, a separate plan supported by Mayor Anthony Silva that would create a dedicated pool of money for more police officers.
Stockton and San Bernardino have taken different paths when it comes to public safety.
Each city has a dramatically reduced police force, but Stockton's crime rate the first four months of 2013 has actually fallen. San Bernardino's is rising, and Mayor Patrick J. Morris has said he is considering eliminating the department and contracting with the county sheriff.
There is another difference in the approach to bankruptcy by the two communities.
Stockton chose not to reduce its payments into the California state pension fund, known as CalPERS. Still unanswered by the federal bankruptcy court is whether the city can restructure what it owes other creditors, including bondholders while meeting its full pension obligations.
San Bernardino a year ago took the opposite course, halting contributions to the California Public Employees Retirement System while paying or, in some cases, deferring bond debt.
CalPERS did not oppose Stockton's bankruptcy filing, but has taken a stance against San Bernardino's attempt. CalPERS is the largest debt holder for both cities.
Even with an improving state economy, there are other, overextended California cities struggling with budget deficits, declining revenue, reduced public services and ancillary problems, such as crime. In 2008, Vallejo was the state's first city to file for Chapter 9 protection. It is just emerging from bankruptcy and is still facing budget deficits.
"We were organized in our approach," said Connie Cochran, a Stockton City Hall spokeswoman. We anticipated what the court would need and we got it ready. We've gotten calls from other cities. We tell them what you learned in Girl Scouts: Be Prepared."
Contact reporter Kevin Parrish at (209) 546-8264 or kparrish@recordnet.com. ___
(c)2013 The Record (Stockton, Calif.)
Distributed by MCT Information Services
Calling all HuffPost superfans!
Sign up for membership to become a founding member and help shape HuffPost's next chapter
BEFORE YOU GO
PHOTO GALLERY
America's Poorest States