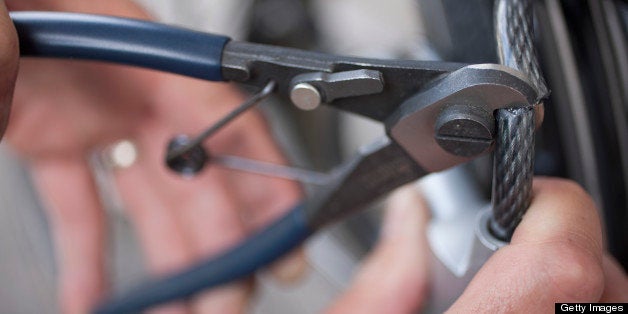 Chances are it has happened to you, or someone you know.
That's because at least four times a day in Broward and Palm Beach counties a bike is stolen.
And when it happens, most bicycles quickly disappear into an underground market and become currency for everyone from addicts looking for a quick fix to ring leaders exporting them out of state.
In Florida, 20,508 bikes were stolen in 2011, with nearly 3,000 taken in Broward and Palm Beach counties, according to the Florida Department of Law Enforcement.
In Broward and Palm Beach counties, hundreds of stolen bikes end up at bus terminals and train stations. The stations are crowded places where an abandoned bicycle -- and the person abandoning it -- attracts little notice.
In Fort Lauderdale, the Broward Central Bus Terminal on Broward Boulevard is a hot spot for stolen bikes.
"The question remains why they go unclaimed," said County Transit spokeswoman Phillys Berry of bikes that clutter bus racks and local terminals.
Berry said there are so many unclaimed bikes -- between 60 and 100 at any given time -- that the agency had to rent a storage container for them.
She said the agency is working with the County Commission to change the rules that require keeping the bikes for 60 days.
"We get a number of requests from nonprofits, parks and churches to give these bikes to needy persons," Berry said. "There's a demand for the bikes but we do have a requirement to hold on to them for a period of time."
In Palm Beach County, about 25 bikes every month end up abandoned at bus stations. Palm Transit spokeswoman Lili Agee couldn't say if the bikes are stolen, but she said very few people come forward to claim bikes left at the stations. Most, she said, end up in the county's surplus warehouse, where they eventually are auctioned off.
Thieves find plenty of other places to unload stolen bikes.
"Typically, stolen bicycles are discarded a number of ways; pawn shops, [flea markets], Craigslist, or found abandoned," said Fort Lauderdale Police spokeswoman Deanna Greenlaw.
Scott Ahringer owns Broward Bikes, a buy-sell-trade store that specializes in vintage, hybrid and road bikes. He knows the bike underworld well, and he's spent his own time and money investigating bike thefts using a network of friends and acquaintances.
Recently, he recovered a bike after it was stolen while the owner walked into a Fort Lauderdale Winn Dixie for a total of four minutes. By the next morning, the bike had already changed hands several times. Ahringer found it at the Fort Lauderdale bus terminal and bought the $300 bike from someone for $50.
"That was just another day at the office," he said.
Ahringer said that at the top of the bike thief caste system is the sophisticated burglar who targets affluent neighborhoods such as Rio Vista, Singer Island and parts of Boca Raton. Some of those bikes, especially the pricey ones, end up in other states, listed in free classified online pages such as Craigslist.
"Then there is the kind who gets up at the crack of 3 p.m. and says 'Who can I victimize today to perpetuate my life?' and the easiest thing to do is to steal a bike," Ahringer said.
Bikes stolen by criminals looking to turn a quick buck can end up at local pawn shops, sold for as a little as $30.
Local pawn shops are required to document the bikes they buy and keep them for 30 days to see if they are reported stolen.
Albert Richwagen, of Richwagen's Bike & Sport in Delray Beach, said one reason people can't get their bikes back is they don't keep their receipts, write down their bike's serial number or even bother to look for their stolen bikes -- all things that make bikes even more attractive to thieves.
But, even for the theft-conscious bike owner, getting a stolen bike back even after it's located can almost be more trouble than it's worth.
"You have to physically search for it yourself, to see if a pawn shop bought it," Richwagen said. "But if a pawn shop buys it and you see that they have it, you have to call the sheriff's office. Then you have to buy your bike back from the pawnshop for what they paid for, then police should file charges against the person who sold it to the pawn shop and they theoretically would have to pay you back. And that pretty much never happens."
Meanwhile, Richwagen, said bike theft is ultimately about personal responsibility: not leaving your bike unlocked, or most importantly, not using a cheap lock.
"If you spend $500 on a bike, why would you spend $50 on a bike lock?" he said. "People have to take responsibility and buy security."
Richwagen said there are expensive, effective locks that even come with insurance if the bike is stolen.
Ahringer said that some bikers resort to using heavy-duty linked chains and locks while others go as far as using hidden GPS tracking devices. He said he has also followed up with police on several stolen-bike cases and has even appeared in court to testify against a bike thief -- something most victims of bike theft are not willing to do.
"Most people who get their bike stolen are pissed, but they shrug it off, they don't even call the police," he said. "They don't pursue it any further."
Meherrera@tribune.com or 561-243-6544
A thief with enough time and the right tools can break any lock. But you can discourage many thieves if you take the necessary measures.
-- Use the most expensive lock you can afford or a combination of several different locks: U Locks are stronger than others; especially steel alloy locks. Look for locks that come with antitheft protection such as Kryptonite, some of which come with a $4,500 antitheft protection. Look for anti-theft security chains -- the thicker, the better. Chain links and lock clasps should be at least three-eighths of an inch thick. Cable locks are the easiest to cut. If you use a cable lock, make sure is at least three-eighths of an inch thick with a lock as thick, or thicker. Ugly bikes are a good anti-theft measure -- no one wants to take them.
-- Lock to a bike rack or secured pole.
-- Never lock through the wheel without locking the frame.
-- Remove items such as seats, lights, bike bags and pumps.
-- Record your bike's serial number. Take a photo of you and your unlocked bike and keep the receipt.
-- Lock in a visible place and do not leave the bike unattended for long periods of time.
BIKE THEFT BY THE NUMBERS
Total bike thefts in Florida by year (data not yet available for 2012)
Bicycle thefts by county in Florida 2010 to 2011 (data not yet available for 2012)
Source: Florida Department of Law Enforcement ___
(c)2013 the Sun Sentinel (Fort Lauderdale, Fla.)
Distributed by MCT Information Services
Popular in the Community