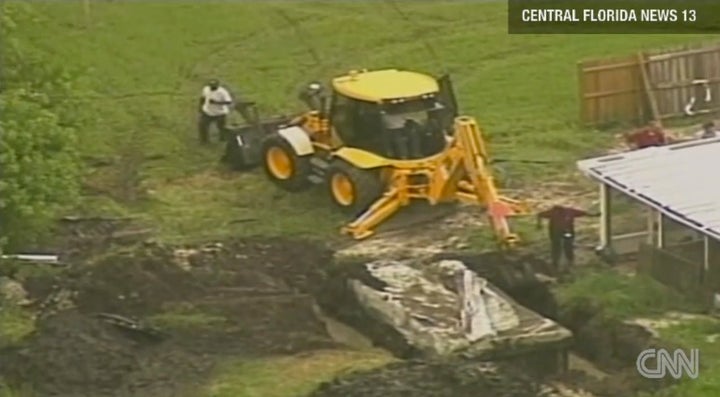 The case of a stolen food truck in Kissimmee, Florida has been solved. A tip to investigators led them to a backyard where the truck was found -- sitting atop another trailer buried in the ground.
Central Florida's News 13 spoke with Kissimmee police, who said the buried truck was from automative and tire store Clay and Sons, and the one atop it was a "food truck-type trailer." A neighbor of the suspect provided more details:
"He had this crane and he worked there for about three weeks and just digging and digging and digging," said neighbor Betty Ryan. "He'd be up high over the fence and then I couldn't see him at all."
Ryan told WKMG News 6 that the man told her he was digging a fish pond, and Ryan called the city when she worried it would flood her yard.
Police said the man was allegedly building a doomsday-type bunker -- with stolen items. The Orlando Sentinel explains just how the trucks factored into that plan:
...the man intended to cut a hole through the bottom of the above-ground trailer that would serve as an entrance to the buried truck. Police believe he used large construction equipment to dig a hole several feet deep to cover the truck, making the top flush with the ground.
Wesh 2 News writes that when the food truck was unearthed, pots and pans were still inside. Police spokeswoman Stacie Miller admitted to the press that its within anyone's rights to build a doomsday bunker, but only "as long as it's not out of stolen items."
The man's name has not been released because he has not yet been arrested -- officials say the man the man is cooperating -- but if taken into custody he'll be charged with grand theft.