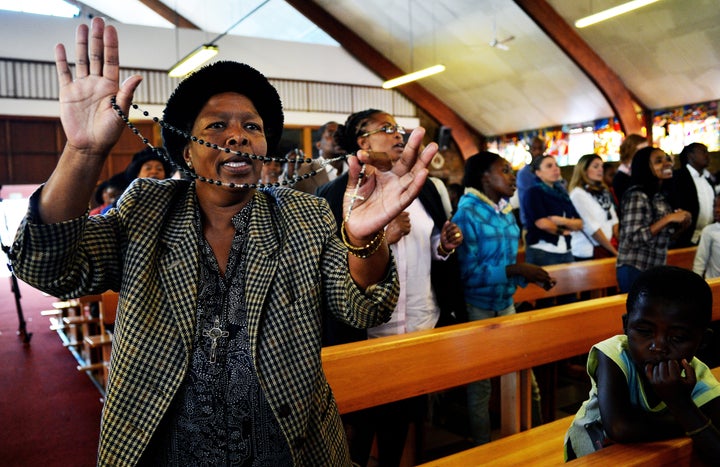 My mom is a retired preschool teacher, and as a child, I often spent time after school helping her prepare crafts and activities for her classroom. One of the more memorable weeks in her preschool year featured stone soup -- reading the book by Ann McGovern- - and making it together as a class.
The concept of stone soup is simple. Each person contributes just one ingredient or seasoning to a pot containing water and a stone. Through cooperation and involvement of an entire community, a nourishing, delicious meal for all is created.
Today in Soweto, South Africa we had the privilege of seeing this children's story come to life -- twice.
Our first helping of stone soup was served up at a Methodist Church. As we were welcomed into the courtyard of the church, we could hear singing coming from inside the chapel. Quietly we stepped inside and, standing alongside the back, joined in the singing as best we could. Soon the pastor went forward and welcomed us to the worship gathering. They knew we were coming and excitedly greeted the choir. Five elderly women sat along the front of the church in metal stacking chairs, chairs identical to the ones in which the gathered group of 35 also sat. In front of the women sat a long table, with a large soup pot in the middle.
After a bit more singing, one of the women stood. Quietly, humbly, nobly she described the outreach mission of the church that she and the four other women run. "There are many hungry and needy people in Soweto and so we do what little we can. Today is our soup kitchen day. Fridays we give away fruits and vegetables. And Tuesdays we give out clothing items. It is not much, but we do what we can."
This was not the work of a high-powered, heavily-staffed NGO. This was not even the arm of a wealthy mega-church. This was the tangible work of love of five elderly women who simply served others and strived to meet needs of their neighbors. And in keeping with the "stone soup recipe" the ingredients for each week's soup kitchen meal for 40-50 people came from the women's own cupboards -- cupboards that themselves were certainly sparsely stocked.
Our second serving of stone soup came just down the road at Footprints Hospice Center. Once again, elderly women were in charge of the grand work being done in the name of the Lord. "There was a group of us that had retired. At first it was quite nice. We would get together and talk about children and grandchildren. We were free to travel and enjoy retirement. But then, how long can you go about just living like that, just for yourself?"
At the same time these challenging questions surfaced, rousing the women from retirement, a cholera outbreak prompted an immediate need for nursing work. These women stepped away from their retirement, recruited many more -- making a total of 30 women -- and set to work serving their community. In three weeks, their work was completed, and stipends paid to each.
Rather than pocketing their earned wages, however, the women cooked up a different plan. Three weeks of community nursing work had opened their eyes to the desperate need for hospice and home healthcare in Soweto. With all of their pooled stipends, these thirty women opened a hospice center, more than tripling the available bed space in the entire township. Supplies -- discarded year-old "rubbish" from wealthy medical facilities -- were gathered. Buildings procured. Educational training and outreach programs added to their ministry.
Despite funding limitations, despite staffing challenges, despite ever-increasing ages of the founders, Footprints Hospice Center exists today as a beacon of hope and love for adult patients plagued by any number of illnesses, disease and challenges.
Two ministries. Two vital examples of what happens when individuals, eager to exist for more than just themselves, simply offer what they have, no matter how little or insignificant, to meet needs they see around them.
Stone soup. A delightful childhood story learned long ago from my mom and her preschool class. A lesson on the value of community and cooperation. A hopeful reality lived out in Soweto.
And a challenging reminder for each of us: How are we contributing and to what pot? Truthfully, the recipe for stone soup is quite simple. It does not require extensive education, hierarchical structures or professionally trained board members. It just requires each person contribute their single ingredient to the humble pot. And when we do, what once was nothing more than water and a stone becomes a nourishing, delicious meal for all.
Kristen has been in Zimbabwe and now South Africa with Jubilate, a worship arts choir from the Pacific Northwest Conference of the First United Methodist Church. The choir, containing 20 members, stems from at least five denominations. You can read more of Kristen's stories from their trip at www.jubilateinafrica.wordpress.com.
Related
Popular in the Community