Last year I attempted, but failed, to organize a march from the Christopher St. Pier in New York City to publicize the fact that the transgender community were largely involved in the riots, and were instrumental to the subsequent gay rights movement that sprang into life. Now, one year later, Roland Emmerich has created his version of Stonewall, that not only excludes the role of transgender people in the events of 1969, but also other queer people of color.
The backlash has been swift. Stonewall veterans, trans community leaders, and allies alike, have come together and are calling Emmerich to account for his depiction of Stonewall as a twink revolution. One group even going so far as to create a parody of the official trailer, outlining some of the issues with the film:

Erasure from the historical record and the frequent portrayal of transgender as being "new" or "20 years behind" the LGB, has resulted in trans women of color being left in a state where they are subject to a rate of slaughter that mainstream media does not or will not report, and that mainstream LGBT organizations frequently overlook. Nineteen transgender women have been murdered in the U.S. so far this year, and the total keeps growing. Nineteen women have been beaten, stabbed, burned, dismembered or shot to death -- largely because the LGB organizations that were founded by the blood and sweat of trans women of color have turned their backs in the past out of a move to be seen as more "respectable" and palatable to cishet America.
Putting it another way, the transgender community has had 19 Matthew Shepards so far this year alone.
Now that the transgender movement has its moment in the media, more LGB organizations are embracing the T and becoming fully LGBT inclusive. Yet the depiction of events at Stonewall in Emmerich's portrayal serves to add to the myriad of other productions and narratives which have sought to incorrectly portray Stonewall as a white gay male party -- and furthers the harmful view that transgender is a new phenomena. Stonewall was started by the "Queens" - trans women of color and drag performers of color, lesbians, sex workers, homeless queer youth, and gays of all types -- not by clean-cut white college boys.
In an attempt to counter the whitewashing and ciswashing by Emmerich, a group calling itself S.A.I.D, or "Stonewalling Accurate & Inclusive Depictions," has created an educational rally scheduled to take place on Thursday 27th August at Warner Brothers Studio in Burbank, CA.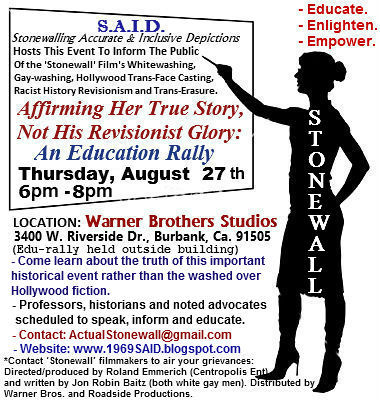 The following are scheduled to speak at the event:
Dr. Marie Cartier, CSU Northridge (Gender & Women's Studies), historian, openly lesbian author
Ashley Love, journalist, S.A.I.D. organizer, Black Trans* Women's Lives Matter coordinator, transsexual/intersex advocate
Eli Erlick, Director of Trans Student Educational Resources, trans woman
Jennicet Eva Gutierrez, Familia: Trans QLM co-founder, Latina trans woman (made headlines this summer after interjecting President Obama's White House speech to decry the violence faced by detained Latina trans women)
Jonel Hudson, former MTV Networks employee, Black trans woman, artist
If you are trans, an ally, or simply a member of the greater LGBT, you are invited to attend the event. Come and meet the speakers and add your voice in solidarity with the women who have been killed this year, as well as help to put an end to the fallacious portrayal of transgender people in queer history and help to build a bridge between LGBTQ of all types and ages.
Calling all HuffPost superfans!
Sign up for membership to become a founding member and help shape HuffPost's next chapter