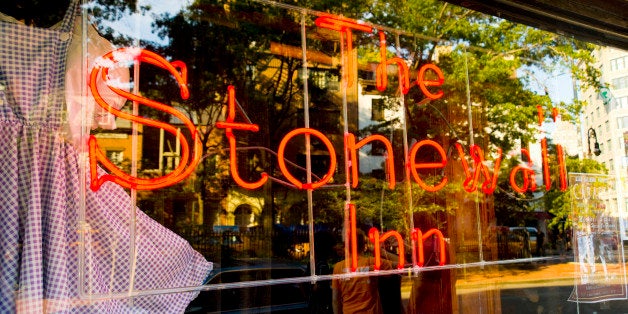 NEW YORK -- On Wednesday, the Stonewall Inn opened earlier than usual.
At 10 a.m., the day the U.S. Supreme Court handed the gay rights movement a landmark victory, the historic bar was dimly lit, strung with rainbow flags, and filled with revelers toasting each other and pledging their determination to keep fighting.
"I called my ex as soon as I got word," said David Carter, who had a gray beard and was nursing a Heineken. "We talked about what a great day this is."
After he got off the phone, Carter made his way over to Stonewall. He is the author of a book, "Stonewall: The Riots That Sparked the Gay Revolution," about the riots that erupted 44 years ago this week, after police raided the Stonewall Inn. When he learned that the court had ruled the Defense of Marriage Act unconstitutional and that same-sex marriage would be legal again in California, he immediately thought of those he had interviewed.
"Most don't live here anymore, and so many of them are dead," Carter said.
As Kelly Clarkson blasted over the speakers, Carter sipped his beer thoughtfully. In a little while, he said, he would go home and call those who are still alive. "I want to thank them, and congratulate them on seeing the further fruition of their movement."
But Carter, like many of those gathered at Stonewall on Wednesday, said he felt strongly that there was more work to be done, and not only in the 37 states where same-sex marriage is still illegal.
"I think it's important that the public be reminded that while this is a great victory, not everybody needs to get married or wants to get married, but everyone needs a job," he said. "If you're fired for being gay, if you're denied credit for being gay, if you're denied housing for being gay, you still don't have any federal protections."
Sitting a few feet away and sipping a Sam Adams and martini, respectively, Clarissa Filgioun and Christine Robert added another ongoing challenge to the list: binational, same-sex couples who still face hurdles when trying to plan their lives together. Filgioun was born in South Africa and met Robert at University of California Berkeley business school in the 80s, when she was still on a student visa.
"That was heartbreaking," said Robert of their fight to stay together in the U.S.
Robert once served as the co-chairwoman of the Gay and Lesbian Victory Fund, a political action committee. Filgioun previously worked as president of Equality California, a gay rights group that has long fought Proposition 8, the 2008 California constitutional amendment that -- until Wednesday -- banned same-sex couples from legally wedding.
"For everyone to think that our struggles are over, they're not," Filgioun said.
Despite the challenges that still loom ahead, Robert and Filgioun plan to spend the day celebrating. They have been together for 25 years, and were among the roughly 18,000 couples who wed in 2008 in California before Proposition 8 passed. The two live in California now, but are in New York to celebrate Filgioun's 50th birthday. "We were having breakfast and the texts started coming in, and we just burst into tears. It was very emotional."
Outside, a dozen or so men wearing pink shirts declaring "HIV Is Not A Crime" held a "kiss-in." Camilo Godoy, a 24-year-old working for Queerocracy, the advocacy group that organized the event, said the group was there to protest the criminalization of HIV. "The defeat of DOMA is a great success for LGBT liberation, but the HIV/AIDS crisis is not over," he said.
Inside at the bar, two women clinked glasses of Kir Royale and exchanged a kiss. Together for about six years, Margie Duffield and Diana Yanez aren't married.
"Even Rachel Maddow said this morning that she wasn't sure marriage was for her. We believe in it obviously," Duffield said, "but …"
"I'm more of a romantic," Yanez added. Then she looked around at the happy crowd and smiled.
"Stonewall is a very important place in all of our hearts. Even though it was a tragic occurrence that started the gay rights movement, it was the pain of birth, it gave birth to the freedom we're enjoying right now -- which is still not all the way," she said.
CORRECTION: A previous version of this article misspelled Godoy's name and misstated the slogan "HIV is not a crime" as "AIDS is not a crime."
Popular in the Community