Just over 10 years ago, it looked like The Stonewall Inn was going out of business.
"It had nothing really to do about the gay community anymore by that time," co-owner Kurt Kelly told HuffPost. "They weren't really taking care of the place ― let's put it that way."
The bar now heralded as the launching point for the mainstream LGBTQ rights movement had, according to Kurt, fallen to the wayside and lost touch with its queer roots. So in 2006, in light of Stonewall going under, Kelly and a group of investors bought the property ― and revitalized it.
The first few years were challenging. Kelly brought investor Stacy Lentz on board as a co-owner, who helped with marketing the new face of Stonewall and bringing in new, diverse LGBTQ clientele.
"It's been an amazing journey," Stacy told HuffPost. "I came in and I knew a ton of lesbians and introduced some to Kurt and we really started going. Early on, the Thursday and Friday nights for the lesbians became really important. One of the things that he and I both shared a vision in was saying we want everyone welcome."
"If it wasn't for the lesbians coming in and supporting the Stonewall, we wouldn't be open right now," Kelly continued. "They actually saved it."
From that point on, Kelly and Lentz sought to make Stonewall a space where people from all across the spectrum of the LGBTQ community felt celebrated and welcome.
In this interview with HuffPost, Kelly and Lentz reflect on the history of The Stonewall Inn since they bought it, their new Stonewall Inn Gives Back Initiative and Stonewall's enduring significance to the LGBTQ community.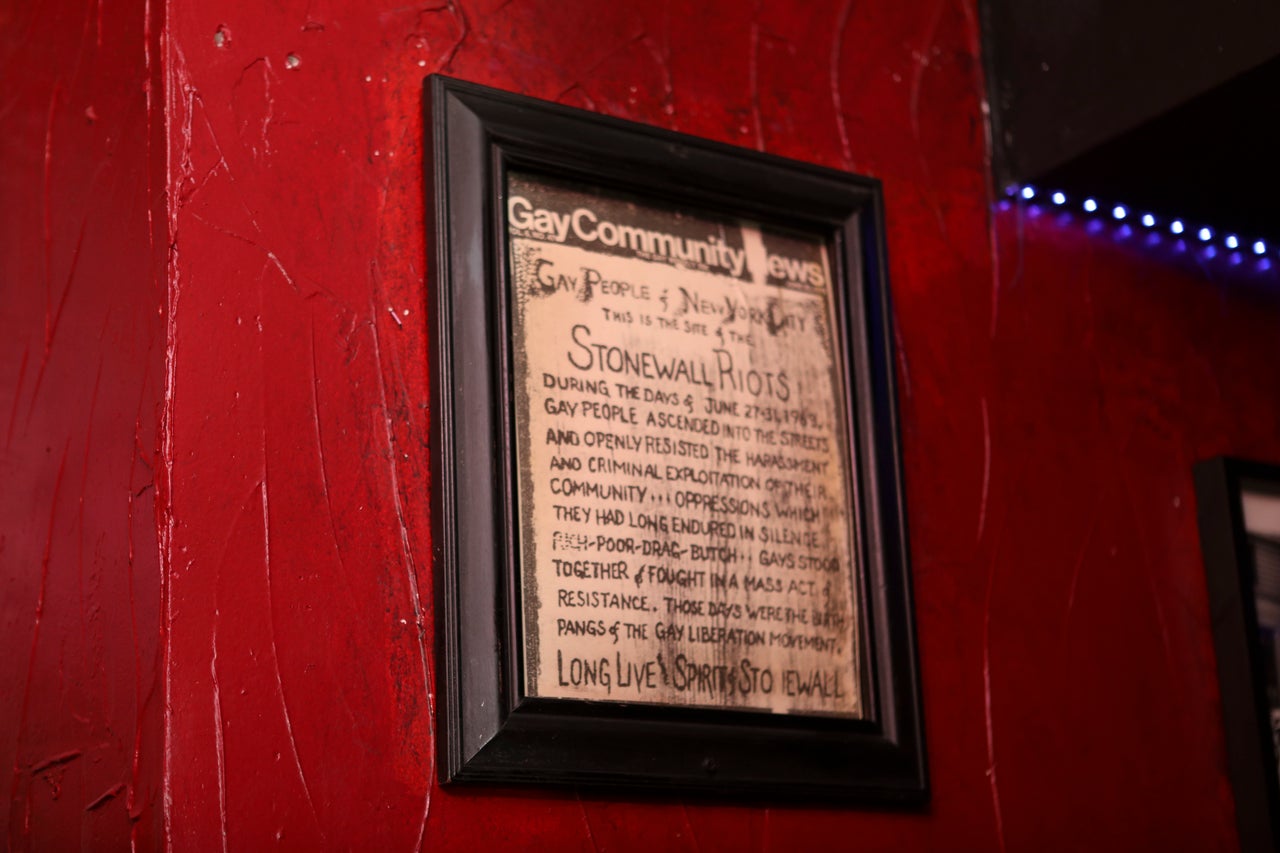 What does Stonewall mean to the two of you on a personal level?
Lentz: I would say it is a gay church. For me, getting involved with these guys ― I never had the desire to really be involved with the bar necessarily. For me, it's a platform for social change and social justice. That's what I'm passionate about. It represents a movement, it's a living, breathing part of history and it's our responsibility to keep it alive and it also means to me the birthplace of gay rights and the ability to keep that equality in place.
Kelly: For me, the beginning was a challenge to make it that way. It was a challenge for anybody, it was a challenge to have the gay community recognize the importance of the Stonewall, which annoyed me working [at a neighboring bar] for so many years and Stonewall just being such a dive and no one really knowing about it. That the youth should be educated, that they are able to hold hands with their boyfriend and kiss in public because of the guys in 1969 in that era that fought back for their freedom. A lot of them don't realize that and I want them to know that importance.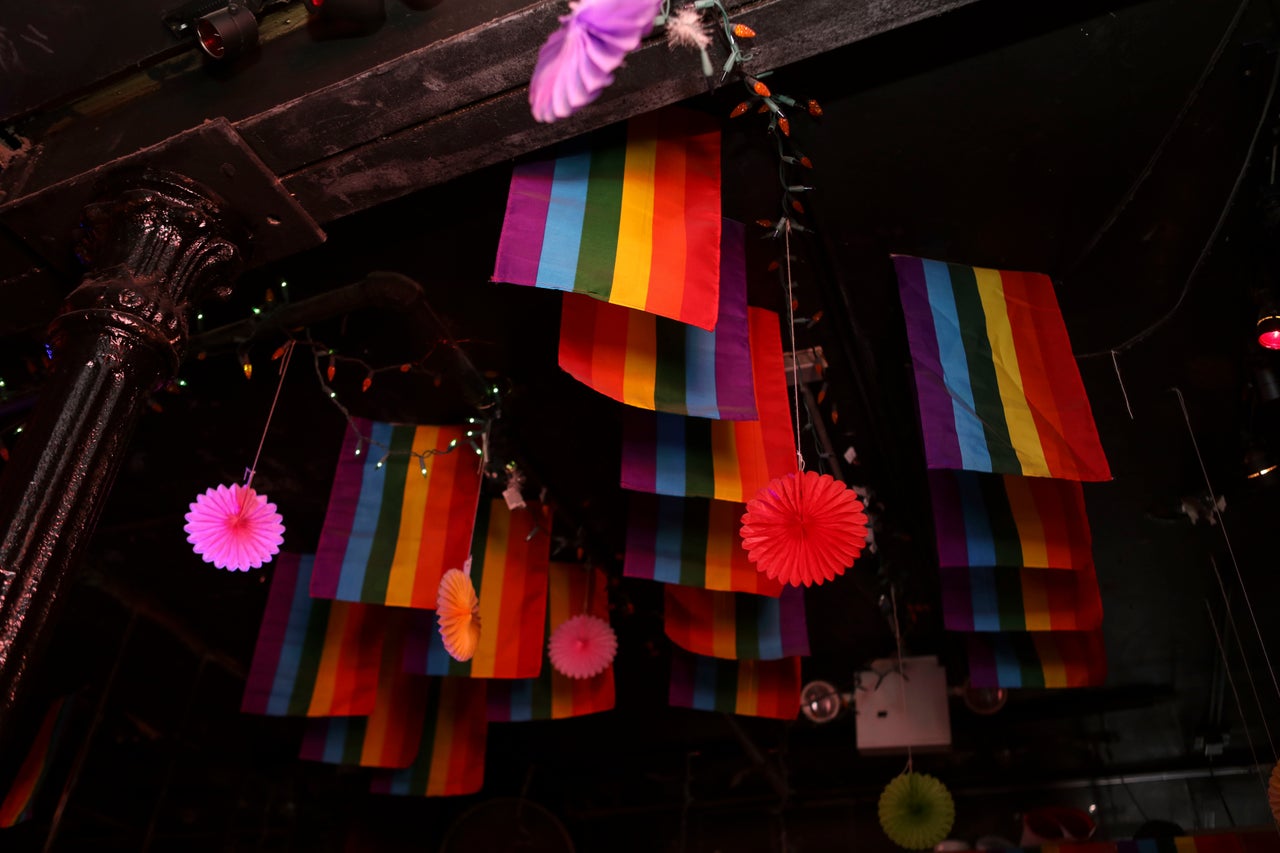 Is there a special story you could share about your memory or your time owning this historic space?
Lentz: I'll tell one of us together real quickly and I'll tell one of mine, which is totally different. I remember setting up with Kurt together on a Saturday night and we had one of our first events, the Golden Girls party. Those were really fun, and we were looking around ― and that was one of the first times that it was everybody in the crowd. It was gay, it was mixed, it was like everyone in the community around, everyone in these crazy Golden Girls outfits packed to the rooftop. And I remember he turned to me and said, "This is what we wanted. This is exactly what the mission was." And that was very powerful.
On a personal note, because I come from more of the activists' background, I saw a woman speak here from the U.N. at Uganda. This was probably circa 2010. She met me here. I was upstairs, she hugged me; I'm not a hugger, but I hugged her back. And she turned to me and she's like, "This is not weird, I'm not being weird or creepy or hitting on you, can I dance with you?" And I said, "Sure." Then she starts crying and I'm like, "Why are you crying?" And she's like, "Well, in my country if i do this, I would still be killed." That, to me, never went away. That's the importance. Having this kind of safe space, and we forget that still to this day, but that was so powerful in that moment. Just dancing with her knowing that this was something she dreamed of her life and could die for in her own country.
Kelly: During the Pulse Massacre time, all the flowers being put in front of the Stonewall ― there was this lady one day and she looked like Caroline Kennedy. We were trying to figure out who this woman was. Turns out she was Samantha Power and she was the ambassador to the U.N. at the time.
So, the next day I got this call. Samantha Power wanted to hold a U.N. meeting at Stonewall upstairs because she was heading the LGBT core group and it was the first for the U.N.. So, I said, "Sure." Upstairs, we had tables sitting like the U.N. with their little nameplates. Twenty-one ambassadors throughout the country were here and they had a meeting in our club.
And afterward she goes, "Kurt, you and I made history today."
Can you tell us a bit about your new Stonewall Gives Back Initiative?
Lentz: One of the main things I noticed that, as we [put] Stonewall back on the map, back on the radar ― and it's becoming, and always kind of was, a globally recognized brand ― it's a name [and] we have a responsibility to do a better job with that name. So we wanted to make sure that we formed our own 5013C and we're typically working with numerous organizations throughout the country that could use our name, our ability to fundraise, our ability to land social media campaigns, to help them. Some of our work, for example, we gave money to the LGBTQ Mississippi fund because they have some of the strictest laws against equality in the country.
This year, we're working with the Matria Foundation in Puerto Rico. We have a big kickoff on Monday when the executive's director's flying up and we've partnered up with JetBlue as well as Brooklyn Brewery and we're firing up and we're giving money to that organization. They help find LGBTQ people housing and work after [September's Hurricane Maria], which is still definitely needed because after a natural disaster, the others that are most marginalized suffer even more, right? So that's critical.
We've also launched a program called the Stonewall Ambassadors. Some of them are Chelsea Clinton, Luke Amis, Steve Jones, Amber Heard ― that's the tip of the iceberg. You can go on our website and take a look, it's amazing. They will be working with us from this year going into Stonewall 50, and working and using their social media platforms to raise awareness and raise funds for the Stonewall Gives Back Initiative.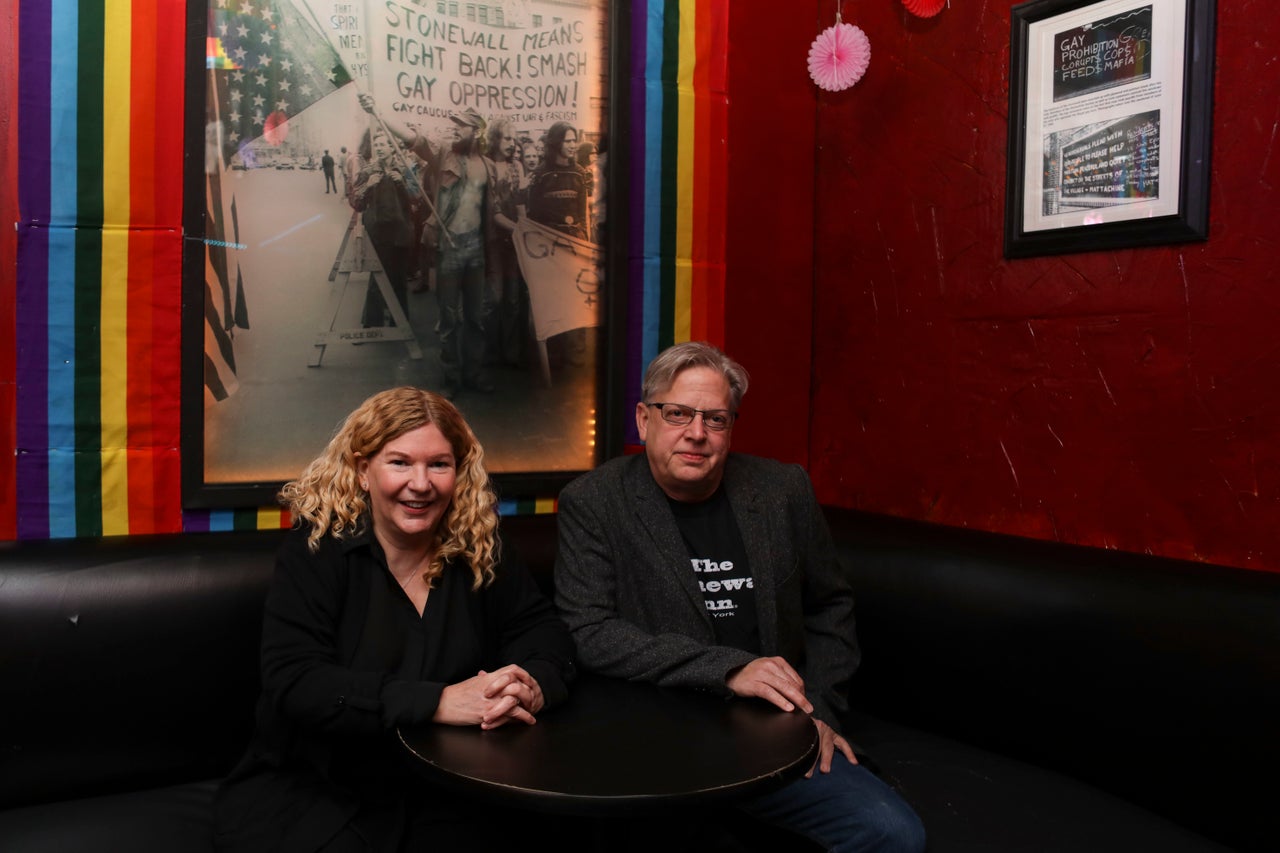 What do you most want people to know about this space and its community significance?
Kelly: It is the church. This is the melting pot. This is where you can come and feel safe. This is a part of the national monument. This is where it all began. I mean, seriously. This is where it all began in 1969 ― they fought back for your gay freedom today, if that's the right word, gay freedom, freedom to be gay. To love whoever you want to love. When you see that old man walking down the street in hot pants, he wasn't allowed to do that 50 years ago. Good for him. Don't make fun of him. Appreciate where he came from.
Lentz: I think also the community needs to remember that it's a living, breathing piece of history. So few places are like that. So yes, you can come in and drink and have fun and have a great time, but always remember where you are. This is the birthplace and hopefully, by the things we have on the wall and by educating this younger generation, because I really feel like unless you know our past, we can't change our future. And that's really critical.
This interview has been edited and condensed for clarity.
For LGBTQ Pride 2018, HuffPost is highlighting 30 different cultural influencers who have shifted the narrative when it comes to queer issues and whose work has contributed to building a more inclusive and equitable future for us all.
#TheFutureIsQueer is HuffPost's monthlong celebration of queerness, not just as an identity but as action in the world. Find all of our Pride Month coverage here.
Popular in the Community