Los Angeles bicyclists who made it to the sixth CicLAvia event Sunday probably made way at one point for the "Stoopid Tall" bike -- a 14.5-foot pimped out beach cruiser ridden by the unofficial "King of CicLAvia" -- Richie Trimble.
Trimble uploaded footage of his entire ride, from La Cienega Boulevard to Venice Beach, on YouTube Monday. Shot from his perspective on the tall bike, the video is a dizzying, suspenseful horror film for people who are afraid of heights. Harrowing moments include Trimble biking underneath a 405 freeway overpass, his encounter with a kite string and crossing an intersection full of traffic, but there are triumphant details too -- the beautiful weather and ocean, a bird's eye view of LA streets filled with bicyclists and his awesome blue leopard pants.
The video ends at a pier, where Trimble makes a successful descent to an applauding crowd.
Trimble has made tall bikes before, but the Stoopid Tall is his biggest to date (his 10-foot bike made an appearance in a 30 Seconds To Mars music video). He explains on YouTube that he made his "freakbike" in just 12 hours with a Huffy beach cruiser, metal tubing, a brake wheelset and single speed bicycle chains.
As I go under, I drag my hand along the top and I'm thinking, 'Wow, I'm probably the only person to have touched this besides the workers that built the overpass.' And that was pretty chilling, but then I realize that the street I was on was at an incline and the bridge above me was banking, the gap was closing in on me. And all I could think was, 'Holy shit! What am I going to do if I can't make it out? How do I wedge myself up against this and still make it out? What do I do?' I could feel the crowd below me, they all knew what was coming. All eyes on me and this bridge closing down on me. It got to the point where my body, my back was parallel to the ground and I looked at my hand and I had about two inches clearance above my knuckles and then I came out from under the bridge and the whole crowd ROARED! A deafening scream of 'Holy shit, you made it!' And I swear, those smiles must have lasted the whole ride. That was the moment for everyone.
Trimble also took to Reddit for an "AMA" (Ask Me Anything) session after the ride, where he got a thorough scolding from Redditors for not wearing a helmet. He defended himself by likening his ride to a circus act, calling it a "spectacle."
"Do circus performers wear helmets and body protection? It's clear that it's not a day to day activity," he wrote.
The bike isn't street legal, Trimble also explained, because he technically can't brake on the Stoopid Tall (that detail puts the video in a whole new light!). There's also no safe way to fall (shudder), which makes the bike's maiden voyage all the more remarkable.
Trimble plans to keep experimenting in preparation for breaking a world record this year, he wrote on Reddit.
CicLAvia is a city-wide celebration of alternative transportation. Major boulevards shut down so that pedestrians, bicyclists, skateboarders and others can take to the streets. The route changes from event to event, and was inspired by the Ciclovia events in Bogota, Colombia.

Before You Go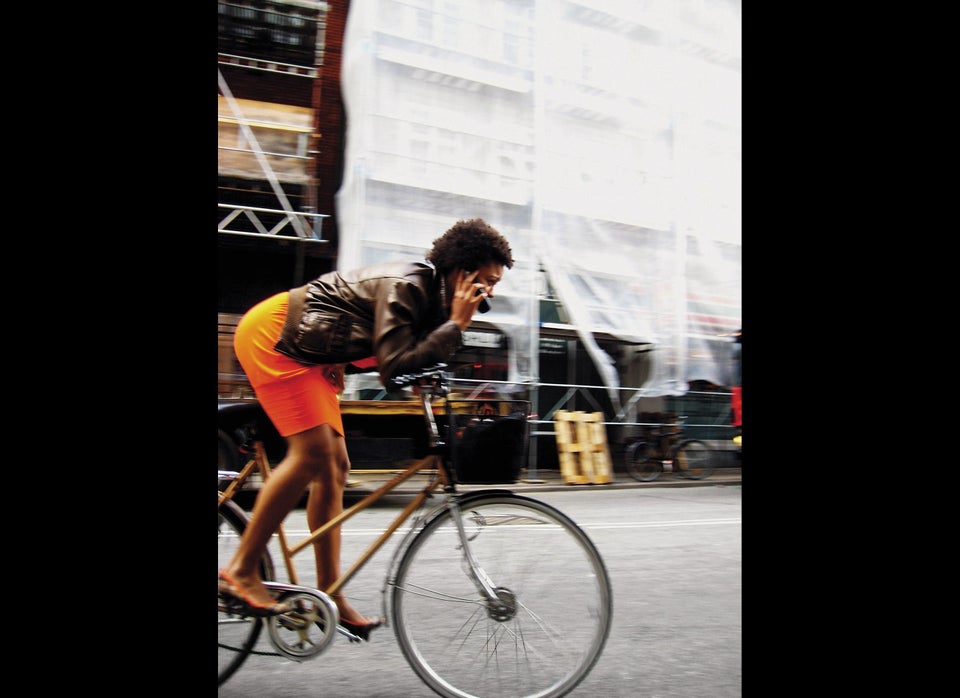 Cycle Chic photos
Popular in the Community