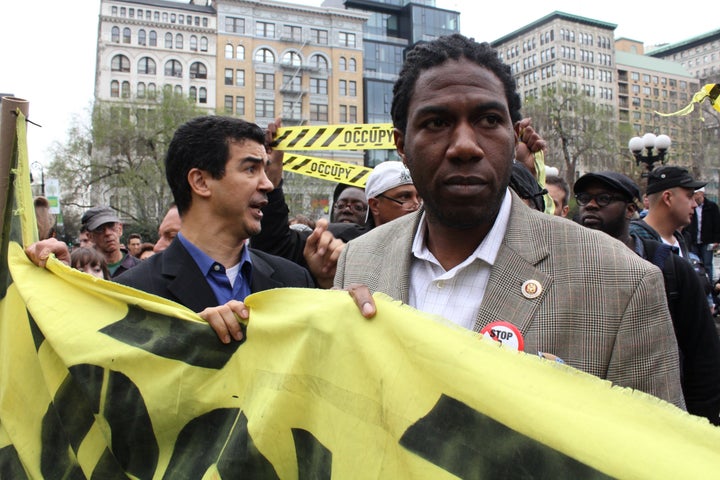 City Councilman Jumaane Williams thinks Mayor Michael Bloomberg's administration is "ass-backwards" in its approach to gun violence, and that the mayor and Police Commissioner Ray Kelly are wrong to continue the "racist official policy" of NYPD stop-and-frisks.
Williams, who has been one of stop-and-frisk's most outspoken critics, told The Huffington Post Monday that he saw a "glimmer of hope" in Kelly's announcement last week that the department would be making some changes to the controversial program. Williams added, however, that "none of it was substantial reform."
Many stop-and-frisk opponents, including Manhattan Borough President Scott Stringer and NYCLU Executive Director Donna Lieberman, described Kelly's announcement as a cheap publicity stunt. The commissioner, after all, did not explicitly admit that there were any problems with the NYPD policy, which led police to stop some 630,000 people last year, 87 percent of whom were black or Latino.
And, in a Daily News editorial Monday, Kelly doubled down on his support of stop-and-frisk, arguing that the program does not unfairly target minorities and lashing out at critics for not providing alternatives to fighting gun violence:
The statistics reinforce what crime numbers have shown for decades: that blacks in this city were disproportionately the victims of violent crime, followed by Hispanics. Their assailants were disproportionally black and Hispanic too. Last year, blacks and Hispanics represented 96% of shooting victims and 90% of murder victims...

Did the New York Civil Liberties Union and certain City Council members protest or demand something be done to reduce black-on-black violence? Not at all. Instead, they have directed their animus toward the Police Department, condemning the very tactics that have saved more than 5,600 lives in New York's poorest neighborhoods in the last decade.
"Just because [Kelly] doesn't accept our solutions, doesn't mean that we don't have any," Williams told HuffPost, noting that gun buyback programs take thousands of weapons off the street each year, and that the city should hold more of the events.
Williams also said Bloomberg should stop cutting after-school programs, which he says are known to decrease violence.
"Nationally the mayor is good [on gun violence], but locally is a totally different story," Williams said, referring to Bloomberg's work with "Mayors Against Illegal Guns." Bloomberg is a co-chair of the organization, which is made up of mayors from across the country and works to promote stricter gun laws.
Williams also said that most of the dramatic decline in gun violence and crime in the city occurred from 1990-91 to 2000-2001, before stop-and-frisks were a major police initiative under Bloomberg and Kelly.
He noted that in the last 10 years, while stop-and-frisks have increased 600 percent, murders have only decreased about 10 percent. The New York Times reports, "In 2002, when Mr. Kelly last took office, officers stopped 97,296 New Yorkers and the city reported 587 homicides. Last year, those numbers were 685,724 and 532." Williams argued that a small drop in murders, while encouraging, could not be attributed to stop-and-frisks.
A call to the mayor's office confirmed that the "5,600 lives" Kelly referred to in the Daily News -- a figure Bloomberg has also cited on numerous occasions -- refers to the difference between the number of murders in the past decade and the one before it. Spokesman Marc Lavorgna said that Bloomberg and Kelly were not implying that the stop-and-frisk program was solely responsible for the decline, but rather that it was one of the tools police have used to combat crime.
"Nobody should ask Ray Kelly to apologize -- he's not going to and neither am I -- for saving 5600 lives," Bloomberg said at a press conference last week, noting that New York had become the nation's safest big city. "I think it's fair to say that stop, question and frisk has been an essential part of the NYPD's work, it's taken more than 6,000 guns off the streets in the last eight years."
In February, Williams launched a legislative effort aiming to increase NYPD accountability, including a measure that would require cops to hand out business cards after an interrogation. The bill is still in committee.
Related
Popular in the Community