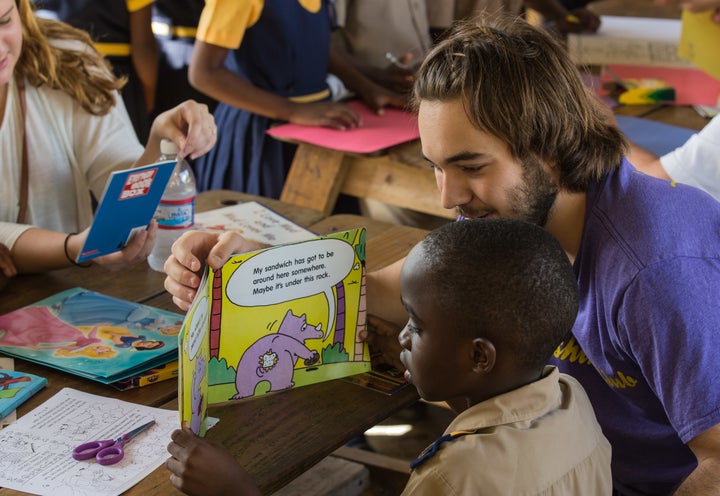 83.2 million millennials, those who are aged 18-34, live in the US. Last month, they became the largest living generation in the country, surpassing baby boomers. By 2020, one-third of all US adults will be millennials.
I have nearly two decades experience engaging millions of millennial parent volunteers in schools across the US. Yes, I said millennial parents. There are over 10.8 million households with adults 25-34 who have children. 9,000 millennials become parents every day. Although it is true that Millennials are waiting longer to marry and have kids, it won't be long before a good majority of millennials will be parents. That being said, millennials have been consistently stereotyped as lazy, entitled and even narcissistic. This is not what I have experienced. While, they can demonstrate some of those traits at times, I honestly feel that this generation is going to end up being the most giving generation of our era.
Think about this. Millennials are the first generation required to perform community service in high school to get into a good college. I have a nineteen-year-old son, and I remember it was a challenge getting all those hours in before graduation and believe me, he wasn't a lot of help. Now he is into his second year of college and continues to find volunteer opportunities on his own even outside the country. He's compassionate and has a huge heart. He's even decided to become a teacher understanding all of the challenges that the teaching career has had in recent years, his primary motivation is he simply wants to help others.
I believe the "required" service in high school worked in creating empathetic, compassionate members of society that will account for 75% of the workforce by 2025. They are carrying their community service into adulthood and from my experience in schools, they are bringing that community service mindset into parenthood where they want their kids to experience volunteerism and establish "giving" values early in life.
So, my millennial friends, I have an opportunity for you to dispel those ridiculous stereotypes and make a real difference. This month, I get to take part in the My Very Own Library Summer Reading kickoff in Newark, NJ. MVOL is a strategic partnership I helped manage between the United Way of West Hudson-Essex, Scholastic Book Fairs and generous funding from the family of the late Anne Feeley, who had a mission to help all children create home libraries with books they chose themselves.
The program, now running in five US cities and the Dominican Republic, provides opportunities for students in low-income communities to select ten books per year at no charge to read and call their own. Research shows these neighborhoods are "book deserts" with only one age-appropriate book available for every 300 children. Middle income and more affluent communities have an average of 13 books for every child.
I am very proud to have been instrumental in helping this strategic partnership grow over the years and I once again get to experience 15,000 Newark students from 23 schools go home with 60,000 brand new books to read over the summer.
Here is your challenge if you should decide to accept it.
The problem is that it is now summer where many children, especially low-income children fall behind their peers in reading and other learning. So, I am calling out to millennials, especially millennial parents to seek out ways to volunteer your time to help all kids, rich and poor, read over the summer.
Ask your child's or your niece's and nephew's schools what kind of summer reading plan they have and how you can help. Many schools will be participating in the Scholastic Summer Challenge, which is a fun, and interactive program that captures school's reading minutes for their school. Schools have a chance to win bragging rights in their community and even win an author visit.
Reach out to your local library. They almost always have summer reading campaigns with a lot of fun ways to keep reading top-of-mind. Some low-income neighborhoods don't have libraries, so great organizations like the YMCA and the Boys and Girls Clubs fill the void. Reach out to those organizations to read and mentor kids over the summer.
Add some water to the book deserts. Take a look at the bookshelves in your home. I bet they are full of great dusty books that haven't been open for years. Consider boxing them up and donating them to your local Boys & Girls Club or a homeless shelter. My wife, son and I recently boxed up over 40 books and took them to a local Kiwanis Club to help distribute them throughout the community to kids in need.
I'm super psyched about how millennials are going to shape volunteerism and philanthropy over the next decade. And their Gen Z children are going to keep the momentum going. Let's start this summer with reading!