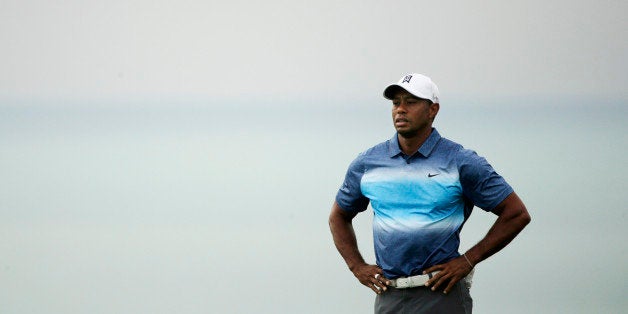 It's PGA Championship week on the professional golf circuit, the fourth and final major of the year. As the golfing world turns its attention to Whistling Straights in Haven, Wis., there's a lot of buzz around Jordan Spieth, the number-two ranked player in the world, to see if he can capture his third major championship of the year. Rory McIlroy, the world's number-one ranked golfer, is also getting plenty of attention as he returns to competitive play after injuring his ankle while playing soccer with friends, and had to miss The British Open a few weeks ago.
Also in the spotlight this week is Tiger Woods, ranked 278th in the world right now. But once again, the press and everyone else just wants to beat up on Tiger. At a press conference yesterday, a reporter posed this question to Woods: "Now that you're getting a lot older, is it fair to say that you have lost a step, or at least half a step?"
Woods tried to interject humor into his response and said, "No, I don't think so, I can still walk the same pace on the golf course." And to that, the room went silent, with no laughs that Woods was apparently expecting. While that would have been a non-event for anyone else at the press conference, it made the homepage on CNN with a headline of "Tiger Woods: Golfer's gag sinks without trace at press conference."
Why is it that we have to constantly beat up Tiger Woods? I get it: the man cheated on his wife and killed his squeaky clean image. I'm not condoning his behavior, but this is a guy who in his professional career should always be treated with respect and admiration for all that he has accomplished, and praised for truly transforming the game of golf.
Why do we so quickly forget all the great things that Tiger Woods has done?
He amazed us with his talent on the course, shattering records all over the place. He has 14 major championships to his name, second only behind Jack Nicklaus. Woods has the lowest career scoring average in PGA Tour history. He set the all-time record for most consecutive cuts made, with 142. You could go on and on with his list of accomplishments. He truly is one of the greatest talents to ever play the game.
He made golf interesting again. Attendance at golf tournaments went through the roof when Tiger was in the field. TV ratings for golf were at record highs as people everywhere tuned in to watch him.
He made golf popular in the younger generation again. It became cool to play golf because of Tiger Woods.
How many children living in poverty has Tiger and his foundation helped to get a college education? The Tiger Woods Foundation says one-hundred percent of its college students graduate.
The list goes on and on. The point being Tiger Woods has done more good for golf than anyone else has in a very long time. Yes he made some mistakes in his personal life. Yes his game has severely suffered in years past and he's been plagued by injury. And yes he hasn't won a major championship since 2008. So what? Does that mean we need to villainize the guy every chance we get? Do we really need to constantly criticize and tear him down? Do we need to take away from all the good he has done? What happened to the golden rule? Lashing out at another is rooted in ego and jealousy and says more about the psychology of the critic than the person he is attempting to criticize.
It's time to leave Tiger Woods alone. I personally hope he can find his way out of whatever has him down right now. I hope he starts winning golf tournaments again. I hope he wins another major and comes closer to breaking Nicklaus' record. I hope he stays healthy both physically and mentally. But even if he never wins again or never even comes close, that's okay, too. Tiger Woods transformed the game of golf and did so much good for the sport, and it's time for people to shut up, stop criticizing him and start living their own lives.
Remember, if you have nothing good to say, don't say it at all.
Calling all HuffPost superfans!
Sign up for membership to become a founding member and help shape HuffPost's next chapter