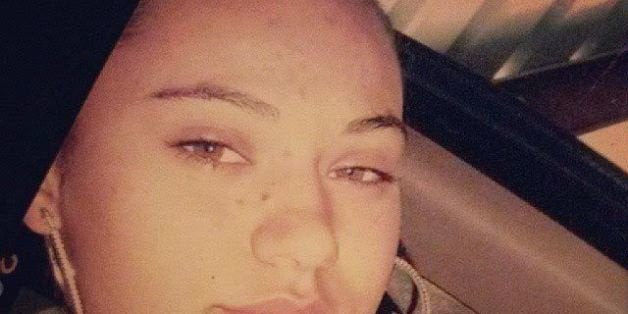 "This picture was taken around the time of my 17th birthday. What it does not tell you is that from the ages of 10 to 17, I was sexually exploited throughout the western United States, charged with solicitation and prostitution, and jailed as if I was a criminal.
I was not a child prostitute or child sex worker. I was a victim and survivor of child rape. And so are the other kids out there now who are being bought and sold for sex. They are victims and survivors of child rape."
-Withelma "T" Ortiz Walker Pettigrew
Here, across the U.S., we have child sex slave markets that are not unlike what exists in Cambodia, the Philippines, and India. Girls are sold to the very same types of men, and they are tortured in almost identical ways if they attempt to leave. Yet these girls, the girls from Southeast D.C. or South Central L.A., are seen as the "ho," the "bad girl"--the "child prostitute."
When the media reports on this issue of child sex trafficking in the U.S., the victims are often described as "child prostitutes," "child sex workers" or even "teen hookers." According to research by the Human Rights Project for Girls and The Raben Group, there have been more than 5,000 instances in the past five years when reporters for print, wire, and online outlets have used the phrase "child prostitute" or other variations on the phrase.
The term "child prostitutes" is dangerous and harmful because it conveys that trafficked and exploited children have choice and agency, and that they are criminals. But, in truth, these kids have been denied choice and agency. They have been coerced or manipulated into selling their bodies, and they have been subject to what is commercial serial rape, as minors. The term "child prostitute" makes the abuse trafficked children have suffered somehow different from other forms of rape or sexual abuse of minors, when in reality that is not the case.
But, It is not just about language. It is abut the law too, and how abused and trafficked girls are wrongly criminalized.

Over 1,000 children every year are arrested for prostitution. Many of them are even of legal age to consent to sex, let alone commercial sex. Moreover, Congress made clear in The Trafficking Victims Protection Act, that children are not "prostitutes." Federal law clearly states that any individual under the age of 18 who is induced to perform a commercial sex act in exchange for anything of value is, by definition, a victim of sex trafficking--not a prostitute.
At the state and local levels, however, trafficked children are not contemplated as victims. Instead the girls, many of them between the ages of 12 and 14, are arrested, detained, and prosecuted.
We must, in language and law, eradicate the notion of a "child prostitute."
That is why the Human Rights Project for Girls has started the No Such Thing campaign--that there is no such thing as a "child prostitute." There are only victims and survivors of child rape. And they deserve all the legal protections, supports, and services afforded to other child victims of abuse.
On this day, the 153rd anniversary of the announcement of the Emancipation Proclamation, let's acknowledge that unfortunately the bodies of certain children and youth--who are disproportionately poor, black and brown--continue to be rendered property. On this anniversary of the Emancipation Proclamation, let's take an easy step towards giving dignity and justice to our kids who are being bought and sold, and insist that they are acknowledged and named as victims and survivors of child rape--and not criminalized. Because how we are named is how we are treated.
Please answer Withelma "T" Ortiz Walker Pettigrew's call to action and sign our petition asking the Associate Press, to stop using the term "child prostitute"--there is, simply put, no such thing.
Related
Popular in the Community